Katherine and Chris had a beautiful nautical-themed wedding. The whole thing was inspired by Katherine's childhood experience around boats. The color scheme stayed true to the red, white, and blue. The rich reds on the groom and groomsmen went perfectly with the cool blues of the bridal party's dresses, as well as the dazzling white of the bride's wedding gown. And as an added twist (pun unintended), nautical knots were also found on every table at the reception. Congratulations to the lovely couple as they set sail on their life together as a married couple!
Click image to enlarge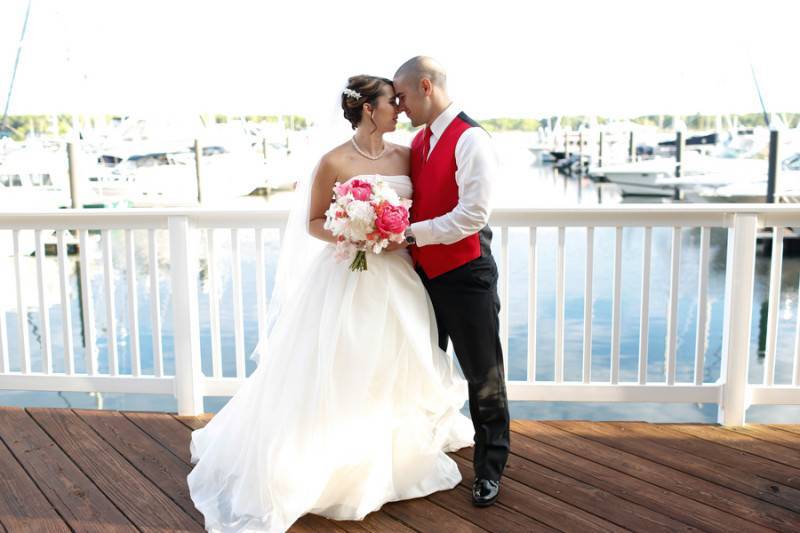 Like. Click to Vote
>
What is the overall story for this album?
The wedding day was such an expression of love and the coming together of two families. Chris' family traveled from Massachusetts, and Katherine's from Maine; where they met in the middle in New Hampshire. The day was full of tender and sweet moments as Chris and Katherine began their life together.
What inspired the wedding day outfits?
Katherine grew up in Maine, and did a lot of boating there. The colors and theme of the wedding were based upon that nautical feel. The red and blues of the suits and bridesmaids dresses complimented the white of the bride's dress.
What was your favorite part of the day?
I loved being able to spend the morning with the girls while they got ready for the day. Every one was so excited, and there was such a happy anticipation for the wedding ceremony.
Was there any Do it Yourself (DIY) projects? If so, can you describe them in detail?
Katherine and Chris' families tied all of the nautical knots that were seen on the tables during the reception. The also created table numbers that are based on different races since Chris and Katherine are runners and met at the Boston Marathon.
What were the highlights from the ceremony & reception?
The reception was very fun! Chris is a twin, and his twin brother gave a hilarious speech at the beginning of the reception. In leiu of a father/daughter dance, Katherine and her mom reenacted the dance from the movie Dirty Dancing. One of their guest is a step dancer, and wowed the crowd with his dance moves!
Was there a theme for the ceremony and reception?
The theme for the reception was nautical red, white and blue. And also they incorporated running into as well, by naming each table after a different race.
What part of the ceremonies do you think was the most memorable for the bride and groom?
I think when Chris saw Katherine walk down the aisle for the first time was one of the most memorable parts of the ceremony. Both of their eyes filled with tears as they saw each other for the first time on their wedding day.
VENDORS
Photographer: Brooke Ellen Photography
Cake Designer: Jacques Pastries
Reception Venue: Wentworth by the Sea