Good morning, beach brides! It's a new month which means we're closer to ending the year.  Meanwhile, here's Matthew and Tara's boho chic wedding to jumpstart September.
Matthew and Tara had a Boho chic beach wedding — from their gorgeous ensembles down to the decors and setting. Matthew looked very dapper in his navy blue suit (straying away from the usual tan and white on beach weddings) and Tara was stunning in her simplistic dress that complemented the theme they were going. You can never go wrong with boho chic on beach weddings due to its laid back feel. I mean who does not want to feel comfortable at the beach right? It's not only chic, but the whole event was also whimsical. To Matthew and Tara, may this new journey bring you a lifetime of happiness. Congratulations!
Click image to enlarge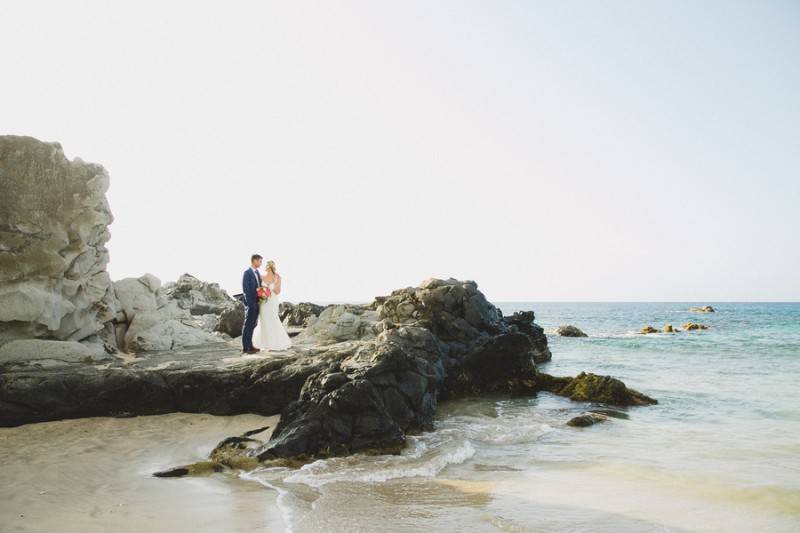 Like. Click to Vote
>
We Are A Perfect Match:
I like to think our personalities compliment each others pretty well. I can be sensitive, a bit of a dreamer and like to believe I help Matt think outside of the box. Matt is my Steady Eddy, he is calm, rational, goal driven, and he grounds me.
The Proposal:
Matt had a curling bonspiel to play in, in Beijing, China, so we decided to turn it into a trip and hit up the Philippines for ten days before. After a grueling 30 hour journey from Winnipeg to Port Barton, Palawan we woke up super early the next morning and set off for a hike through the jungle to find a waterfall we had been told about. We had opted out of getting a guide and decided to do the trek by ourselves. After a 1 1/2 hour trek through narrow jungle paths, walking over fallen tree bridges, crossing rivers, and having a spider scare we finally made it and it was PERFECT!
This beautiful waterfall materialized out of the jungle, and we were the only people around. It was paradise, no word of a lie; the cloudy skies opened up, and the sun came out. So, I geared down to my bathing suit and am about to jump in when I notice Matt isn't following. I turn around to ask him what's wrong, and he's standing there with these big eyes, and he says "I have to ask you a question." At that moment  I knew. I watched him get down on one knee and manage to get out "Marry me." I was totally caught off guard and once the reality of what he was asking me sunk in….so excited!!! It was so incredibly romantic, just the two of us in the middle of the jungle at a secluded waterfall.
Wedding Day Outfits:
I wanted a simple gown but with a little bit of drama, which turned out to be harder to find than I thought it would be. I found a handful of dresses that I fell completely in love with but were WAY out of my price range. Then one day, while looking at Pinterest, I found it! The perfect dress; the Poipu gown by Katie May. I instantly fell in love with the simple lines of the dress, the beautiful lace, the gorgeous backless design and…the price!
I paired it with gold Kate Spade shoes, a bracelet designed by a local artist which was made out of an old brooch, a pair of simple earrings I borrowed from my Nana and a gorgeous haku in my hair. Matt wore an amazing blue suit that he had a custom made. He paired it with a blue and gray check shirt, a bow tie, and brown Ted Baker shoes & belt. As a wedding gift, I had custom Pyrrha cufflinks made for him, which he wore as well.
The Theme:
We didn't have a distinct wedding theme but if I had to say something I would say romantic with a touch of whimsy. One of my favorite aspects of our wedding was the flowers & decor. Our florist did a fantastic job of turning my ideas into a dream. Our color palette was based around my favorite flower, the coral peony. My bouquet was made up of a variety of flowers in a soft pinks, peaches, coral, white and leafy greens. The same theme carried through to our table decor with the addition trailing green ivy, loose rose petals, whitewashed wood boxes, and gold mercury vases.
Matt didn't have a lot of interest when it came to making decisions about flowers and decor, so I just kind of took the reins. So, he didn't even really have any idea of what our wedding would look like. I will never forget the moment when we walked into Merriman's, and he was completely blown away by the flowers. He looked at me and said "wow..I never realized how big of an impact flowers could make." To this day, he still says how impressed he was with the all the flowers.
The Planning Process:
We were only engaged for six months, but I thought that was plenty of time to plan a destination wedding.
Planning Advice For Couples:
Slow down and take a deep breath! I know planning can be stressful but just try and remember to put it all in perspective. This will be one of the happiest days of your life! Take a time to stop and enjoy every moment of it. Your wedding day will come and go before you know it, and once it's gone, you will wish you could just go back and slow it down and re-live it all over again.
The Challenges We Faced:
Our biggest challenge, as I'm sure it is with lots of destination weddings, was trying to envision & plan how the Big Day would go down when we had never been there. What does the reception venue look like? Would the food be good? What will the condos be like? Can we walk from our condo to the ceremony site? How far is it from our ceremony site to our reception venue? The questions were endless! Fortunately, my florist was amazing and so helpful in planning pretty much every aspect of my wedding. She helped me in so many ways!
The Songs:
Bride's Entrance – Shine On by John Cruz
Recessional – Love, Love, Love by Avalanche City
First Dance – Fool For You by John Butler Trio
Our Honeymoon:
Puerto Vallarta, Mexico. My aunt and uncle had just purchased a gorgeous oceanfront condo in PV and were kind enough to let us stay there for two glorious weeks! It was paradise, and it came at the perfect time as we had just found out I was pregnant!
We Are Excited About:
We are expecting our first baby at the end of May. Parenthood will be a completely new adventure!
Favorite Part Of The Day:
That's such a hard question. I want to say every part of it! But a couple of moments that stand out in my mind are our first look; I have never been so nervous and excited and overwhelmed all at the same time! Also, standing in front of our family and friends and saying our vows. It was such an incredibly powerful moment, and there was just so much love!
VENDORS
Photographer: Sugar & Soul Photography
Officiant: Eve Hogan
Shoes: Kate Spade
Dress Designer: Katie May
Invitation Designer: Little Miss Mrs
Hair Stylist: Susan Bortz Designs
Musicians: Barefoot Minded
Floral Designer: Dellables
Restaurant: Merriman's Kapalua