Clark and Marissa are photogenic on their own, but there was definitely something extra special in their photos. Alicia, their photographer who captured this couple's love in photos so beautifully, owes that to the actual proposal that happened a week ago – on Valentine's Day, no less! No wonder there's that almost ethereal aura surrounding the couple in these lovely photos. It's so endearing to see them in their candid shots where they're simply in the moment and clearly so into each other. Who needs all those choreographed poses when you got that Valentine's spark? Without a doubt, you can definitely feel the love in this one. Congratulations, Clark and Marissa! Also, kudos to the photographer for a job well done!
Click image to enlarge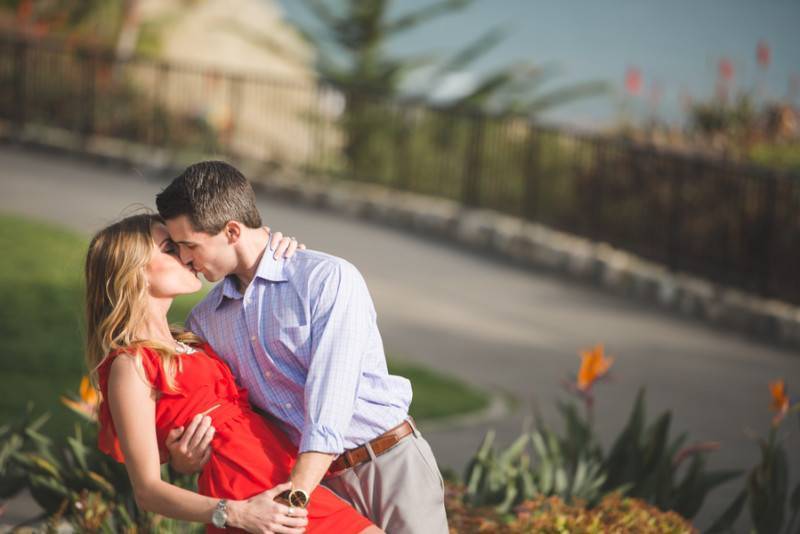 Like. Click to Vote
>

The Album Story:
I absolutely loved this session! We had such a great time. Marissa and Clark had just gotten engaged a week before the session (on Valentine's Day!) which gave them that amazing spark in their photos. They also live long distance right now while Clark works in Orange County and Marissa in Texas. I love photographing long distance couples because they really appreciate the time they do get to spend together!
I wanted to portray their outgoing personalities. As soon as I met Marissa, she gave me the biggest hug as if I had known her for years! They are such a fun-loving couple. Their connection is amazing and I wanted to make sure that it was apparent in their photographs. I just told them to act as if they are on a unique date. They were so photogenic that it made my job easy. I basically just had to tweak their poses, they did all the work on this one!
The Location:
Marissa & Clark chose Heisler Park at Laguna Beach for a couple reasons. First, they simply just LOVE the beach. They are not from Orange County so they wanted to take this fun opportunity to go explore one the best spots in beautiful Laguna. Clark had heard about Heisler Park and asked me to confirm that it would be a good location. I immediately said of course! Between the clear skies, blue water, and a rocky shoreline I knew it would be perfect for what they wanted their shoot to look like.
The Outfits:
They wanted a casual outfit for the beach shots to be more fun, then chose a more formal outfit for when we went up to the park area.
A Hint For the Wedding Day:
Yes! Their photos show how much fun they have together. They definitely know how to have a great time with each other and their wedding will be gorgeous with lots of love and fun!
VENDORS:
Photographer: Mink Photography
Reception Venue: Laguna Beach