I must commend Evan and Terri for having a lovely and neat wedding. How organized everything looked and the color scheme helped a lot in that department. The baby blue and pink also gives off a chic and romantic flair. Terri was a stunning bride in her A-line wedding dress and the groom looked liked a modern day prince in his tux. They are truly for each other, looks and all.
They also had this clever way to guide servers for each guest's choice of food using the corks colored according to a type of dish. See what I mean with organized? Congratulations, Evan and Terri, on getting hitched. Stay in love!
Click image to enlarge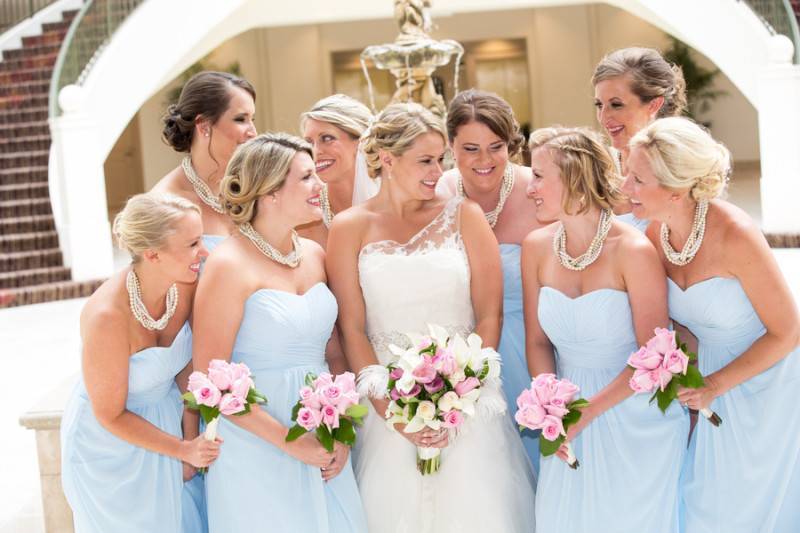 8

Like. Click to Vote
>
The Theme:
We went with a Rustic, Romantic theme since the venue is a vineyard. Everything from the wine corks, to the lace details in the wedding dress, to the grand staircase entrance, to the soft blue lighting and draped ceilings at the reception were to compliment this.
Wedding Day Outfit Inspiration:
Evan and I met and spent the first 3 years of our relationship in North Carolina before moving down to Georgia. The 'Carolina Blue' gave us a little taste of home down here in Georgia. The groomsmen and groom went with a classy, modern-day prince look with Vera Wang Tuxedos.
The Do-It-Yourself (DIY) Projects:
We decided to make our own meal selection tags. Rather than make a formal name tag with the meal choice on it, Evan and I used the theme of the vineyards by taking wine corks and spray painting them for the guests selections. We printed separately lists with each of their names above the color cork they should take for their place settings. Many of our guests took these home as souvenirs after the party.
Favorite Part Of The Day:
Probably driving around in the golf cart together taking pictures after the ceremony. It gave us a chance to spend some alone time laughing and soaking up the moment together. The warm breeze riding around the vineyards was rather enjoyable after standing in the blazing sun and 100-degree weather.
The Highlights From The Ceremony & Reception:
Seeing each other for the first time from the staircase at the ceremony, to walking down the aisle together as Mr. and Mrs. Self, to our first dances and the cakes… it was an absolute blast!
Most Memorable Moment:
Definitely seeing each other for the first time, and then walking down the aisle- I couldn't get to him fast enough. My dad kept trying to ask me if we could dance half way down the aisle and I just kept smiling and telling him through my teeth- NO!!! Just get me to my groom! lol
VENDORS
Photographer: Mike Moon Studio
Reception Venue: Chateau Elan