Ben and Heather's wedding made me want to have a beach wedding in the future. The teal, white, and ivory embodied the beach quite beautifully. Plus they used tiny starfish as an alternative for rose petals. Doesn't that make it more authentic? And props to Heather for signs that she made that were spread around the venue. I also love the idea of not letting the guest take pictures of the ceremony. I believe that'll make it more solemn and intimate. More details below from their photographer!
Click image to enlarge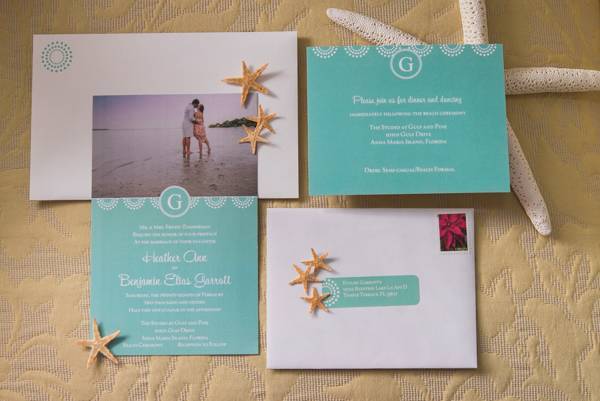 Like. Click to Vote
>
Album Story:
It was the last day in February and Ben and Heather's wedding day was finally upon us! Everyone was so excited and filled with anticipation. Heather and Ben were surrounded by fabulous friends and lovely family on their wedding day. Despite the sprinkles of rain, there were plenty of smiles. 🙂 Heather and her ladies got ready at a beach home close to the venue, and oh my goodness was it beautiful. So many sweet details filled the room and really set the tone for the whole day. Relaxed, down to earth, and ready to have a good time.
Favorite Part Of The Day:
Heather and Ben put so many fun details into their day. Here are some of my favorite moments and pieces of their day I'll never forget:
Heather loves braids
every one of her bridesmaids and her mom had braids in their hair.
Ben is an avid hunter and fisherman. His ring was custom engraved with his hobbies represented.
Ben and all of his guys wore fishing hooks instead of boutonnieres… and everyone made it through the day alive! Although Ben's hook did end up on his mom after their dance
Ben and Heather exchanged letters during their first look. I love how letters take wedding days to a whole other level.
Heather made so many fun signs for the day — my favorite being the unplugged wedding. 🙂
Their cake topper was adorable and so perfect for them.
Heather looked stunning in her gown – so elegant and beautiful. A perfect bride.
The flower girls threw starfish down the aisle instead of petals – umm – I love that!
Heather and Ben were sent off with some killer bubbles!
The Highlights From The Ceremony & Reception:
The highlight from the ceremony that stands out in my mind is the fact that Ben and Heather couldn't take their eyes off of each other. They were so excited to start their lives together, the love was almost tangible! At the reception, everyone was like family. There were so many hugs, laughs and smiles throughout the night.
The Theme:
The beach location inspired the theme. The cupcakes had white chocolate sand dollars or starfish on them, the cake had a beachy feel, the centerpieces were filled with sand and shells.
Most Memorable Moment:
I think exchanging letters during the first look was a meaningful part of their day. It sets the tone for the day and allowed them to slow down for a few minutes and process all that was about to happen.
VENDORS
Photographer: Emily Katharine Photography
Wedding Dress: David's Bridal
Catering & Ceremony Venue: The Sandbar Restaurant
Reception Venue: The Studio at Gulf & Pine
Hair & Makeup: Salon Salon on Pine
DJ: Chuck Caudill
Cake: Hometown Desserts
Bridesmaid Dresses: Alfred Angelo Bridal Fort Myers
Groomsmen Attire: JCPenney
Invitations: Vistaprint
Favors: My Wedding Favors