Coral and Aqua — hues that made this beach wedding pop! It was indie in the sense that the whole feel of their wedding was very personalised which only means a lot of DIY-able decors. From the table numbers to their chalkboard signages, it was all part of the charm. But still, the most personal thing on their wedding is, of course, the love they have for each other which is what it's all about. May you have a blessed journey together as husband and wife. Congratulations!
Click image to enlarge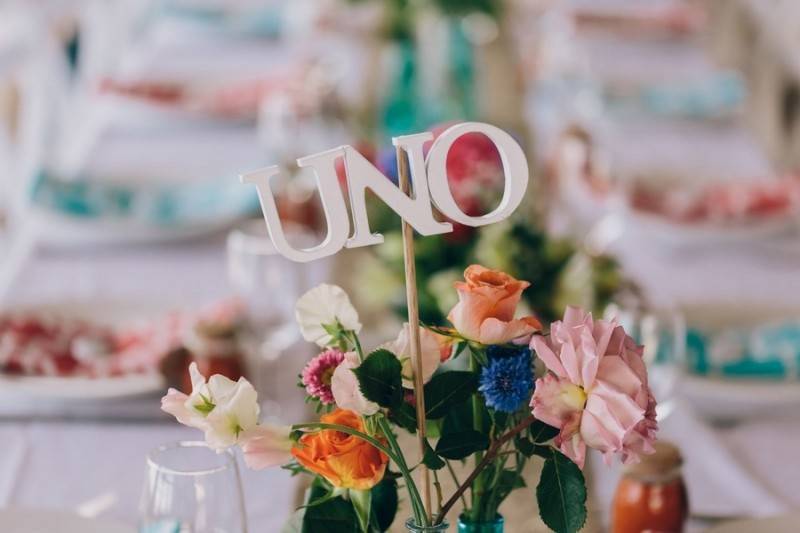 Like. Click to Vote
>
The Proposal:
Alex organised a long weekend away to the Hunter Valley (I had been asking to go away so didn't think much about it). I arranged tickets for a concert and ruined his proposal plans. He got down on one knee on the second last day and all I can remember was almost knocking down a Corona from the surprise and not knowing on which hand to wear the beautiful ring he gave me.
The Location:
We thought about getting married overseas but quickly changed our mind and opted for a venue on the Great Ocean Road as Alex's family has a beach house in Lorne that we have been going to since we first started dating. The timing was great as the new Fairhaven Life Saving Club was just about to be finished and we locked in a date before the summer season started…best decision ever!
The Theme:
We wanted it to be a relaxed beach wedding theme without everything being sea shells and sand. Very early we decided on the colours: aqua and coral, which are bright and amazing.
The Do-It-Yourself (DIY) Projects:
My family from overseas helped us making batches and batches of chilli sauce for the wedding favours that ended up tasting amazing! We are both chilli lovers and still make a "wedding sauce batch" whenever the chilli trees in the garden give us enough chillies! Dell and her sister BJ did all the decoration and made all the signs, paper flowers and decoration items themselves.
The Dress:
I tried on so many dresses but nothing convinced me so I decided to look for a dressmaker and found Sophie. We had a chat about what I wanted and what I didn't and then the excitement process started. Every new fitting I would see the dress a little bit more progressed but it wasn't until two weeks before the wedding that I saw the result and was super happy! The belt and the veil created the final look and Alex loved it!
Planning Advice For Couples:
It's impossible not to stress but I believe you need to have fun and enjoy the process. Try to make it "yours" as much as you can because those are the things you are going to remember later on (Favourite food, Spanish signs, colours you like, meaningful songs for the ceremony, incorporation of thinks you like: puzzle pieces, cheese wheels, chilli sauce, funny speech, etc).
Most Memorable Moment:
Walking down the aisle with my Dad and seeing Alex at the end waiting for me and smiling was the best moment ever. My heart was pumping and tears started coming out without me even noticing! Being surrounded by family and friends from all around the world made our day so much more special including a surprise video with messages from all my school friends that couldn't make it to the wedding and Alex's 92 year old grandmother…just amazing!
VENDORS
Photographer: We are Alchemy
Event Venue: Fairhaven SLC
Dress Designer: Purple Pips
Shoes: Shoobedoo
Bridesmaid Dresses: Swish Clothing