Ian and Gabrielle found comfort from the beach. They both grew up loving water, and the beach is both romantic and tranquil. The two snuggled their way through their engagement session. Looking at the gallery proved that they really love being there and being with each other. We wish you guys a wonderful life together as husband and wife. Cheers to more adventures and fun days at the beach!
Click image to enlarge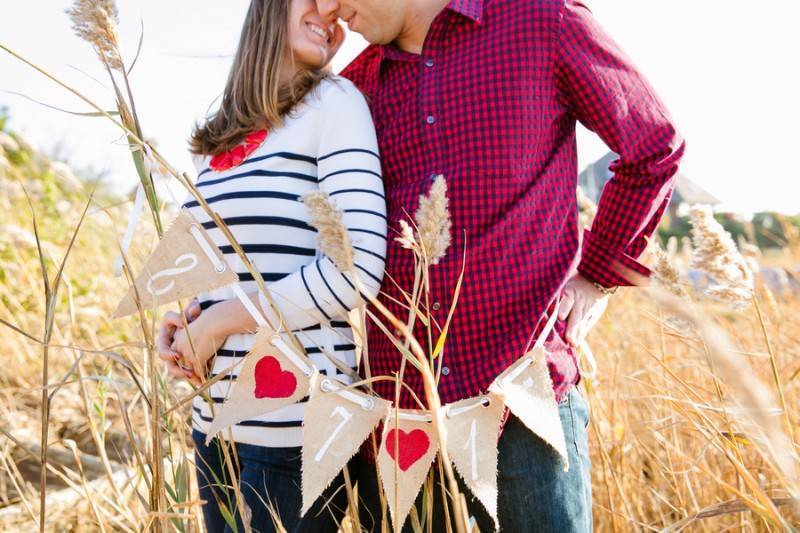 Like. Click to Vote
>
The Concept:
Ian and I are both fun-loving, energetic, and adventurous people. When looking at our photos we wanted people to see who we are as a couple and all the love we have for each other. We wanted the shoot to be true to our relationship, and for our natural energy to shine through each photograph in an environment, we both enjoy to the fullest.
The Location:
Ian and I both grew up in the water and LOVE being at the beach no matter what the season or weather is. We wanted to take our engagement photos at a spot that we both love and have a special connection with. We have spent many summer days and nights at my mother's house on the Long Island Sound in Clinton, CT. We both agreed that it is not only a beautiful spot but has so much sentimental value as well. Ian and I have spent many days partying with our families and friends at this spot as well as spent many nights gazing at the stars as we fell asleep listening to the waves crash against the seawall. "The Wall" as we like to call held a special place in our hearts and was a great start to our engagement session. From my mother's house, we then moved onto Hammonasset Beach in Madison, CT. We chose Hammonasset because we both enjoy going to this beach, and the views are just fabulous!
The Outfit Inspiration:
It's funny neither Ian or myself are big planners and often just take things as they come. We both agreed that we wanted a nautical look but also wanted it to be true to ourselves. Neither one of us went out in search of "the perfect outfit" but rather rummaged through our closets to find something nice for the shoot. We didn't talk much about what we would wear and as it turns out we did a pretty good job. We thought navy, white, and red would look great so we both went to our wardrobes and found what we thought would look good and that was that. Simplicity is key! '
A Hint For The Wedding Day:
We are going with a rustic New England nautical vibe for the wedding. Ian and his groomsmen will wear a light navy suit with a pink pineapple tie and a white pocket square with brown shoes and a brown belt. My girls will be wearing Donna Morgan, beach glass dresses that are a bluish/green but not too saturated- I didn't want the Caribbean look. We are going for a New England Beach Town look and what better venue to do so than at The Mystic Seaport. Our ceremony will take place outside right on the water, and our reception is just steps from the lawn area.
We will have lawn games for our guests (and us!), for our guest book we have two oars that are all natural wood. We plan on restoring an old row boat to use as a beverage station. Again, we are not planners, so we don't have a solid image of what we want. But when we see something we think we can incorporate into the wedding, we grab it and roll with it! For example, while we were driving in Clinton one day we saw these old window frames on the side of the road (FREE!!). Then we scooped them up, painted and cleaned them up and now intend to use them as a means for guests to find what table they will sit at. We are having fun with the planning process and can't wait to see what our special day will look like!
The Engagement Session Experience:
Well first and foremost, Candace Jeffery is amazing! She is so down to earth and makes the experience so much fun and never awkward! There were shots where she told us what to do or how we should hold our hands or position our bodies but for the most part she was able just to capture nature posture/positions for us and we had fun with it. Ian and I were in our element we were at the beach taking in all the views as we usually do, and Candace was able to work with it. We chose a spot that we were comfortable with and honestly just had fun with it. We weren't thinking about whether the photos were going to come out ok, or if our hair looked alright; we put all our trust in our photograph and the spot we chose.
We went with the elements and let me tell you the wind was crazy at the beach my hair was blowing all over the place, and we managed to get some great shots! I can't say that some shots were not staged and that we didn't pose but when you are with someone you love, the image that is captured is so much for than just an image….. it is an emotion. My advice for people is to take a deep breath and relax. This is something that should be fun. Choose a spot that has to mean and is a place you both enjoy to be! Don't make yourself crazy over it– just pretend the photographer isn't there and be who you are as individuals and as a couple. Listen to the advice the photographer gives you and roll with it…. They will come out beautiful! Champagne helps too, we did a toast, granted it was towards the end of our session, but it was fun and relaxing at the same time.
VENDORS
Photographer: Candace Jeffery Photography