This styled shoot fused warm and cool tones to produce a beautiful neutral palette. Though this shoot had neutral colors, it is an alternative style for the traditional engagement shoots. The bouquet gave it a contrast that ironically put everything in place. It is non-traditional but very artsy and quirky. In this generation more and more couples go bolder and go for the unusual to make things more personal and 'them'. The photographer, people behind this shoot, and from us here at BeachBride hope that this inspiration shoot could give you an idea for your special day. Best wishes and Congratulations!
Click image to enlarge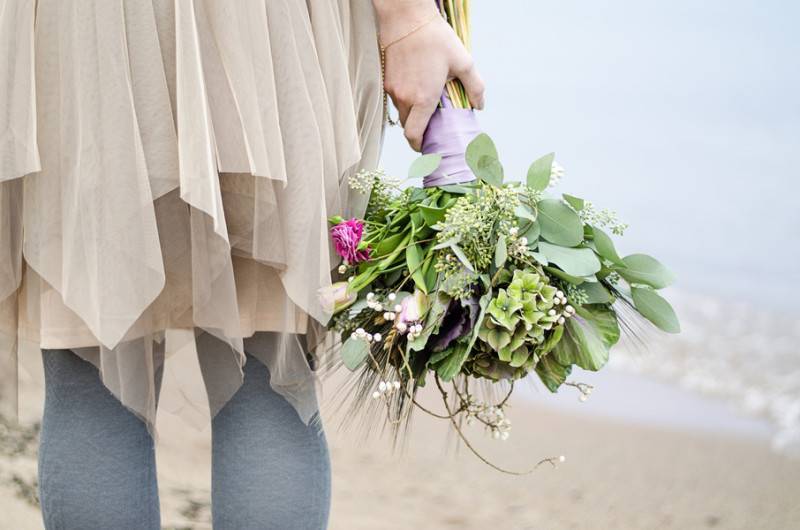 Like. Click to Vote
>

The Shoot Theme:
I was going for a shot that brings in a lot of warm tones (her hair, the dress, the sand) and lots of cool ones as well (the water, her eyes, etc.). I took that contrast and ran with it!
Story Behind The Shoot:
Well, this happened because this model and I decided to do a shoot a few days before it happened! So the hardest part was making it happen in such a short time. The easiest was shooting as my models were great!
The Decors And Details:
The floral ended up being a donation from Saffron and Grey. They do amazing work, and I loved working with them!
The Style:
The style of the clothing is so different from what you see brides and grooms wear so much of the time and I really think that the world of weddings is becoming more and more accepting of alternative and less traditional weddings. I like to embrace that.
You Would Love This Style:
The style of the dress is so different, I see a couple that adopts this style as being non-traditional and a bit artsy.
VENDORS
Photographer: Anne Victoria Photography
Bakery: How Sweet It Is Cakes
Floral Designer: saffron & grey
Beauty: Sarah Faust