Today's featured couple had the wedding of their dreams at one of the beautiful beaches of Florida. The two were originally from Florida, so it was meaningful to have it there. Everything was set to be intimate and romantic as to how they wanted it to be. The DIY vase centerpieces made from bottles that got spray painted with romantic colors like copper and rose gold shined the reception.  The cherry on top was the full on beach themed cake – complete with two deck chairs as cake toppers and accents of shell and starfish.
Damien and Kristen may have broken up for a time, but somehow fate brought them back together and led them to this beautiful day. If it's really true love, it will always find a way to come back.
Click image to enlarge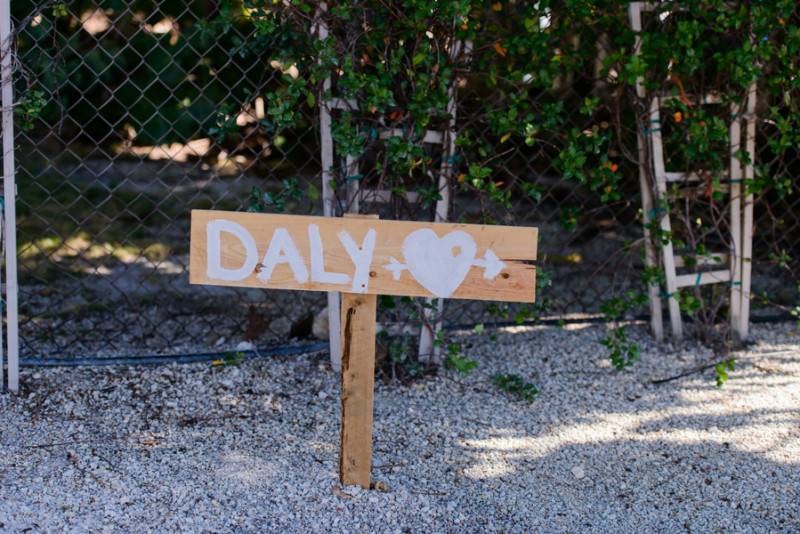 Like. Click to Vote
>
Damien and I met in High school in Mount Dora, Florida but we never really talked to each other, until both of us graduated from high school. He was a year older than me so, off to college he went. The following summer he came home from college and we started hanging out, I happened to be starting at the same University he was attending, later that fall. That summer we fell in young love and had one of the best summers of our lives! We continued dating for about a year or two away at college and then we broke up and went our separate ways in life.
Eight long years passed, and then just like that, we ran into each other at a mutual friend's wedding at the beach back home in Florida. I called Damien the very next day and asked him if he wanted to go to a basketball game with me the very next weekend. After that, we were inseparable! Damien attempted to propose a few times, in very extravagant ways. But, by some divine act it was halted every time, until the third and last time a little after a year after we began to date again. It was simple and perfect. We had just spent a day together running errands and had just had such a wonderful day together. When we got home, I went into the bedroom and when I came back out I looked out into the backyard and there was Damien… He was on one knee and had candles across the backyard spelling out the big question Would I MERRY him? I initially laughed, because I realized he spelled Marry wrong right away! I guess he was nervous! I of course, happily accepted and then it would be three years until we walked down the aisle.
We initially picked a destination wedding because even though we live in Colorado, we are both from Florida and all of our family still lives there. We also just love the ocean and it is where we both have the most fun and feel the most at home. We were definitely fish in our past lives!
My favorite part of our wedding was how much fun everyone had. Everyone was laid back and just enjoying every moment of being at the beach in December, we were surrounded by the most important people to us! It was smaller, intimate and perfect! I loved the venue, I couldn't have dreamed of anything more perfect for our wedding. It was what I had always dreamed of and envisioned!
VENDORS
Photographer:  Annabelle Denmark Photography
Dress Store: Amanda's Bridal & Tux
Tuxedo and Men's Attire: JoS. A. Bank
Cake Designer: Publix Bakery
Ring Designer: Tacori
Hair Stylist: Bella Luxe Hair & Makeup
Linens and Coverings: Coral Keys Party Rental
DJ: Event My Way DJ's, Musicians, and Lighting
Event Venue: H2O
Event Planner: On The Fly Girls
Caterer: Porky's Bayside BBQ