It must have been such a magical moment when Sarah and Scott realized that they were each other's "The One". Their loving relationship has led to this beautiful Hawaiian beach wedding. The vibrant combination of coral and teal was the perfect match to the setting and gave the wedding that classic beach feel. The surfboard guestbook was an excellent touch. I also want to mention how they were able to honor members of their families who, needless to say, played such important roles in their lives not just as couples, but as individuals. The in memoriam picture frame was such a sweet thing.
One act that just tugs at the heartstrings was Sarah giving her father a hammer with the words inscribed, "Thank you for helping me build my life." Surely, it must have meant a lot to the bride's father (sigh, fathers getting touched because of things their kids do *cue happy tears*). As much as the wedding day is about the bride and the groom, let's not forget about the people around them who helped made it all happen. Continue sharing the love and appreciation, Sarah and Scott! Congratulations!
Click image to enlarge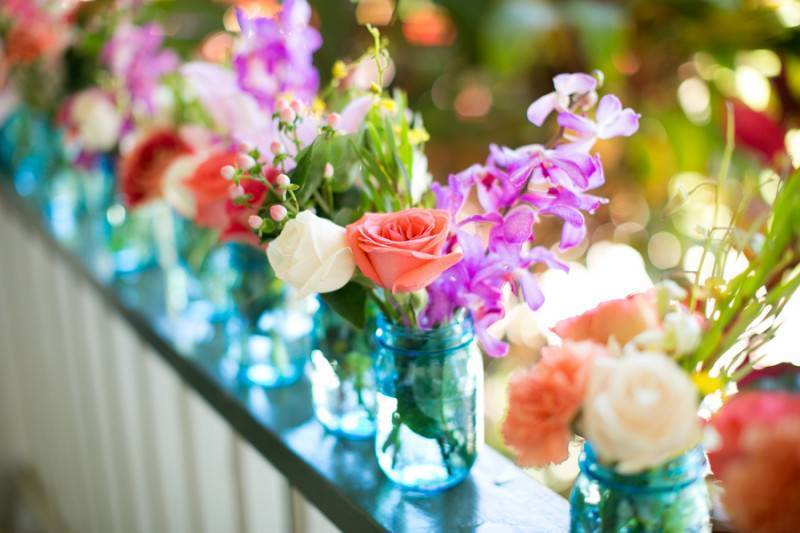 Like. Click to Vote
>
Our Story:
Scott and I met online (Match.com). We had gone on lots of other dates prior to ours. Finally after talking for 4 months, we went on our first date and knew by the third date that this was something special. Only after a few months of dating, we moved in together and knew we were each other's "The One".
We Are A Perfect Match:
We just get each other. I don't think I ever understood and believed in a soulmate 'til I met my husband. We knew within a month that we were the perfect match. We get each others quirky jokes and know what to say when times of need. And we have been through so much and have made it through some very difficult times stronger than ever.
The Proposal:
We live in the wine country, and I love wine. One of our very first dates was taking him to my favorite Champagne winery. I also love Christmas time so Scott knew that he had to ask me around that season and a winery. Christmas Eve, on our way to my parents, we stopped by the vineyards to take a picture before dinner. At sunset in the middle of my favorite vineyards, he popped the question! I cried and, of course, said yes! Scott called my dad that day and asked for my hand in marriage. He also made sure that my family and some of my best friends were there when we arrived for dinner.
The Planning Period:
We had a long engagement. Our engagement was close to 1.5-2 years and it was a perfect amount of time for planning the destination wedding we wanted.
The Best Advice We Received:
Enjoy it. Enjoy planning the wedding, being engaged and not sweating the small stuff. It all sounds so cliché, but it's so true.
The Challenges We Faced:
Having a destination wedding was, at times, challenging. I was in nursing school while planning the wedding so I could only do some major planning around winter breaks or summer breaks. But luckily I had Tina from Food For the Soul as my wedding planner, too, and she made it effortless for me. Trust your vendors and ask questions.
Wedding Décor Inspiration:
The color palette was a no-brainer for me because I am obsessed with the colors coral and teal. So I always knew that I wanted those colors. I wanted our décor to be rustic and simple because our wedding venue was breathtaking in itself, it didn't need much extra. I wanted pops of color throughout along with that rustic feel the venue has. I incorporated the rustic with burlap and mason jars. Also wanted a little touch of the wine country with some of cork decorations that I made from home.
My mom, bridesmaids, and I made all the bridal bouquets and centerpieces. Because it was destination wedding, I wanted to be able to create and be able to have a little part of making our big day happened. It was so much fun getting together with all my girls the night before and putting together all the flowers and bouquets.
The Wedding Outfits:
We wanted our bridal party to relax and have fun. I had the girls decide on short or long dresses. I also had them rent their bridesmaid's dresses because I have been in so many and never end up wearing the dresses again.
Our Do-It-Yourself (DIY) Projects:
I handmade a lot of the little details. My dad made the surfboard guestbook for everyone to sign. I made the cork letters and the colored picture frames. I also lost my oldest brother right before Scott proposed. So it was important to incorporate him throughout because he was there in spirit.
Money Matters:
$10,000 was the wedding budget. We saved money doing our own flowers and buying our own alcohol. Still, we spent the most on food.
The Guest List:
110 guests were invited and 60 people came. We kept it very simple; just picked our families and very close friends.
The Songs:
Processional: Jack Johnson "Better Together"
Bride's Entrance: The Shins " New Slang"
First Song: Van Morrison "Into the Mystic"
The Honeymoon:
We stayed on Maui for an additional week. We explored the island, went surfing, drove to Hana, relaxed by the beach, and enjoyed being married!
Planning Advice For Couples:
Have fun! It is so cliché but so true. I was planning my wedding while finishing nursing school, so I just kept trusting Tina and knew in my heart that our wedding day was what we made of it. We had two hurricanes warnings leading up to our wedding and on the day of, and all I could do was not watch the news and know our wedding would be perfect! And sure enough, our wedding day there was no hint of a hurricane in sight! It didn't come through the island until the day after wedding!
I think having a destination wedding allowed me to give up some control and trust things would work out. Not get caught up in the little details because on the day of, it matters marrying your best friend and the people who is surrounding you! I want to relive our wedding over and over again because it was perfect! There was nothing I would have changed or done differently.
Favorite Part of the Day:
I loved walking down the aisle and saying our vows. Our ceremony was so magical! We both were so in the moment and full of love in our hearts!
A Memorable Moment:
It is a Hawaiian tradition to exchange leis for the bride and grooms parents and give wishes. That was really special to have each parent come up and us give them a lei and they give us a blessing.
VENDORS:
Photographer: Jennifer Bagwell Photography
Caterer: Food For The Soul Catering
Bridesmaid Dresses: Little Borrowed Dress
Reception Venue: Olowalu Plantation House
Groomsman Attire: Tommy Bahama
Dress Designer: Watters Wtoo