"Now that we're married, want some ice cream?" — or something similar must've been Vicky and Gavin's conversation after their wedding ceremony. And get some ice cream, they did. Quirky things – an ice cream van, for one – were found all over their wedding (and mostly DIY, too!) and are a shout-out to this couple's fun personality. Vicky even ended up wearing personalized Mr. and Mrs. sneakers after the ceremony. Instead of heading directly to the reception, everyone enjoyed on board the wedding bus where they had a few cocktails.
And the blushing bride certainly put a lot of thought in the gift packs she prepared not just for her bridal party, but for the guests, as well. These contained items like Do-Not-Disturb door hangers, sample perfume, and Aspirin. It's such a sweet gesture, really, and I believe your guests will really appreciate it. It shows that you're really thinking about them and truly want them to enjoy their time as they celebrate your special day. Congratulations on such a memorable wedding, Gavin and Vicky!
Click image to enlarge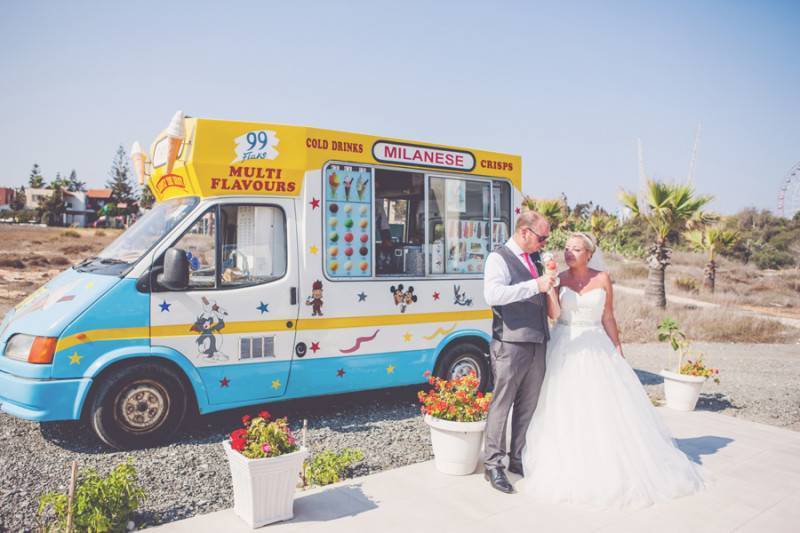 15

Like. Click to Vote
>
Our Story:
Our story starts like this: Gavin and I met in a local rugby club in the village where we both lived. Nowhere special; just a small old rugby club in CWM, a South Wales valley, where Gavin casually said, "Would you like to go out sometime?" Of course, I then said yes. He then picked me up in his sky blue Saxo (his boy racer car) where he took me for a spin! We instantly connected, and decided we would like to continue seeing each other. Obviously, Gavin had to ask Dad's permission first!
A few years later, in 2009, we bought our first home together which we have recently moved in to from to a bigger house. Life was perfect! In 2011, Gavin plucked up some more courage to ask my dad's permission for my hand in marriage. I won't repeat what my Dad said! But to say the least, he and my mom were thrilled! On the 28th of December 2011, Gavin popped the question.
We Are A Perfect Match:
'Cause he does everything he's told! Only joking! We just understand each other. We have fun and enjoy life together. He's someone I couldn't live without.
The Proposal:
He took me to London Winter Wonderland as a surprise, it was magical. He then took me on the Ferris wheel and popped the question at the top overlooking all of Hyde park with a beautiful ring!
The Planning Period:
It took 2 years to plan. I believe this was a good amount of time to give people notice to save to be able to come to the wedding as it was abroad. It was worth the wait!
The Best Advice We Received:
Everyone basically said pretty much the same: enjoy every minute of the day as it goes so quick and they were right – the day flew by. Also, not to sweat the small stuff because it will all work out perfectly!
The Challenges We Faced:
I faced a few challenges which threw me off course 8 months before the wedding. My dad sadly passed away, which made me want to give up, but I know it's not what he would have wanted. So I persevered to plan the rest. He had a lot of input into the wedding and the party which was a great comfort. Although it was hard, we did it and it truly was magical. And I know that he was there on the day and he was proud.
Wedding Décor Inspiration:
I love the colour pink so it was always was going to be pink. My partner's favourite colour is blue, so we decided to throw the 2 colours together and lucky for us they worked!
Our Do-It-Yourself (DIY) Projects:
Guest Welcome Packs which contained: Do-Not-Disturb door hangers, leaftlets to the local area
Guest Survival Kits that contained things to help people the day after like coffee, chewing gum, paracetamol, and a scratch card.
Place Name Cards which were luggage tags with a pink star fish
Packs for the Bridesmaids and Mothers containing tissues, T-shirts, their accessories for the day, shots, chewing gum, hair clips, tablets, and sample perfume.
Groom Box with Jack Daniels, a signed card of Liverpool, Rennies, Imodium, boxers, socks, a card from me, and a haribo ring.
Money Matters:
£12,000. I found that Ebay was a big money saver for me. It's where I bought many of things like my tiara, veil, bridesmaids' accessories, and other bits and pieces. The biggest expense was the dress. I was so indecisive; I ended up with 3 wedding dresses. So girls, always go with your first instinct!
The Guest List:
45 were initially invited, and we had a final count of 35. We just invited family and close friends who we wanted there.
The Songs:
My husband chose all the music so I had no clue until the day. He made a fabulous CD with many songs that mean something to us like "Waves" by Mr. Probz, "Dance With Me Tonight" by Olly Murs, "I Got U" by Duke Dumont, "Marry You" by Bruno Mars. For the bridal entrance, I had "Just the Way You Are" by Bruno Mars; for signing the registry, it was "Signed, Sealed, Delivered (I'm Yours)" by Stevie Wonder; for the recessional, it was "We Found Love" by Rihanna ft. Calvin Harris.
The Honeymoon:
We went to Las Vegas, and it was fantastic!
The Next Step:
I am so excited to spend every day with my new husband and start a family! He will be an amazing dad! I cannot wait!!
Planning Advice for Couples:
Enjoy the planning if you can because believe me, it will all be worth it in the end!! Please don't stress; it really is not worth it and there are worse things in life! As long as you two are happy and in love everything will fall in place!!
Highlights of the Day:
Getting ready and having no champagne glasses for the champagne, so using tea cups and a milk jug we found. It was hilarious and it settled the nerves; seeing the venue and everyone there; the ice cream van, which was delicious; the open top bus cocktail reception – the guests loved this, it was so much fun and they still talk about it.
Favorite Part of the Day:
There were so many moments I loved. The whole day was perfect. I enjoyed the night when everyone let their hair down, danced, ate, drank, and was happy. We all had such a laugh!!
A Memorable Moment:
The open top wedding bus with cocktail reception. Everyone was smiling all the way round. It was a fun and fantastic experience which everyone enjoyed and made the most of. Guests are still talking about it now and telling everyone how great it was!
Our Wedding Videos:
VENDORS:
Photographer: Christodoulou Photography
Event Venue: Aphrodite Beach Venue
Design and Décor: Aphrodite Wedding Décor
Transportation: Exclusive Wedding Bus
Cake Designer: Liotati Lotier