Matt and Suzette had a perfect Hawaiian beach wedding! Except it was in Florida. The beautiful warm weather and their lovely decor did a great job in bringing Hawaii to the East Coast. The canary yellow was an excellent choice for a motif and I also adore the pretty plumeria that matched everything that day. It was not too bright and not too pastel, just in between and perfect. Their wedding was simple and sweet. Who needs a ton of decor when you have a breathtaking venue, right? What a gorgeous wedding Mr. & Mrs. Haygood! Congratulations!
Click image to enlarge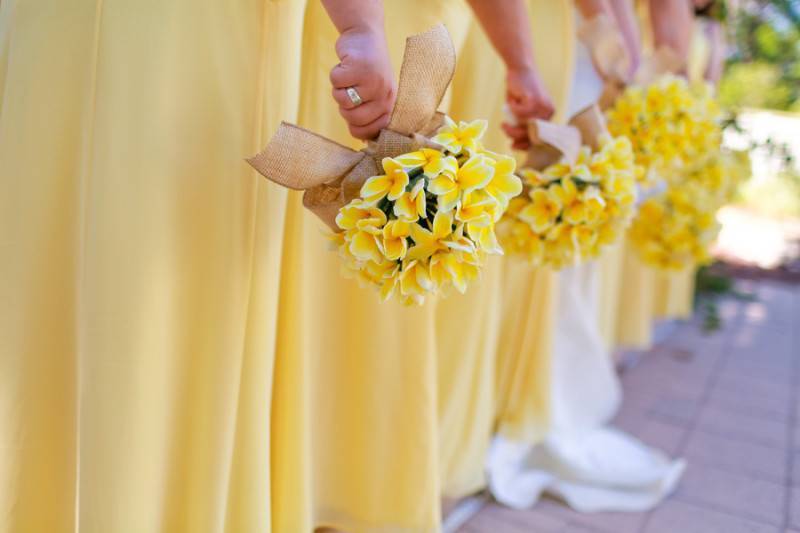 Like. Click to Vote
>
Our Story:
We met while attending grad school in D.C. The school hosted many social functions for the program, and we met over the summer of 2009.
The Proposal:
Matt proposed to me in the center courtyard of our grad school. He wanted to take me back to the place that brought us together. He had told me we were going out for a special dinner, so we were both dressed up, and then he had a black sedan pick us up. He walked to the center of the courtyard, got down on one knee (in a suit!) and asked me to marry him! Everyone around us cheered and clapped.
Our Wedding Day:
Beautiful! It was a typical Florida beach day. Very warm, but not oppressive. The sunset was probably the most gorgeous sunset I have ever seen! I can't describe I happy I am that we were blessed with such great weather!
The Theme:
Our wedding was at the beach, so the theme kind of took care of itself–our theme was definitely the beach and the sea. I also wanted there to be a lot of twinkle lights—little lights just give everything a magical appearance. Mainly, we wanted a wedding where our guests could feel relaxed and not feel like they had.
The Wedding Details:
When I was little, I always imagined myself walking down an "aisle." I don't know why I never thought I would be married at the beach since I think I was able to swim before I could walk.
Our wedding flowers were plumeria, and they were flown in the previous day from Hawaii. My amazingly talented sister-in-law put together the bouquets. My bouquet was mostly yellow plumeria interspersed with white calla lilies and the bridesmaids had a smaller version. The men had calla lilies as their boutonnieres.
Our wedding cake was a three layer buttercream cake covered in little-sanitized shells. It had a slight yellow tint to it.
I think our venue made the wedding unique. We wanted the wedding to be a relaxing experience for everyone, so we decided to hold the wedding reception at a beach house with a beautiful pool area and gazebo in the back.
The Guest List:
75 people went
The Do-It-Yourself (DIY) Projects:
My aunt put together these little potpourri fans covered in lace that had teeny tiny seashells and starfish glued onto them. She also made our card holder which was in a birdcage style covered in plumeria and seashells. My sister-in-law did all the centerpieces. We had plumeria on each table surrounded by wreaths interlaced with tiny twinkle lights.
VENDORS
Photographer: Kate's Captures Photography
Location: Brown Your Buns
DJ: Bzar Entertainment
Caterer: Catering By Bob, LLC
Bridesmaid Dresses: David's Bridal
Dress Designer: David's Bridal
Bakery: Publix
Makeup Artist: Simply Makeup
Hair Stylist: Simply Makeup
Equipment Rentals: The Celebration Place
Veils and Headpieces: Vera Wang