The ocean is such a beautiful scenery aside from the terrestrial ones. Maybe it's the sound of the waves crashing that gives a calming effect. Jesse and Viviana both love the comfort of the ocean the reason these two got married on the beach. With the blue scheme that mimics the sea and also the rustic and eco-friendly décors beautified the venue. I have come across so many beach weddings, but each one has something different from the other. Always add a distinct element that represents you as a couple whether it could be the ocean or the outdoors just something that'll make you feel comfortable on your big day.
Click image to enlarge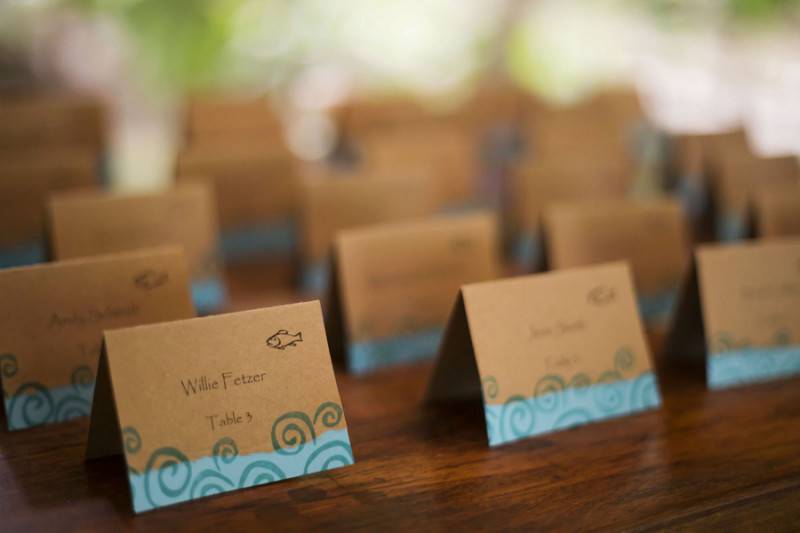 Like. Click to Vote
>
Album Story:
It is a story of love. Love being celebrated by the ocean, a place where both the bride and groom feel most comfortable. The album tells a story of the two families coming together to celebrate a beautiful marriage between two beautiful people.
The Theme:
The ocean was the theme. Both the bride and groom are Biologists and have a love for the water, ocean and fish. They wanted to tie the ocean into the day wherever possible.
The Do-It-Yourself (DIY) Projects:
Many of the details of the day were handmade. The menu and seating cards were all beautifully crafted and stamped by hand. Also, the blue vases for the centerpieces were recycled jars.
Favorite Part Of The Day:
My favorite part of the day was spending time with the girls getting ready. They were a little giddy and silly. They had a lot of fun while also keeping the bride calm and collected.
Wedding Day Outfit Inspiration:
The beach inspired the outfits. The ripples of the tide are mimics in the bride's dress and train. The groom's suit matches the color of the soft sand, with blue accents to tie in the ocean's waters.
The Highlights From The Ceremony & Reception:
For me, the highlight of the ceremony was watching Viviana walk down the aisle. She looked so beautiful, against the jungle background with tall trees towering over her. The highlight of the reception was the food. The food looked not only amazing but also tasted delicious. The appetizers were Costa Rican bocas with a bit of a gourmet twist.
Most Memorable Moment
Saying their vows was probably the most memorable for the bride and groom. The couple wrote their vows, and it was very touching to hear the story of their relationship and to see the emotion it brought out in each of them.
VENDORS
Photographer: Madison Baltodano Photography
Event Designer: Mal Pais Green Weddings
Event Venue: Milarepa
Caterer: soma chef services