Click image to enlarge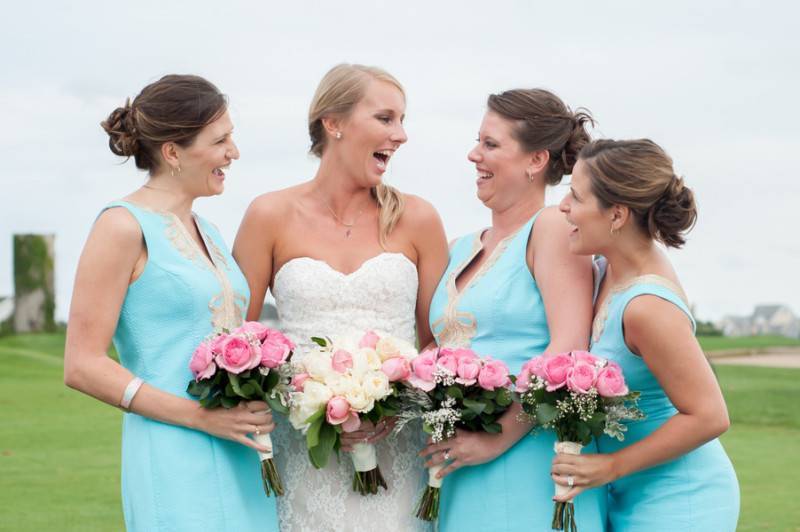 1

Like. Click to Vote
>
I just love the combination of pink, turquoise, and white – specially now that I've seen it in a wedding. You can never go wrong with this palette and I think, it goes really well with an outdoor setting. It's not exactly the most nature-y of colors so seeing it adorned with all the greens and sky blues makes it really pop out. But aside from this amazing color choice, this wedding is really nicely decorated. It wasn't overwhelming and the amount of details and designs were just adequate for this beautiful day. Congratulations Emily & Craig!

Photographer
What is the overall story for this album?
Emily and Casey met several years ago, in the town of Ocean City, MD. After being together for several years, Casey proposed to Emily on a trip to Key West, Florida. Even though they had settled their lives in Baltimore, MD, they decided to return to OC for their wedding celebration with friends and family. It was a small wedding, with less than 100 guests in attendance.
What inspired the wedding day outfits?
The bridesmaid dresses and bracelets were Lily Pulitzer and the bright turquoise fit with the summer beach feel they wanted for their wedding.
What was your favorite part of the day?
It had rained all day, and at the last minute, Emily decided to move forward with the outside ceremony. By the time the bridesmaids came down the aisle, the rain had stopped completely and they had the beautiful water-front ceremony that had hoped for.
Was there any Do it Yourself (DIY) projects? If so, can you describe them in detail?
Emily and her mother made all of the centerpieces which were named after all of the favorite restaurants that Emily and Casey like to visit in Ocean City.
What were the highlights from the ceremony & reception?
A ceremony highlight was most definitely when the rain stopped just before Emily walked down the aisle. Their DJ was fantastic and had everyone dancing all night. The most memorable for me was that Emily Knew how to end on a high note. About 45 minutes before the reception was set to end, she called last dance and invited everyone to hit the town with her and her groom! They left to a sparkler exit and partied the night away!
Was there a theme for the ceremony and reception?
Simple, elegant, beach- with pops of turquoise and soft pink

Vendors
Photographer:  Jennifer Smutek Photography
Floral Designer: Flowers by Alison Carmody