Click image to enlarge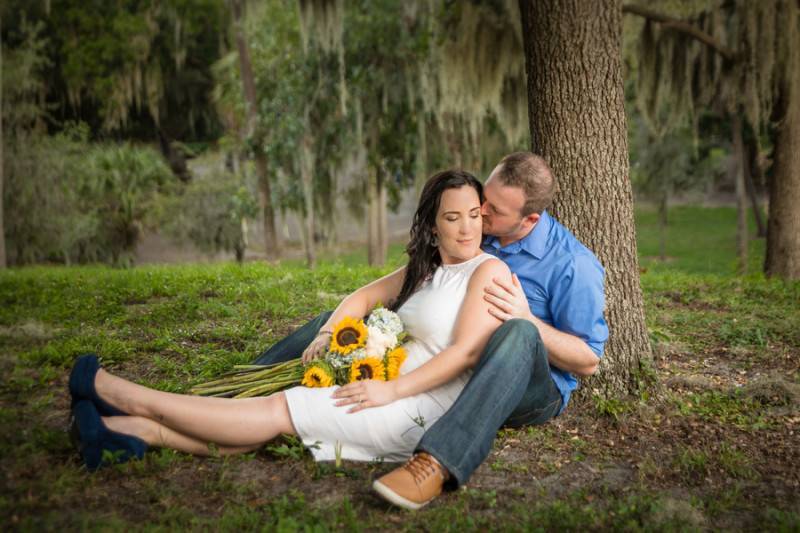 Like. Click to Vote
>
At first look, you'd think this engagement session was just a simple outdoors shoot between two lovely people. But after reading their photographer's tell all story about them, you'd then see that this album is full of sentimental meaning. The venues they chose were somewhat reminiscent of the place  where our groom, Nick, proposed. And speaking of, they also brought the maple box where he put the ring in when he decided to pop the question. What a beautiful idea! And lastly, the bouquet hit two birds – it was a nice pop of color for this session and it represents to color theme this couple will have on their wedding day. Congratulations Nick & Megan!

Photographer
As soon as I sat down for coffee with Megan and Nick to get to know them, the details of their wedding and how they met, I could instantly tell they were two halves of a whole. One of the questions I ask couples is to describe the proposal. As I listened to them recount that amazing time in their lives, I was blown away with their heart-touching story and the adorable way Nick asked Megan to be his wife.
Nick asked Megan to marry him on a beautiful nature hike while they were out of town in South Florida. As he walked through the lush greenery he couldn't wait to ask this amazing woman walking at his side to be his wife. When they reached an awe inspiring part of the trail he stopped and turned to his love. He reach in is pocket and handed her a very special box. He had carefully handcrafted a beautiful maple box with a red velvet lining. Megan, not at all expecting a proposal, thought the box was something cute Nick had made her. She opened the box and was greeted with pictures of people in her life giving her the thumbs up, her mother, best friends, even her cat. The final picture was of Nick holding a sign saying, "will you marry me?" Beneath the photographs was her engagement ring. With tears falling down her face she looked up at Nick, gave him the biggest kiss, and said yes.
As they told me the story of their proposal and relationship, all three of us had tears in our eyes. Megan looks at me with a slight smile and says "I am not a girly girl but Nick brings out the hopeless romantic in me."
I was so very excited to photograph their engagement session, for I knew the love they share would be such a delight to capture. We planned the session for Philippe Park in Safety Harbor, Florida. We started the session at the tree where they shared their first kiss. Throughout the session Nick and Megan would tell me the story of the day they moved from good friends to a romantic connection.
Nick brought a beautiful bouquet of sunflowers and hydrangea (their wedding colors) and a hand made sign he created for the occasion for Megan. He also brought the proposal box. Seriously, how adorable! Megan and Nick will make your heart melt.

Vendors
Photographer:  Rising Lotus Photography
Venue:  Philippe Park