Click image to enlarge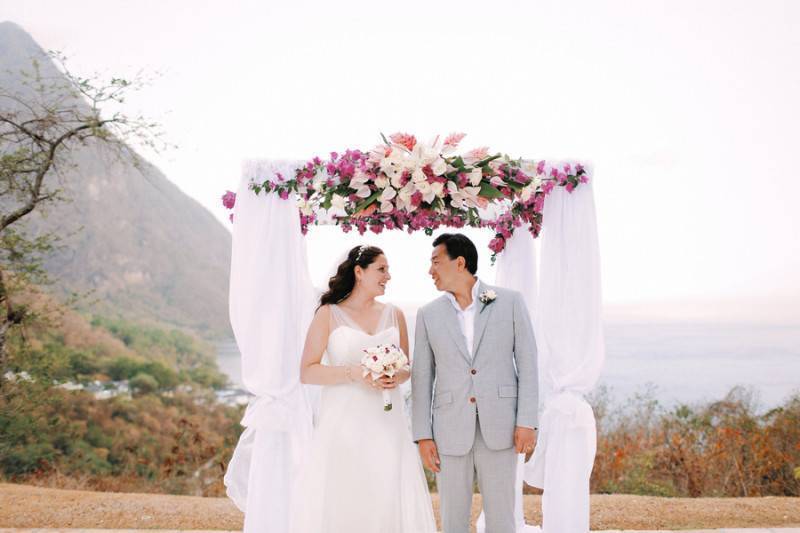 Like. Click to Vote
>
Laura & Uk's wedding is as sweet as their venue suggests, and I meant that both in the aesthetic and romantic sense. The details and decors were sweet because of the soft hues they used throughout the day. If ever there was a pop of color present, it would be in the form of a pink or purple. For the romantic sense, all credit goes to this beautiful couple. I love that they had so many adorable couple shots because they were impeccably sweet in front of the camera. Congratulations on your wedding day Laura & Uk!
Bride
What is your story as a couple, how did you meet & fall in love?
We met through a mutual friend at a bar in Midtown, NYC. We ended up living three blocks away in the same neighborhood downtown. From our first date on, we became inseparable.
How did he (or you) propose?
It was the first night of a two week trip to Europe. We were at a restaurant that was on a rooftop of a museum, Musee du quai Branly, in Paris right next to the Eiffel Tower. After dinner, we went outside to take photos on the terrace and after I took a photo I turned around and he was on one knee asking me to marry him.
How long was the planning process? Did you think it was enough time?
We were engaged almost 1 year exactly. 9 months of planning was enough
What tips & tricks (can we use "hacks"?) can you share future brides that you yourself have learned during and after your wedding?
Using website and magazines to get inspiration was very helpful in picking wedding colors and getting design ideas
What were some challenges you faced while planning your wedding & what did you do to address them?
It was very difficult to plan a wedding in St Lucia from New York. We never actually saw the wedding venue until we arrived in St Lucia so we had some challenges when we got there. The most difficult challenge was working with the onsite wedding coordinator. It was difficult to get in touch with and she was not very specific in planning the many details that go into a wedding
What inspired your wedding décor? Why did you choose the things that you did?
The hotel where we got married, Sugar Beach, is so beautiful that we did not need to do much in terms of decor. We used a lot of exotic local flowers and requested as many candles as possible
What was the biggest expense?
Food and beverage
How many guests were invited in your wedding and what was the final guest count?
We invited about 95 people and our total count was 62 including the bride and groom
How did you narrow down your list?
It was not easy! We only invited very close friends and family. For our local friends list, we decided that if we had not seen them in over 6 months, they would not get an invite.
What songs did you use during the ceremony?
"All of me", John Legend, "Mama", Boyz II Men
Where did you go on your honeymoon?
Copenhagen, Denmark and Stockholm, Sweden
What are you most excited about for the future?
Having babies!
Do you have advice for couples still in the planning process?
Make sure all details are in order! Keep spreadsheets and lists. Hire a wedding planner if possible
Was there any Do it Yourself (DIY) projects? If so, can you describe them in detail?
The wedding gift bags were almost all sourced from different vendors on Etsy. I found great deals and put together the gift bags with my bridesmaids.
What part of the ceremonies do you think was the

Vendors
Photographer:  Gideon Photography
Venue:  Sugar Beach Resort