Click image to enlarge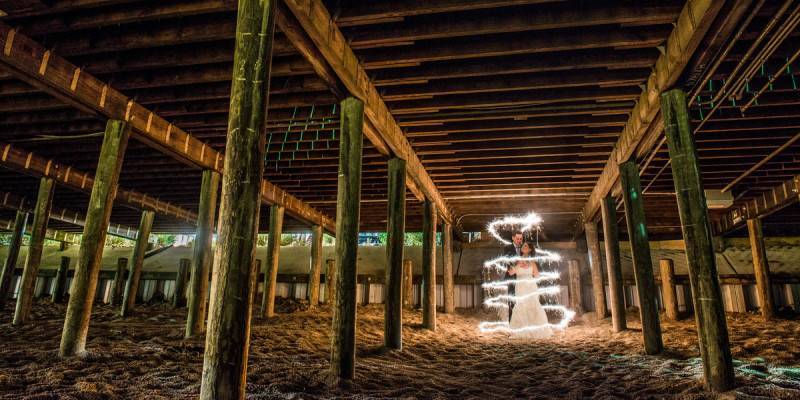 Like. Click to Vote
>
That shot is just amazing am I right? The beach, the couple, and the sparks all came together to create that wonderful photo. Anyway, this nautical themed wedding had it's elegance game on point. The details our couple, Kristen & Justin, used were simple but it looked awesome nevertheless. The cake was a creation of stripes and dots and was topped with an anchor, perfect for the wedding theme. The table setting was so sleek and the reception details looked cool and fun. If you're looking for a nautical wedding inspiration, you don't need to look further plus our bride's insights on her wedding day is truly informative and I'm sure you'll pick up something along the way. Congratulations Kristen & Justin!
Bride
What is your story as a couple, how did you meet & fall in love?
Justin & I have been friends since middle school. We actually dated briefly in the 7th grade, for about 3 months, but have stayed friends ever since. We have a very close group of friends and would all get together even over the summers when home from college. Justin went to Penn State and I went to Boston College. The summer we started dating, his two best friends were studying abroad in Australia, and Justin and I spent more and more time together. The friendship blossomed into romance, and we decided to make it work long distance for one year while we finished up at school. We then both moved back to NJ, and the rest is history.
What makes the two of you a perfect match?
We are and always have been best friends. We also balance each other out very well.
How did he (or you) propose?
I had a dream that Justin proposed by having his brother (who was 6 at the time) pull a ring out of a bowl of ice cream that he was eating. Justin's brother lives in VA, but he had his mom video him reinacting that dream. The day that Justin was going to propose it was snowing and beautiful out. He tried to get me to go for a walk in the park so that he could propose in the snow, but I was being stubborn as usual and refused. He then just told me that his mom had sent a video of his brother doing something cute, and got down on one knee while I watched the video. I was completely surprised.
How long was the planning process? Did you think it was enough time?
We had a long engagement, 18 months. It was probably too long. There was a ton of work in the beginning, and at the end, but in the middle we didn't really have much to do, except think and stress about the wedding.
What was the best advice you received when you were planning your wedding?
That at the end of the day, it's your wedding. Everyone will have an opinoin and advice, but do what will make you happy. You can spend a lot of time trying to please everyone, but it's not their day.
What tips & tricks (can we use "hacks"?) can you share future brides that you yourself have learned during and after your wedding?
The biggest two would be to make a separate e-mail address for all wedding related things. Bridal shows etc will give out your e-mail, and you will get so much junk mail. This is a way to compartmentalize this stuff. Second is to label all of your RSVPs. You will be surprised how many people forget to write a name.
What were some challenges you faced while planning your wedding & what did you do to address them?
We both have huge families, and we had to make a certain cut off of who to invite and who not to. Because our families were helping us pay for the wedding it was hard saying no to them, but at the end of the day you just have to do what you are comfortable with.
What inspired your wedding décor? Why did you choose the things that you did?
Kristen loves the beach, and grew up sailing and on the ocean/bay all the time. She knew she wanted to get married at the beach, but Justin did not want a "themey" corny wedding. We decided to go with a crisp, clean theme with mostly white and gray/silver accents. The venue had floor to ceiling windows overlooking the ocean, so we didn't need to detract from that view.
What was the wedding budget?
The original budget was $30,000. When all was said and done we probably ended up closer to $45,000.
Where did you save the most money?
We decided to go with a DJ instead of a band. If you have a great band that can play current music, it is going to cost you upwards of $10-15k in the tristate area, and we just did not have room in the budget for it. The DJ was great, we were able to pick as much of the "play" or "do not play" list as we wanted.
What was the biggest expense?
The venue itself. A Saturday in the peak season with open bar.
How many guests were invited in your wedding and what was the final guest count?
We invited 210, and the final count was 190.
How did you narrow down your list?
We both have huge families, so we had a tough time with this. We basically drew up a big family tree, and made a cutoff at a level we felt was appropriate based on how close we were with everyone. Such as, my first cousins, but not their kids. His second cousins, but not their kids etc. If I had never met someone in his family, even if they fit into that "generation," then we didn't invite them. It may have upset some people, but at the end of the day, everyone that mattered to us was there.
What songs did you use during the ceremony?
Honestly don't remember. We asked the DJ to play very classic wedding songs such as Cannon in D and the wedding march.
Where did you go on your honeymoon?
Haven't been able to go away yet due to work schedules. We are planning a trip to Greece for our first anniversary
What are you most excited about for the future?
We're excited to be done with wedding planning! We had an amazing time at our wedding, but we are both too much of perfectionists to just relax, we were always worried about the details. We can't wait to travel.
Do you have advice for couples still in the planning process?
Enjoy the wedding night itself! It goes by SO fast!
What is the overall story for this album?
A classic beach wedding, with all of our friends and family!
What inspired the wedding day outfits?
For the bridesmaids I just wanted them to be comfortable
What was your favorite part of the day?
It rained just as we were about to start taking pictures, up until just before the ceremony was about to begin (we had already made the decision to move it inside). After the ceremony, the rain cleared, and we were able to get outside to the beach to take pictures, and I was so happy!
Was there any Do it Yourself (DIY) projects? If so, can you describe them in detail?
The only real DIY thing that we did was a table with old wedding photos of our family members who had passed away. We took old photos and printed them in black and white and placed them on a table with candles and a sign that read "We know you'd be here today, if heaven weren't so far away"
What were the highlights from the ceremony & reception?
Ceremony: Justin had broken his middle and ring fingers a few weeks prior to the wedding. When I went to place his ring, the priest made a joke about how surprised he was that we found a ring to fit over his fat knuckle. The reception was a whirlwind, but all 190 guests were out on the dancefloor the entire night. We had such a great time just running around and taking it all in.
What part of the ceremonies do you think was the most memorable for you? (& your guests?)
We exchanged very traditional/classic vows, but chose our own readings. One was a traditional biblical verse (Corinthians), while the other was a reading from literature (the alchemist). They both mean so much to us, and I hope the guests saw how they related to our relationship and our lives.
Vendors
Photographer:   Nathan Desch Photography, LLC
Event Venue:  McLoon's Pier House
DJ: Ryan McCroreyfrom Sounds to Go DJs
Flowers/Decor: Kate Duffy
Cake:  Chocolate Carousel