What do you get when you have a fun, outgoing, and cute couple? This delightful engagement session! Once in a while, spontaneity is encouraged in a relationship. And the best moments usually happen when they are unplanned. Riley and Kyleigh expressed that on their engagement session. From biking off a trail to dipping the feet in the sand, each frame showed how fun they are as a couple. You can easily imply that they are very easy going. That made them so adorable and had me fangirling.
Click image to enlarge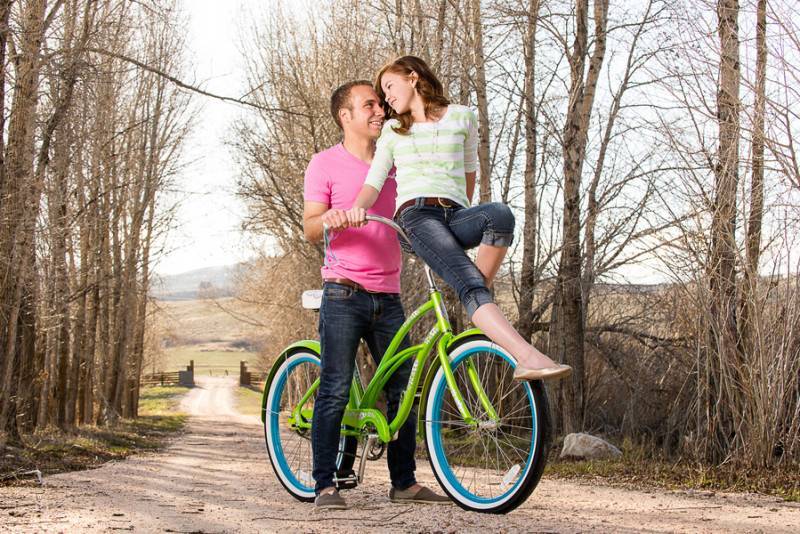 Like. Click to Vote
>
Our Engagement Session Experience:
We decided just to be us! In a way, we just pretended it was just another date with no photographers. We laughed and goofed around. In between photos, we were pinching each other and pulling funny faces. It's ok to have a few bloopers here and there. Our advice is to get a photographer who makes you feel comfortable. Someone who is open to bouncing ideas off each other and collaborating. Ours had us laughing and feeling like we knew them for years. (We had only met them previously at a consultation when setting up this shoot.) They helped us achieve all our expectations for what we wanted as our engagement photos.
The Concept:
I wanted to portray how spontaneous, unique and fun our relationship is. We took standard photo ideas, added our personal flair and made it ours. We let our goofy selves shine through. Why did you choose the location? Riley and I love Bear Lake. It's our little escape from the world. We come from a small valley where there are few popular areas to take engagement photos. Most places are overused. We wanted a location where we both considered our "happy place".
Engagement Session Outfit Inspiration:
When first thinking about what to wear, I drew blanks. I didn't even think to choose a specific color scheme. I knew I loved how Riley looked when he wore blue. I stuck with that idea. I also loved bright spring colors. We went off of that and crossed our fingers our colors would work together.
Something About Our Wedding:
Our wedding occurred on June 07, 2014. We were sealed in the LDS Logan, Utah Temple. Our ceremony was very sacred, simple, and private. We held our reception at the Utah State University Alumni House, half indoors/half outdoors. It was rather chaotic with the amount of people (over 300 guests attended). There was a lot going on with our receiving line, wedding traditions (bouquet/garter toss), decorations and desserts. Luckily, we had Convincing Image Photography. They were able captured all the important moments. Somehow, we managed to pull off what we think of as a perfect day.
VENDORS
Photographer: Convincing Image