Ben and Heather had a stroll at the pier and a dip in the beach. Everything had a laidback atmosphere along with the love they had for each other. You can see it on the photos on how they are together. There's something about the beach that will make you sentimental. And this romantic moment will be forever remembered by Ben and Heather. A memory captured. Best wishes!
Click image to enlarge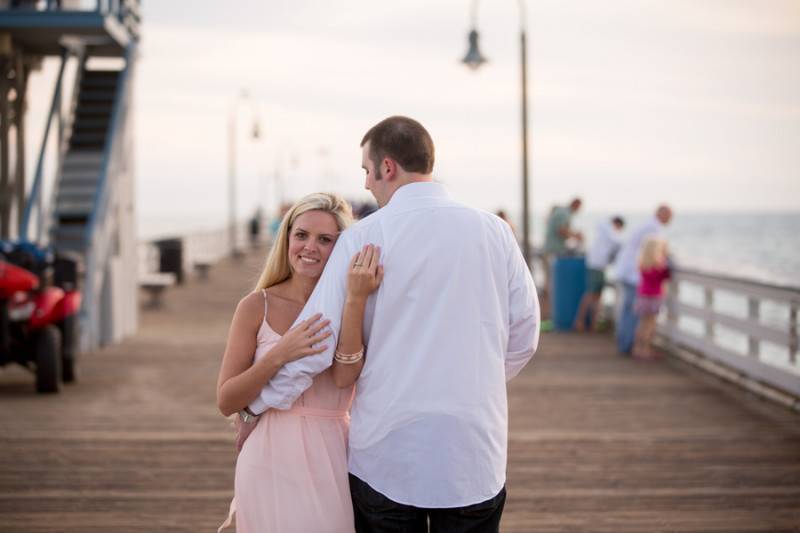 Like. Click to Vote
>
The Concept:
I wanted to portray a laid back relaxed couple having a great time at the beach. Showing their love for each other and just surrounded in beauty.
The Location:
We selected San Clemente Beach because they have amazing cliffs there and were going to do some photos up there as well as on the beach, but thanks to very bad traffic on the day of their engagement session we started late so focused on the pier and beach. I think it ended up working better.
Engagement Outfit Inspiration:
I have what to wear guides for my clients and sent them to Heather and Ben and let them pick what they thought was going to be best for them and their session.
A Hint For The Wedding Day:
In some ways, the photos gave a hint of their wedding day because you can see the love that they have for each other. Since their engagement session was laid back and on the beach so were many parts of their wedding. When it came time for their portraits on their wedding day, they were just as relaxed and calm.
The Engagement Session Experience:
When I first met with Heather and Ben, I talk with them about what they love about each other and how they express their love. During their engagement session, I would get them into a pose, and they allow them to have their time there, talking about whispering secrets in each other ears or get them laughing by yelling something silly. After about 20 minutes, they were completely relaxed and just had a fantastic time with each other shooting on a beautiful beach. We were lucky to have a gorgeous sunset that I was able to capture for them. Heather and Ben were truly easy to work with and made it a joy to capture them both.
Something About The Wedding:
They had a Catholic mass wedding followed by a reception at a stunning golf course in San Dimas. The bride wore a beautiful mermaid gown and the bridesmaids worn full-length blush dresses. Their ceremony was about their marriage and life before God, but their reception was a party for sure.
VENDORS
Photographer: Kirstin Burrows Photography
Other Location: San Clemente Beach