Everyone was apprehensive about the weather but gladly, even though the sun did not shine, raindrops did not fall. Mary Beth and Buddy's beach wedding is all sunshine and smiles as every little thing was conceptualized with yellows and oranges. Cutting off the typical floral centerpieces, they had large yellow helium balloons and funny photo booth props and that's a 10/10 for me! Even the bridal bouquet is a vibrant bundle of yellow and orange daisies which magnified Mary Beth's allure.Everything is just so beautiful! To Mary Beth and Buddy, may you have lots of love today and beyond!
Click image to enlarge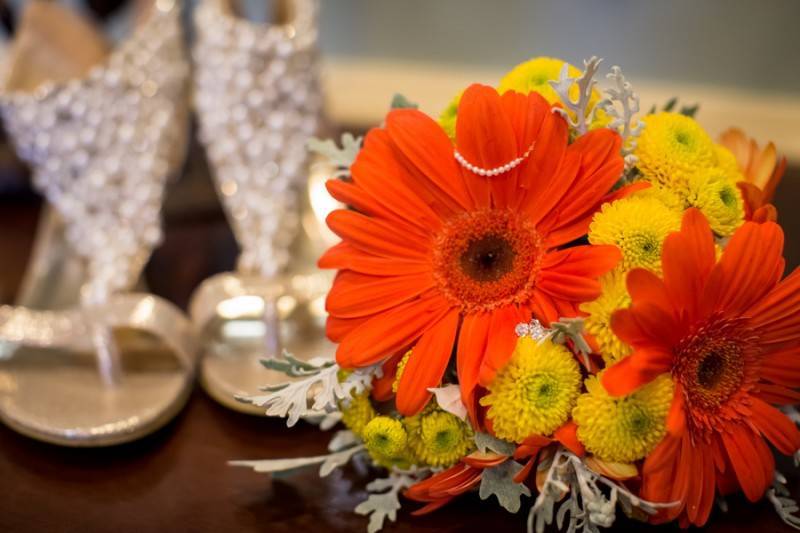 1

Like. Click to Vote
>
The Album Story
Mary Beth and Buddy met in 2011 on a bet. Mary Beth's friends bet she wouldn't make a move on the hot guy at the beach, and so she did! With a pickup line of "Hey, do you need any sunscreen?" and a response of "Sure, if you're willing to rub it on me!" how could they not be destined for greatness? They hung out all day and exchanged numbers, but 2 years went by before they met again on a whim on the same beach. From there, it was history!
Mary Beth and Buddy knew they wanted a beach wedding since it made perfect sense, having met on the beach. They also knew they wanted a big, fun party with all their friends and family. Once they saw the Dunes, they knew it was the perfect location!
The Do-It-Yourself (DIY) Projects
Their giveaway was a palm tree key chain with their names and the date to act as a fun memory of Buddy's first gift to Mary Beth days after reconnecting because it was Mary Beth's birthday!
And all their guests signed puzzle pieces to signify all of their family and friends as a piece of their lives.
The finished puzzle creates a C for their last name, Cooke. Their perfect night ended with a blast as they were cheered on by their guests with sparklers and took off in a golf cart, the same choice of transportation for their first date at the beach!
Photo booth props became the centerpieces for the reception tables in hopes that it would create that fun, party atmosphere, and that it did! The large balloons just added a great piece to bring it all together.
Highlights From the Ceremony and the Reception
The first kiss with her foot popping up under that dress, their reception entrance and first dances, and all the fun dancing and sparkler exit.
On the wedding day, Mary Beth had a beautifully private first look with her father so was so ecstatic about his daughter getting married! While walking her down the aisle, he carried a yellow daisy in honor of her mother, who passed away 2 years ago. There was an open chair just beside him during the whole ceremony.
Favorite Part of the Day
The rain was in and out all day and everyone was very nervous it was going to get pulled inside. It ended up being so beautifully overcast and made the ceremony extremely enjoyable without distractions of the heat or sun in your eyes. The bride and groom were so full of joy and couldn't keep from smiling all throughout the ceremony. Their walk as husband and wife shows the pure happiness they felt at that moment.
A Memorable Moment
The first kiss was a memorable one, and they had a fun, choreographed dance as husband and wife. Everyone seemed to love all 3 of the special dances. The bride's father is the most jovial, loving father we've ever witnessed working weddings.
VENDORS
Photographer:  Discover Love Studios
Cake Designer: cakes by the sea
Dress Designer: Essence of Australia
Bridesmaid Dresses: J. Crew
Floral Designer: La Zelle's
Band: Magic Pipers
Event Planner: Manor Court Events
Groomsman Attire: Men's Wearhouse: Vera Wang
Dress Store: New York Bride and Groom
Beauty: Teasers Hair Salon
Reception Venue: The Dunes Golf & Beach Club