Brett ♥ Barbi
Nothing could be more special than a little girl's vision of her wedding day. When Brett and Barbi had to decide where their wedding venue will be, she knew it had to be at the beach where she often visited as a child. The touches of lilac and purple made the day spectacular. Congratulations, Brett and Barbi! May all your days as husband and wife be lovely and bright!
Click image to enlarge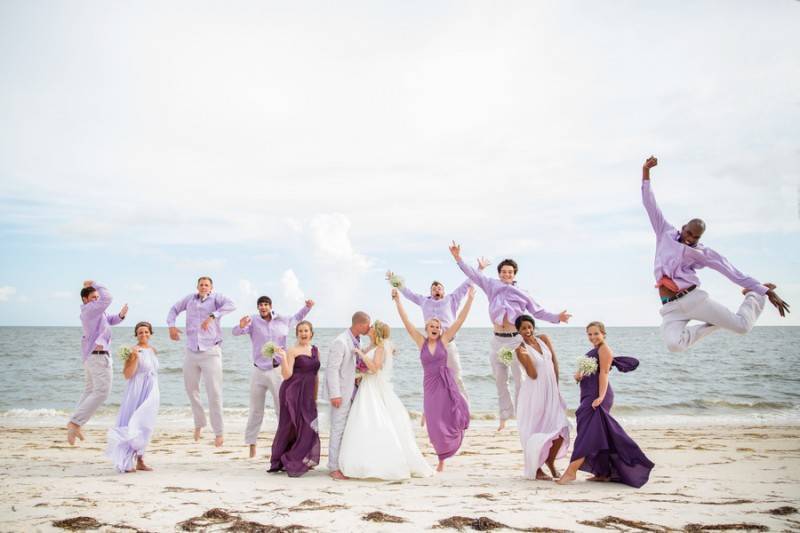 5

Like. Click to Vote
>
Extra Special Wedding Details
The first look. Brett was blindfolded with a Georgia Bulldogs bandana until one of the bridesmaids took it off. His first look completely made the guest tear up. He was stunned by how beautiful his bride looked walking towards him.
The rain. Right as Barbi got her dress on to literally run down the isle the rain came. 10 minutes later, the sun was set right behind the most magical clouds and their ceremony began.
The Dress Series: The bride had two dresses for her day. The dress she chose to walk down the isle was a full and flowing white dress.
Savoring Wedding Favors: The guests signed a bench, and they passed out handmade picture frames as a party favor.
Take it From The Bride
Be patient, remember that at the end of the day you will be married, and always keep each other first —  don't get lost in the planning. Make a list and try to stick with it.
Wedding Budget
$5,000 – $10,000
VENDORS
Photographer: Keisha Robertson Photography