Who would've thought that hays and horses would go so well with the beach and the waves? Well, for Jennifer and Kevin, they fused both elements and created a rather unique atmosphere. Since the bride grew tons of good memories in her parent's private property, she opted to make another memory but this time, it's with her life-long companion. Oh goodness, check out their photos and see what I have been talking about. LOL! And one more thing! If you are into shoes, go and do what Jen did of having hers designed just for her wedding day — it adds up to more precious feels.
Click image to enlarge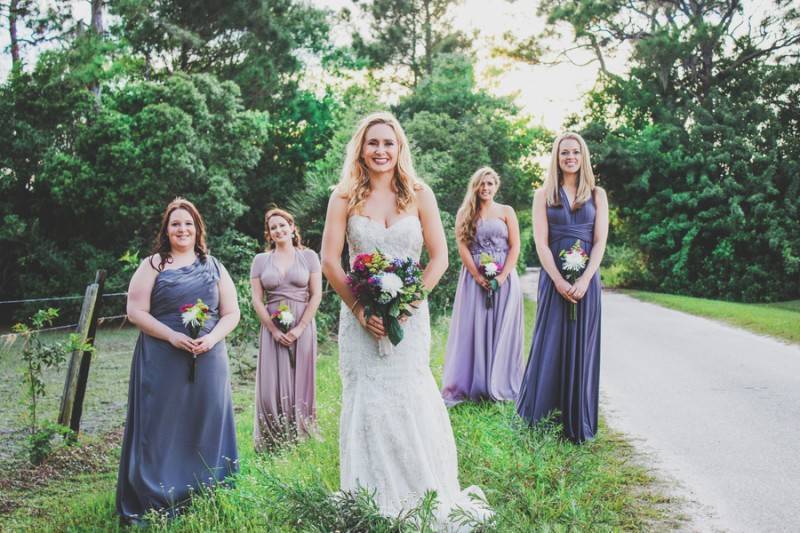 Like. Click to Vote
>
Extra Special Wedding Details
The Chef Groom: Their wedding was mostly DIY and was absolutely stunning but the one area that I least expected was that Kevin was a chef and just before we left for the ceremony, he and several close friends were putting finishing touches on the spread of food.
The Gorg Stone Patio: Their wedding took place on Jennifer's parents property which they completely renovated for the wedding. They added a gorgeous stone patio area where the banquet table stood across and the pool with purple and blue accents for their wedding colors.
Shoes Just For The Bride: I loved Jennifer's bow shoes – she asked specifically for a photo or two to incorporate them. They really put a finishing touch on her wedding day look.
Of Hays And Horses: The hay bales and horses were great props that they had originally considered removing before the wedding day but decided against so I am definitely thrilled we were able to incorporate them in a unique way which was concentric to their wedding.
Tips from the Couple
♥ You can never get started too early on planning your wedding! Their wedding date snuck up quickly on them and they had to scramble a little near the end (who doesn't!) but they mentioned that they wished they would have come down to Florida a few days earlier than they did.
♥ Don't be afraid of mixing up your bridesmaids dresses. Jennifer chose a multi-way customizable dress in several variations of her lavender color and during photos, I was able to hear her girls commenting on how glad they were to actually feel comfortable during pictures by being able to adjust their dresses to their unique figures and styles.
♥ A day after session is a must if available! Jennifer and Kevin had planned to do their photos following the ceremony but due to extreme winds, that was not working for them! We opted for photos back at Jennifer's parents home (which turned out stunning!) and I offered to meet them the next day when the weather calmed down. They enjoyed the day after session so much and we were able to take our time and make sure everything was perfect!
Wedding Budget
$10,000 – $20,000
VENDORS
Photographer:  Emily & Co. Photography