Today's featured wedding is the wonderful work of art of Curtis Round Photography and there's so much to love about it. The amazing love and support that surrounded Nicole and Dustin the entire week, the laid-back nature of the group,  the storm clouds that loomed over the ocean during the ceremony while the sun splashed rays across the beach – ah, the reasons are just countless. Indeed it was a fun, airy and klissful *pun intended*  wedding! Have a happy married life, Nicole and Dustin! Congratulations!
Click image to enlarge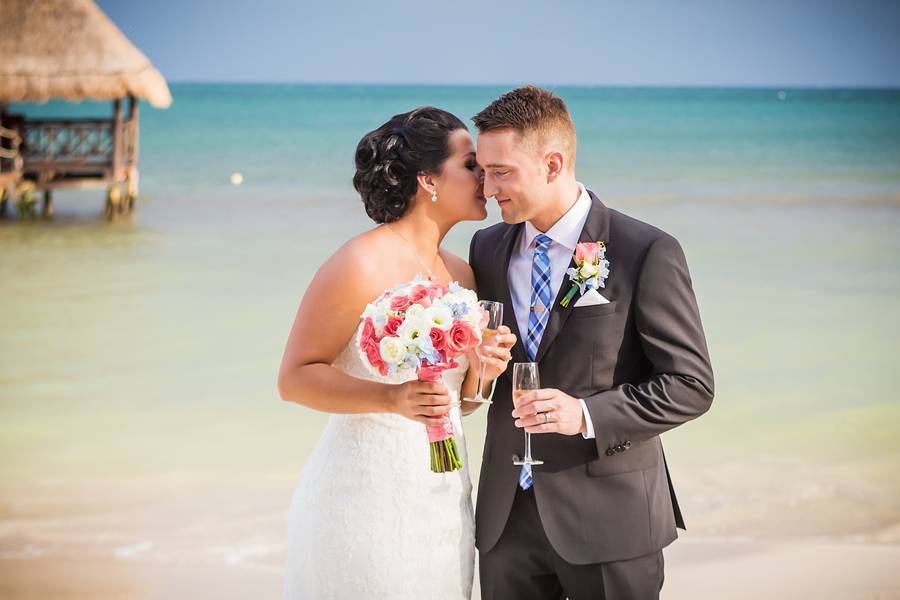 11

Like. Click to Vote
>
Extra Special Details
Nicole dress was absolutely lovely. It was perfect in how light it was for the hot weather, she moved around in it beautifully, and it hugged her in all the right places.
The bridesmaids' dresses were also lovely. The color was a different take on the vibrant colors you normally see at a beach wedding; the royal blue brought a bit of boldness while the shape kept it fun and flirty (not to mention how great it looked on the ladies!)
The cake topper was an eye-catcher. Besides bringing some edge, it's extra special because Nicole's father made it himself.
The view for the ceremony was what every photographer (and hopeless romantic) dreams off: moody clouds infusing the air with electric tension, rays of sun bursting through the cracks, the sound of the waves rushing over the burning sand. All of that added to the happiness emanating from Nicole, Dustin, and their family and left you feeling completely enveloped in love.
The Photgrapher's Advice
From a photographer's point of view, the best thing you could do is relax and enjoy the events of the day. You've put in your time and stressing about things now will just put a damper on your mood and memories. Let yourself be the glowing bride: have fun and revel in the love of your new husband. — Oksana Round, Curtis Round Photography
Money Matters
Wedding Budget: $10,000 – $20,000
VENDORS
Photographer: Curtis Round Photography
Reception Venue: Azul Sensatori
Dress Designer: Maggie Sottero