Click image to enlarge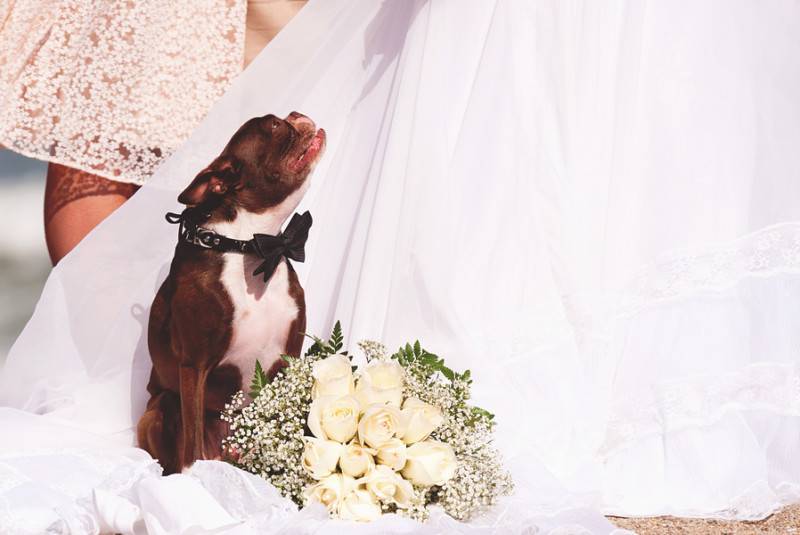 Like. Click to Vote
>
This simple beach wedding shined beautifully throughout the day. The number of details and decors we're presented in this album maybe minimal but all of them were beautiful. Our bride's gown was the perfect balance of elegance and flowy – super apt for the beach! Her bouquet of baby breath and white roses was just lovely. Their cake was beautifully intricate but it wasn't overwhelming. And of course, their adorable critter was the cutest thing – she behaved so well during the ceremony. Congratulations on your beautiful wedding, Jessica & Kevin!
Photographer
What is the overall story for this album?
This wedding, for me, was a complete happy surprise. I was actually scheduled to have a client meeting with the bride's sister (who is/was interested in booking her wedding with me). I received a phone call saying she had to
reschedule because her sister was getting married on that day! Perfect– did they need a photographer? Indeed they did! Talk about an on the job interview.
Jessica and Kevin have been engaged for a little. It occurred to them that this day in October would be the perfect day to tie the knot. They both move around for their jobs and it just seemed the perfect time to take the plunge. The tricky part was making sure that the grooms family flew in from Canada in time! Which they did! Jessica and Kevin wanted to be married on the beach and celebrate afterward at their parents home.
I have to seriously tip my hat to the Nancy, the Mother of the Bride. I believe she told me that she had 14 days to throw this wedding together! I can't believe what a beautiful job she did. From the moment that they welcomed me into their home I knew that this was going to be a special day. The house was a buzz of activity but you could literally feel the love.
There were so many special and unique touches to this wedding. All starting with the fact that Jessica choose to wear her mother's wedding gown (with just a few alterations). What was even better was that they kept this a
secret from her father. I think my favorite moment from this wedding was when her father first saw her in the gown (which was overwhelming enough). Yet then came the realization that his daughter was wearing his wife's
gown. It was a fantastic moment. And yes.. he truly recognized the dress. I asked Nancy how she felt when Jessica said she wanted to wear her gown and this was her reply. "Overwhelmed with emotion and my heart had a smile that will forever be. I never imagined my dress being worn again let alone by my daughter. I felt as happy that day as I did at my own wedding 30 years ago."
I asked Nancy if Dan expressed any thoughts to her after the wedding about the dress… Here is what he said. "I did, am I paying for dry cleaning! No just kidding. I cannot describe what I was feeling when I saw my little girl
in her mothers dress. It was a "pinch me I'm dreaming moment". Nancy was so beautiful on the day we were married and that dress was made for a princess. When I saw Jessica, stunned! I knew that dress, there is only
one like to me and she was just as beautiful as her mom. I would never change a thing about that day, next to my own wedding day it was the most celebrated day of my life."
There were so many other personal touches to the wedding. The grooms family send a beautiful arrangement of white roses to the house. Nancy managed to arrange the most beautiful bouquet out of them. And they even
enclosed the note that Kevin wrote to his bride around the bouquet. Jessica and Kevin (and Wade, their dog) had an intimate ceremony at the beach with just family and then returned to their parent's house for a celebration with friends and family. Poolside dancing, laughter and lots of love.
What inspired the wedding day outfits?
Easy.. her mother. Jessica knew she wanted to wear her mother's wedding dress and with a few minor alterations…it was perfect. The dress fit perfectly with the breezy beach setting. Light, airy and romantic.
What was your favorite part of the day?
This is a hard one. I can't say that there was one specific moment. My favorite thing about this wedding was the family (Mom, Dad, bride, sister). The moment I entered their house I could feel the anticipation, excitement and
love that surrounds every wedding. What was different was that they brought me right into it. They literally treated me like one of the family. Ok.. I will say that if I had to pick on part it would be the moment when Jessica's dad say his baby girl for the first time. The moment when he realized that she was wearing his wife's dress. It was amazing to be there to see his eyes literally change. First taking in the shock of seeing your daughter in a wedding dress and then the recognition of realizing that you have seen this dress before. It was priceless and there were lots of tears to go around.
Was there any Do it Yourself (DIY) projects? If so, can you describe them in detail?
I have to give credit to the Mother of the Bride. She had something like 14 days to pull this off! My favorite DIY project was the bridal bouquet. A few days before the grooms (from Canada) family sent a gorgeous bouquet of
roses to the home of bride. They decided to make her bridal bouquet out of them. They even included a note from the groom which was cleverly wrapped around the stems.
What were the highlights from the ceremony & reception?
The ceremony was just family. Small, intimate and hot! It was a bright sunny day and the location that they found to stand on the beach was perfect! The bride had the location picked out in here mind. Great.. off we go.. a
caravan of cars heading to the beach. However, what she forgot to account for was the parking situation. There was room for about one car. Do you think this family let this phase them? Of course not! We found a parking lot
a little farther down. All huddled into one truck (photography gear included!). No sweat. I really just loved the closeness of this family. During the ceremony, mom and dad stood with arms around each. While I don't know
what they were thinking, I can only begin to imagine what emotions go through your head as you watch your first child get married. I loved that they held onto each other. That one act said it all to me. These parents were
the cornerstone of this loving family.
Was there a theme for the ceremony and reception?
Backyard fun with a focus on family. It wasn't about all the fancy things that come along with a wedding. It was about celebrating with the people who they loved the most.
What part of the ceremonies do you think was the most memorable for the bride and groom?
This is an easy one! Having their dog, Wade, there. This little guy was definitely a huge part of their family. And he was there front and center. I also think that the groom was simply happy that his parents and family
managed to get to Florida in Time!
Anything else you would like to add ? This wedding was such a happy coincidence for me (and I must admit…slightly like an on the job interview as I was supposed to meet with Jessica's sister (Victoria) to hopefully photograph her wedding). They took a chance and booked me prior to that for Jessica's wedding. I can't wait to spend more time with them when I photograph Victoria's wedding in the summer!
Vendors
Photographer: Liz Cowie Photography
Officiant: Jessica Pursell
Cinema and Video: Liz Cowie Photography
Event Planner: Nancy Alessandrini
Cake Designer: Publix Bakery