Joseph Delgado beautifully captured Joseph and Angela's engagement session. Not only did he captured the couples undeniable romance he also seized the beautiful scenery – the details of making this engagement session a wonderful masterpiece. I love this couple's silhouette photo he took on the bridge. The bright blue sky and the intimate couple just made it breathtaking to look at. Kudos Joseph and best wishes to our featured couple!
Click image to enlarge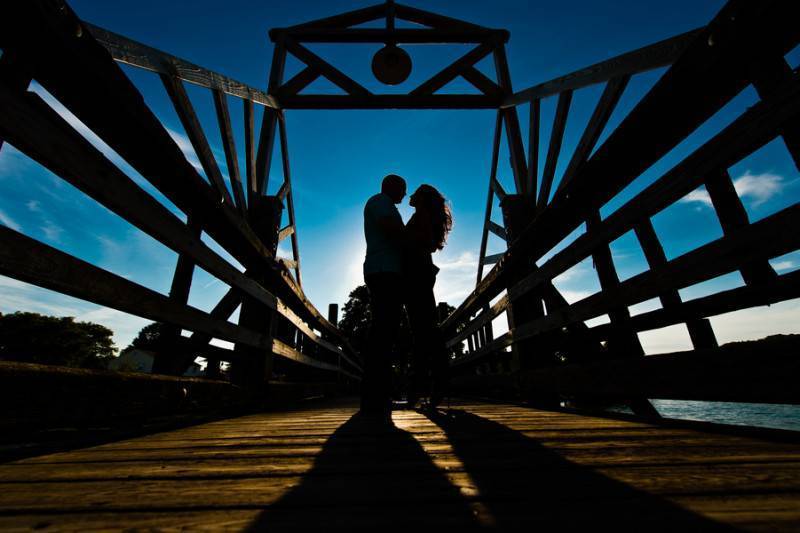 Like. Click to Vote
>
How we met:
Joe and I met at work for an Investment Manager right after we graduated college (Prudential Financial in Newark- who knew Newark was romantic?) We worked in separate groups, but he worked directly with a guy I went to University of Delaware with. One day the mutual friend asked me to join them for lunch, and Joe and I hit it off. I don't think I stopped laughing for the entire hour. After lunch our mutual friend told me "I give you guys 3 months until you're a couple"… needless to say, we didn't even make it to the 3 month marker!
How he proposed:
Let's preface this with how Joe originally asked Angela out… Before watching fireworks in Red Bank, NJ on 7/3/2008, Joe and Angela went to dinner at The Downtown. After dinner, the bill came and Joe mentioned something about the waitress and a comment on the bill. Angela of course, decided that she NEEDED to see this so-called-comment-from-the-waitress, reached over the table to grab the bill, only to see that it was really a piece of paper asking Angela to officially be his girlfriend.
Let's ALSO preface this with- Ang is a super duper totally over the top planner that feels the need to ask a lot of questions…. about EVERYTHING!! So needless to say, surprising her with one of life's biggest questions wasn't going to be easy. However, Joe was able to pull it off flawlessly.
The night of 10/12/13, he tricked her into thinking that the nights plans had failed, leaving her dressed up nicely and hungry! After an absolutely delicious meal at Brandl Restaurant in Belmar, NJ, wine, and the most grandiose chocolate dessert known to man, he got the bill for dinner. After commenting about the bill (knowing Angela's prior history) she grabbed the bill from his hand to check it out her self.. she was stunned to see the "bill" was really "Will you marry me?" handwritten on paper inside the checkbook. After a few choice exclamations, she said YES!!
As for my (Bride's) outfit:
Jeans are from Express, Peplum tank top from Express, and shoes are Steven Madden. The dress is Bar iii, and those shoes are Steven by Steve Madden.
Photographer: Joseph Delgado Photography