When you have love, nothing else really matters much. Shelby and Mikey knew with just one look that they would spend the rest of their lives happily married with each other. And after what they have been through, this post is to congratulate and commemorate how far they have come.  The couple was wed on a boat and as it sailed, so did their love. The guests had so much fun celebrating their love to the theme of an island/cruise getaway. A cute fact that makes their wedding even more special: Shelby had their dog, Samba, a Siberian husky, as her maid of honor. How adorable is that? Congratulations again Shelby and Mikey!
Click image to enlarge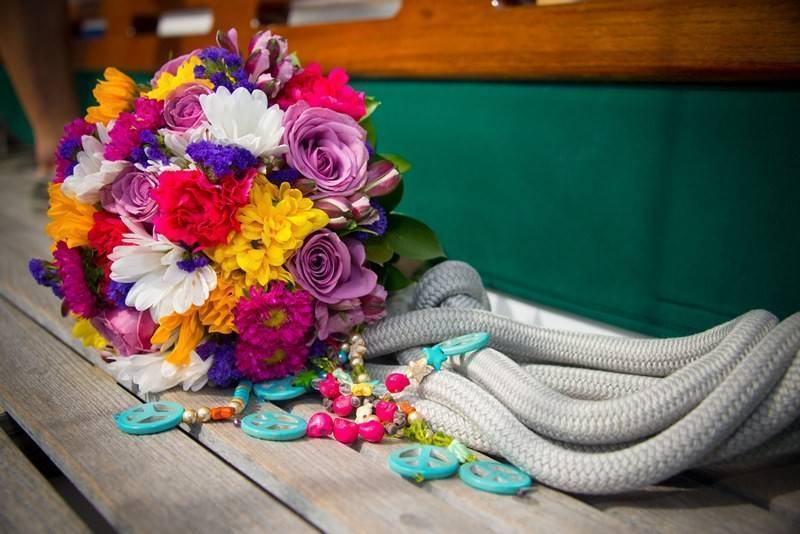 1

Like. Click to Vote
>
Our Story:
Shelby and I met when we were 15/16 years of age at a Pittsburgh house party. I walked in, saw her eyes and immediately knew that she would change my life. As teens growing up in the local Pittsburgh band scene, our crew of friends was local teenage delinquents, drinking Colt 45, staying out late, living for the summer concert season and enjoying life. By 21 years of age, we finally officially were a couple. In 2005, we left Pittsburgh and headed to Key West as young 20-somethings escaping the snow. We grew up taking college courses online and living in a tropical paradise. Years past, we traveled to Olympia and Seattle for higher education and were still together. By 2014, schooling was done, and we were back in Florida. In the Spring of 2014 I proposed to Shelby during a time of generally feeling overwhelmed but knowing that my partner was all I needed (despite having chicken pox at 30 years of age and moving into a less than ideal apartment). That day we celebrated by discussing wedding plans over a few tacos on the beach in Miami with our Siberian Husky, Samba.
What makes the two of you a perfect match?
We are very much so opposites at a glance, but there is such a history that really, we are just old friends living life together.
The Proposal:
In the spring of 2014, strangely I got the chicken pox while trying to deal with a less than ideal apartment situation and a landlord that was in space. As a result, we were a little stressed. I looked over at her as she was taking photo frames out of a box and setting up in our new apartment, and a heavy calm came over me. I thought that I was either dying from the virus or realizing that none of this matters (LOL). I told her that everything will be okay and that one day we will be married with a house. Without making it obvious, we both knew what that meant. We took the rest of the day off, bought tacos and went to the beach to start planning the big day. To make it truly official, officially said the words "Will you marry me?" on her birthday (May 20th, 2014). While very ill with the chicken pox and sitting on floor to celebrate with a cake that was like pulling teeth to make while being that sick.
How long was the planning process? Did you think it was enough time?
June-Feb. Not really.
What was the best advice you received when you were planning your wedding?
Relax, because no matter how hard you try, this IS still real life and hoping for everything to be absolutely perfect will set you up for disappointment.
Tips & Tricks For Husband-and-Wife to be:
Pinterest, online, don't depend on friends and have the wedding you want, not anyone else's. Be careful not to end up releasing too much control and thus creating a mom-zilla or dad-zilla.
The Challenges We Faced:
Working full time and planning is tough. Keep it simple. Let others help — who truly want to help and can prove it by doing something now – not later. We had some people who said they wanted to help, but then sat on the project we gave them for 2 weeks. Look for friends and family who can help now, but also not take over.
Wedding Decor Inspiration:
We just wanted a simple Key West wedding. Tropical and fun. A lot of the decor was Shelby's mom. She chose much of what you saw decor wise. We chose the locations, food and entertainment.
The Wedding Budget
$20,000
We saved our money most by having friends in Key West as a result of living down there.
The biggest Shipping decor down and also the trolley we rented to get everyone from the boat to the reception.
Number of Guest Invited:
50 invited. 40 showed. We had a destination wedding that was a tropical paradise that was far for most but only a 3 hour drive for us hahaha. Only those with true grit and the money to spare made it. Easy as that.
The Songs:
Our old friend Jimmy , a local Key West Acoustic performer, played acoustic covers: Sublime, Jack Johnson, Foo Fighters, OAR, Bob Marley…
Our Honeymoon:
We went on a cruise that left from Miami and toured Central America.
In The Future We Are Excited About:
Just enjoying life regardless of the future.
Our Advice To The Couples:
Be yourself. Stop idealizing this day as something more than what it is. Things will go wrong, people will annoy you and it can be hard. All in all, it is planning an event and a lot will have good intentions, but not come through… So just relax. Be yourself. Plan it the way you want to and keep it about what the day is really about, not the material possessions.
Wedding Outfit Inspiration:
I found the dress online and loved it. I wanted something that reflected the beach. Thus, cabana style wear and a sand colored vest with my lucky hat worked great. – Shelby
Favorite Part of the Day:
The boat. It was so much fun and so beautiful out there! As soon as we said "I do" there were dolphins!
The Do-It-Yourself Projects:
We had a hand in the entire wedding, so really much of what you see and how people got to Key West was largely up to us.
The Highlights from the Ceremony & Reception:
Samba, our Siberian Husky was Shelby's maid of honor. Our cake center piece was a custom made sculpture of Shelby, me and samba in animation form wearing our favorite hockey team's jerseys (Pittsburgh Penguins).
The Theme:
Shelby's mom more or less encompassed Shelby's personality in décor: tropical, a memorial to her deceased grandpa (who she was really close to), hockey (Pittsburgh Penguins)…
The Most Memorable:
The boat ride. So many came up to us and said that this was the best wedding they had ever been to…which is why I say – loosen up. If you are lose and make it fun, your guests will have fun too!
VENDORS
Photographer: Foto by Freas