Confused on whether you should have a vineyard or beach wedding? Well, why not do both? Jill and Travis wanted a relaxed (hence, the beach) and elegant (wine reeks of elegance) wedding. The couple held their ceremony by the beach and incorporated a vineyard touch by using 2 wine barrels as end tables. Also, Jill wore an elegant black evening dress – very non-traditional yet beautiful. The couple was all smiles walking through the vineyard whilst having a photo opt. Cheers to Jill and Travis!
Click image to enlarge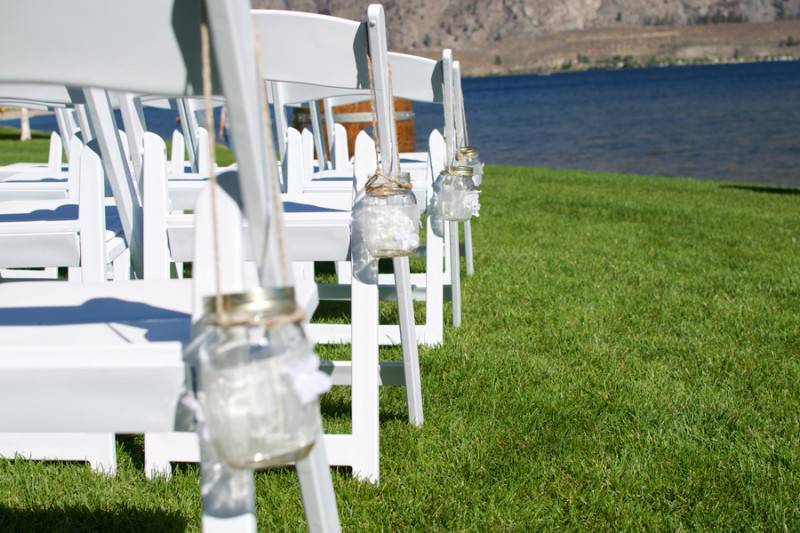 Like. Click to Vote
>
What is the overall story for this album?
Our wedding weekend was really about our family and guests, we were so appreciative for those who came to
Osoyoos, we wanted everyone to feel special, loved and relaxed. It was so important to us that everyone
enjoyed themselves and the beautiful setting.
What inspired the wedding day outfits?
Elegance, even though we were married on a beach, we still wanted to have that formal feel to our wedding with
some casual touches. We also wanted to be comfortable; we both wore what we wanted to wear, regardless of
what others thought we should wear.
What was your favorite part of the day?
Our favorite part of the day was getting ready during the morning, sharing those moments with friends and
family. The anticipation of what was about to happen was so exciting! We spent the morning apart and having
that sense of missing each other was overwhelming, but in the best possible way, we both couldn't wait to see
each other, get married and start the rest of our lives together.
Was there any Do it Yourself (DIY) projects? If so, can you describe them in detail?
We tried to do as much as possible ourselves; as we begun DIY projects, it really helped us to connect more to
our wedding and we're so glad that we made those choices. For the wedding favors, we had purchased custom
made key-chains (with our names, wedding date & wedding location). We packaged them ourselves into black
boxes with ribbon and attached little cards with sayings on them such as "Perfect Day" or "Enjoy this moment".
Our guests loved them! We also created our own wedding programs, since our wedding was a 3-day event; the
programs went into welcome bags which we put together for all of our guests.
What were the highlights from the ceremony & reception?
The entire day was so amazing; we both have so many special memories from our wedding. But, the best highlight for us was that everyone at our wedding really enjoyed themselves, and that was so important for us.
Was there a theme for the ceremony and reception?
We tried to keep our wedding simple, relaxed and elegant, with a strong focus on family and how appreciative
we were for everyone who has supported us along the way. We had incorporated some traditional aspects, but
kept true to who we are as a couple. Our wedding was exactly what we wanted it to be!
What part of the ceremonies do you think was the most memorable for the bride and groom?
The most memorable moment for us was when we finally saw each other at the ceremony. Our marriage
The commissioner had my husband turned around, so he couldn't see me walking to the aisle. Once my Dad and I
reached the aisle, our marriage commissioner turned my husband around; that was such a special moment
when we laid eyes on each other!
VENDORS
Photographer:  Chianti Images
Reception Venue: Tinhorn Creek Vineyards