Bianca and Tony
For this fun, fearless, and beautiful couple, we can't help but just be in awe of how well-planned their beach destination wedding is! Like a wildflower that blooms freely without anyone really taking care of it, this couple right here planned their wedding together without any input from their families and it was indeed stress free. The natural bohemian bride is stunning with her handsome, charming, and incredibly sweet other half. Congratulations Bianca and Tony! Cheers!
Click image to enlarge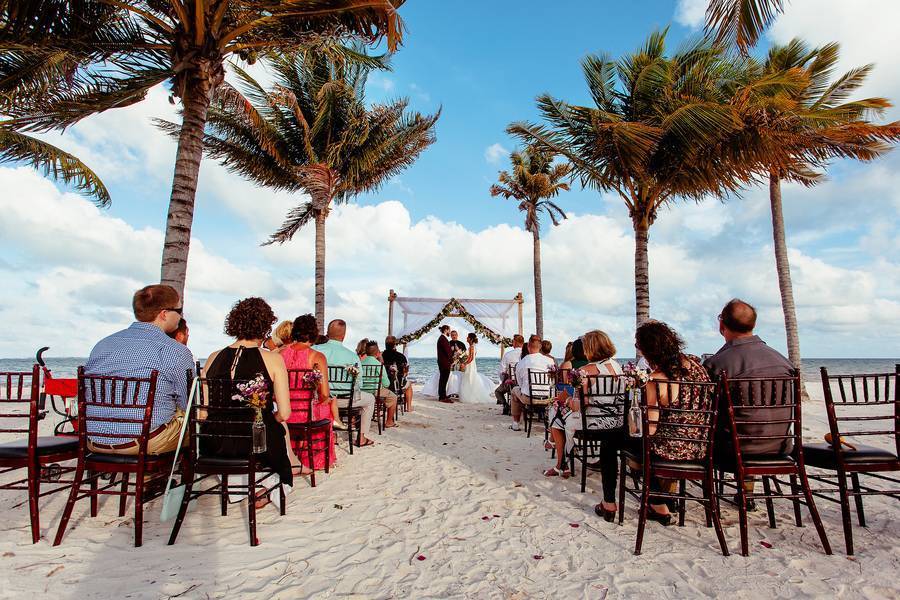 4

Like. Click to Vote
>
Extra Special Details
❤ Our October wedding day was beyond beautiful! The weather was gorgeous and the view was amazing! We legally got married on our 5th year anniversary in the beginning of February in Boston in a middle of a blizzard so having a beach ceremony with our families present sure was special!
❤ We each wrote our own vows which was certainly special and heartfelt that we both cried and laughed! We didn't do a sit down dinner and instead opted for a cocktail only reception which allowed for more time to dance and have fun – this was important to us and we are so happy we did that!
❤ We started the cocktail reception by singing a duet of "Home" by Edward Sharpe & the Magnetic Zeros. And of course one of our favorite memories is the Tequila Train we did.
❤ Our family and Friends were really touched by the welcome bags that I made that included a thank you letter, door sign, sunscreen, beach ball, sunglasses, list of the resorts bars and restaurants and some other fun things!
Heed Her Advice!
❤ Remember this day is about each other! We had a blast planning our wedding together because we didn't get any input from our families and just organized it how we wanted it to be and everyone had a blast and it was stress free!
❤ We always say we want to go back and just repeat that day over and over again because it was just so beautiful and super fun! Our budget wasn't huge and we paid for everything ourselves so we really wanted it to be a day we would truly enjoy!
Money Matters
$5,000 – $10,000
Vendors
Photographer:  Melissa Mercado Photography
Floral Designer: Eventos Euforia
Accomodations: Villa del Palmar