Click image to enlarge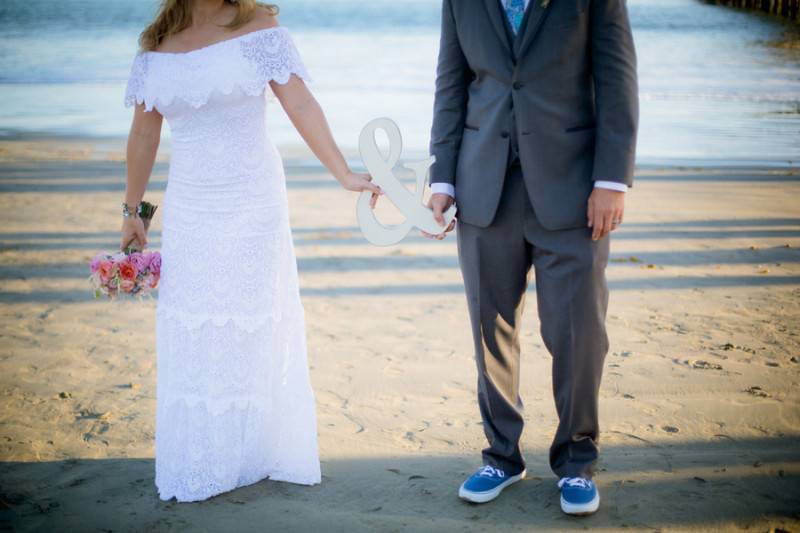 Like. Click to Vote
>
A beach wedding filled with do it yourself decor and sweets – ahhhh, be still my heart. And our couple didn't just stop there, they really made sure that every detail blended well together and they came up with a wedding that looked amazingly adorable. Very chic, very sweet, and very rustic too. I definitely loved the pink and mint color palette. The bouquets were awesome too. What I really loved the most is our bride's ensemble – the off-shoulder beaut she's wearing made her look so feminine and lovely. Congratulations on your wedding day, Kassie & Michael!

Photographer
What is the overall story for this album?
Natural and timeless. Kassie and Michael are free spirits that just wanted to be surrounded by friends and family. They chose a small intimate wedding on the beach, which was very special to each of them for different reasons.
Their flowers brought in pops of color and their natural decor, including driftwood and sea life brought out their love for the outdoors and the ocean.
What inspired the wedding day outfits?
Kassie's dress was made by Nightcap Clothing and purchased at a local boutique Ambiance in San Luis Obispo, CA. Kassie wanted something comfortable as well as something that showed off her natural look. The form fitting
bohemian lace dress was the perfect choice. Michael was in a charcoal grey suit with a pop of color in his tie, which brought everything together perfectly.
What was your favorite part of the day?
My favorite part of the day was seeing two of my very good friends on top of the world. I cried as much as the guests did. My favorite part had to be when Kassie was slow dancing with her mother (since her father passed)
and Michael came onto the dance floor and all three of them slow danced. It was a very special moment.
Was there any Do it Yourself (DIY) projects? If so, can you describe them in detail?
There were many many DIY projects for this wedding. The entire candy bar was put together by Kassie and her closest friends. She painstakingly picked out all of the candy to match their wedding colors. Michael and Kassie
also made all of their gifts for their guest, putting together coral shells and perfect little airplants. For the bar Kassie made small chalkboard signs to label the drinks as well as labeled all the mason jars for her guests.
What were the highlights from the ceremony & reception?
Some highlights included honoring Kassie's father by taking shots of his favorite tequila and handing out her fathers favorite cigars to guests. When Kassie's uncle stood up to speak there wasn't a dry eye in the room,
including myself. They were so thankful for people donating time and services for their wedding, I've never felt more love in a room than what I felt that day.
Was there a theme for the ceremony and reception?
The theme for the entire wedding was Beach Boho.
What part of the ceremonies do you think was the most memorable for the bride and groom?
I think for Michael and Kassie it was finally becoming husband and wife after 12 years of dating, both close and long distance. Being surrounded by their friends, family as well as their faith in God. Kassie felt her fathers
presence throughout the entire day. I know it's hard for her to talk about, but he was there and will continue to watch over them.

Vendors
Photographer:  Stefanie Elizabeth Photography
Caterer: Catering by Crave
Tuxedo and Mens Attire:Mens Warhouse
Dress Store:Nightcap Clothing
Floral Designer: Sprigs Floral Designs
Event Venue: Avila Lighthouse Suites Hotel