The gloriously shining sun and stunning views signaled that it was a beautiful day for Marcia and Omar to finally tie the knot. They were an invested couple who poured their hearts into this spectacular day. The bride and groom, with the help of AnnaGomesPhoto, hit it off from the get go and prove today that two heads are better than one. Look at the awesome wedding details! Congratulations, Marcia and Omar. And oh, good luck in family life!
Click image to enlarge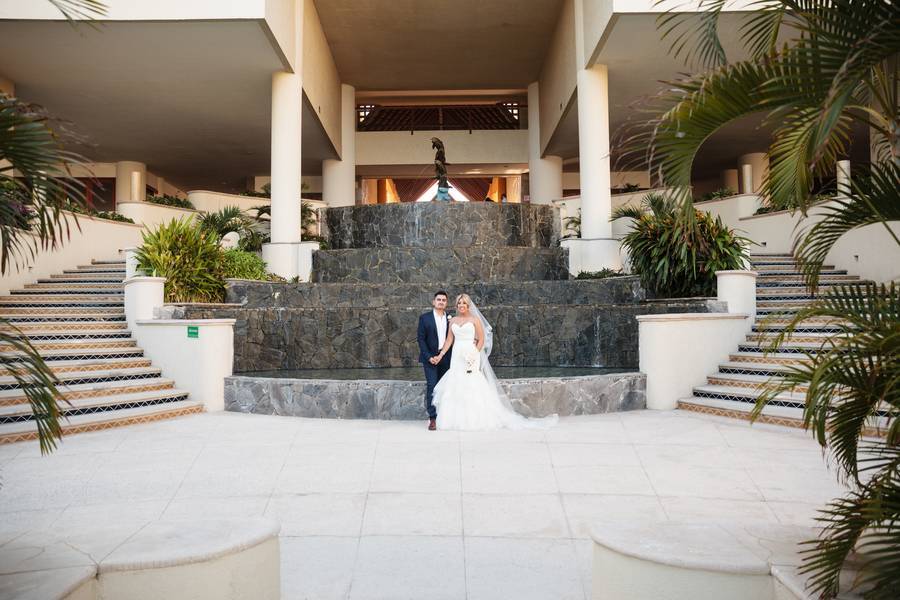 Like. Click to Vote
>
Extra Special Details
Warm and welcoming San Jose del Cabo. The couple got married where at the Barceló Grand Faro.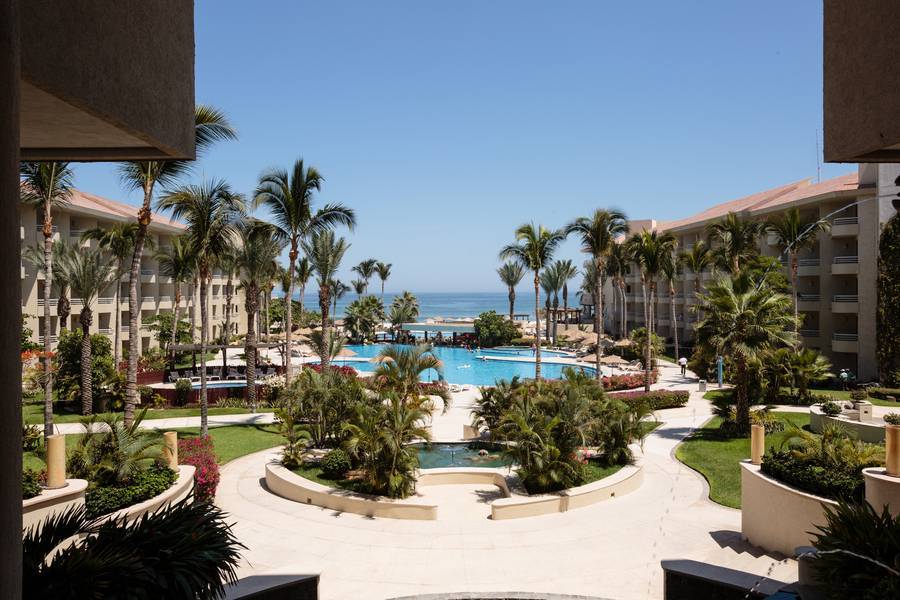 The bride was dressed by her mother, into a fabulous mermaid style wedding gown that was a perfect fit. Add the garter, bracelet, gold earrings, heels and finally, the veil Marcia made for a stunning vision.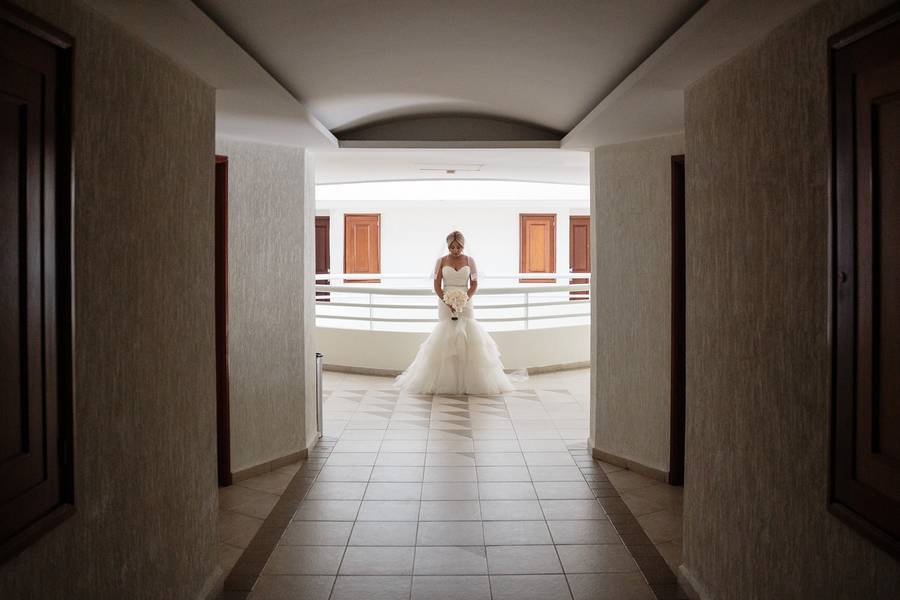 Makeup and hair was done by a friend of the family, an expert who did loose waves for the bridal party and an up-do for the bride herself. "Because he loves my hair when it's up" she said.
With blush colored lips and light rose gowns, bridesmaid and maid-of-honor coordinated but in different styled dresses made for the perfect bridal party.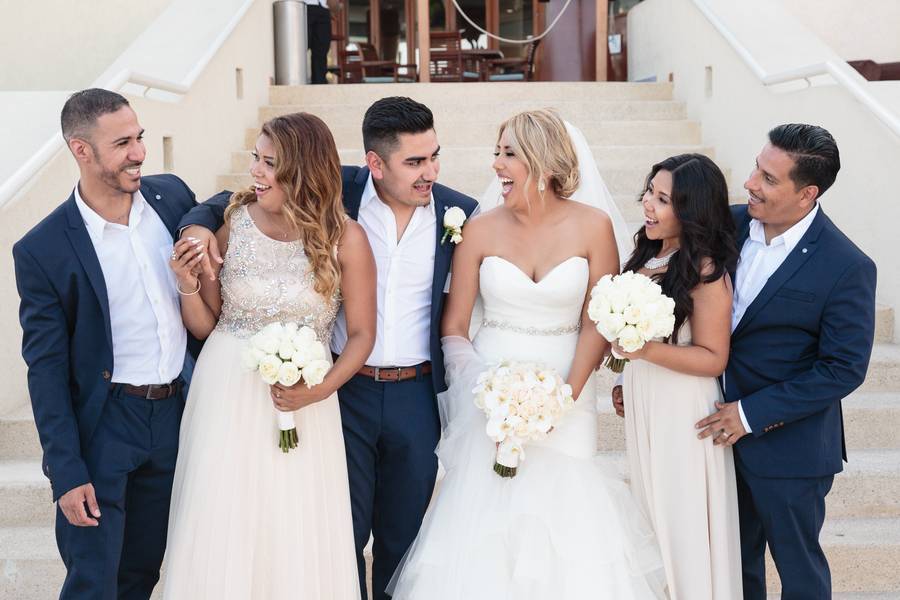 A cascade style bouquet made of white roses and orchids.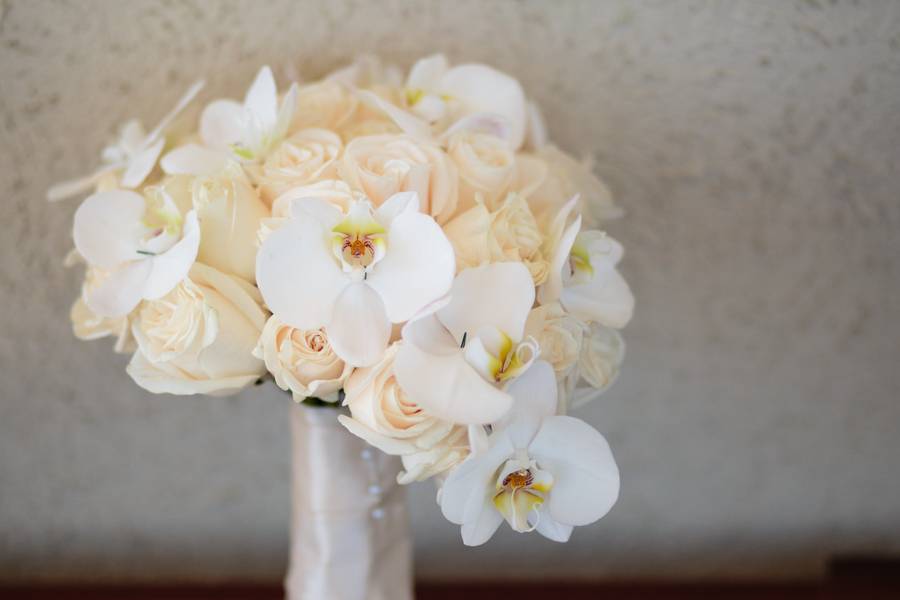 Around the cake table, several prints with that selfie surround the cake. The cake topping: bride and groom on top of the cake mimic a practice for selfies that the real couple actually does, which is him giving her a kiss on the cheek.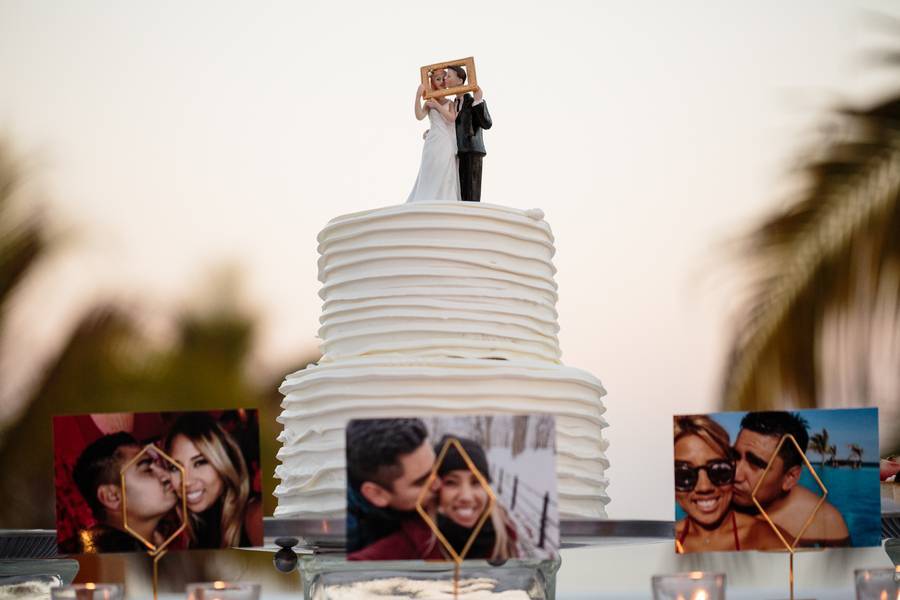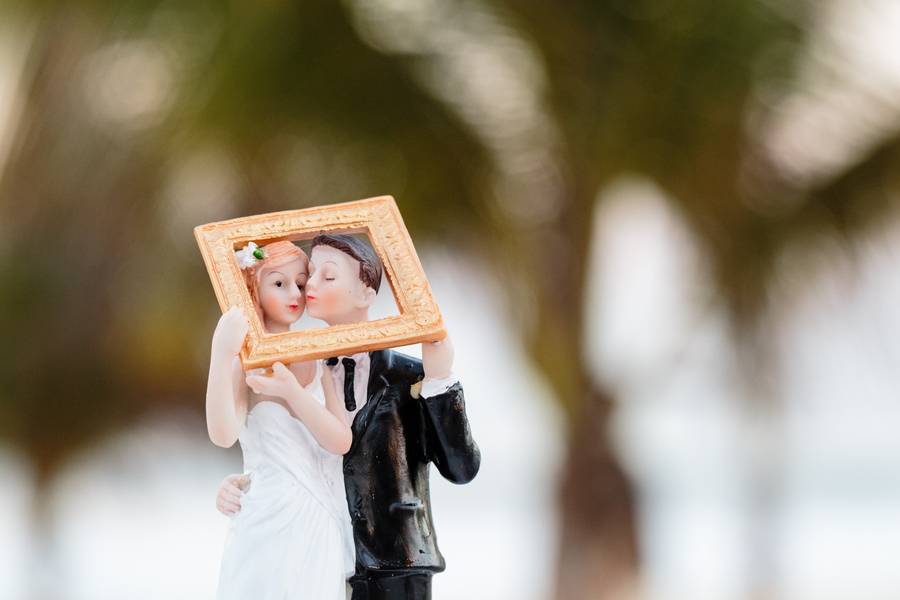 Groom's gift to his groomsmen: a customized flask.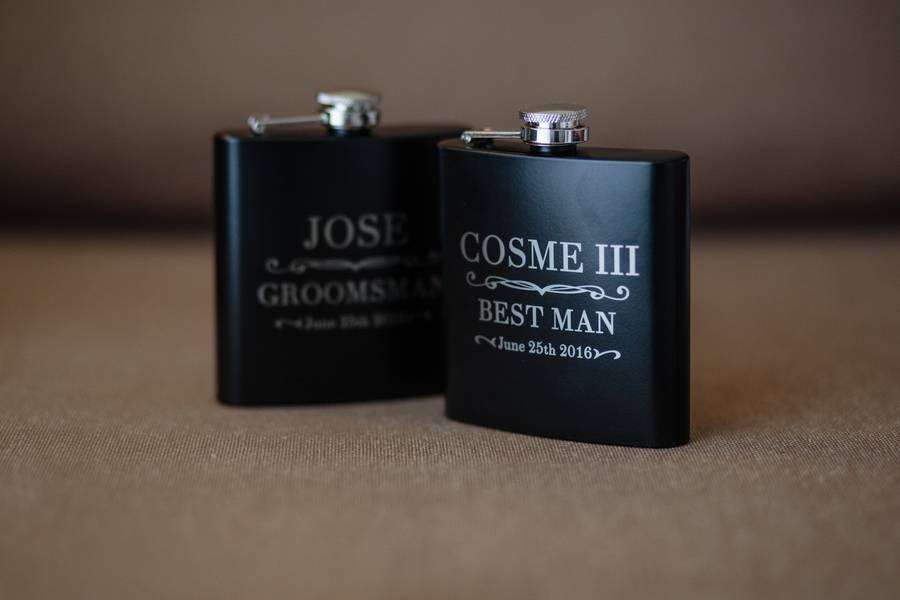 Groom's gift to his bride: customized ring.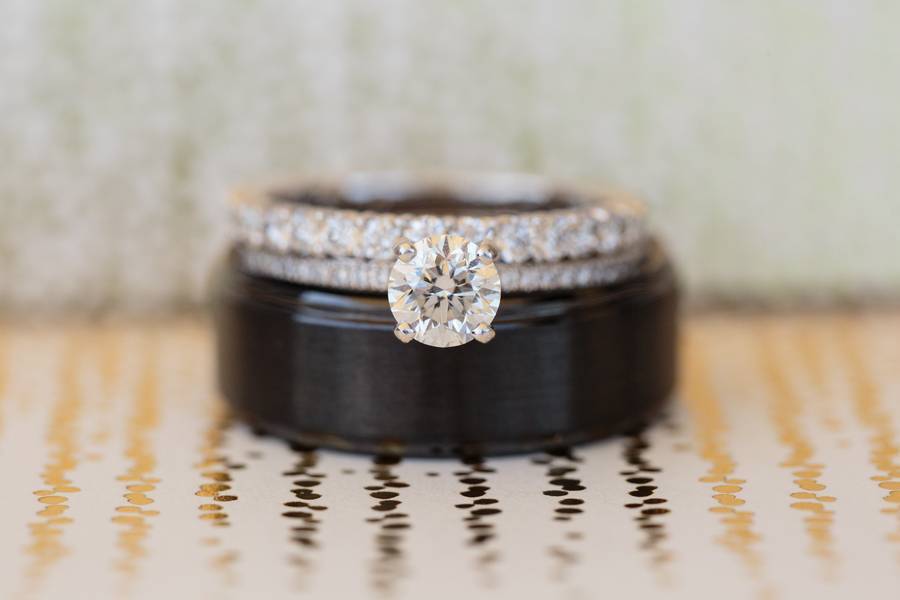 The ceremony setup consisted of a clear plexiglass wedding chuppah decorated with white roses.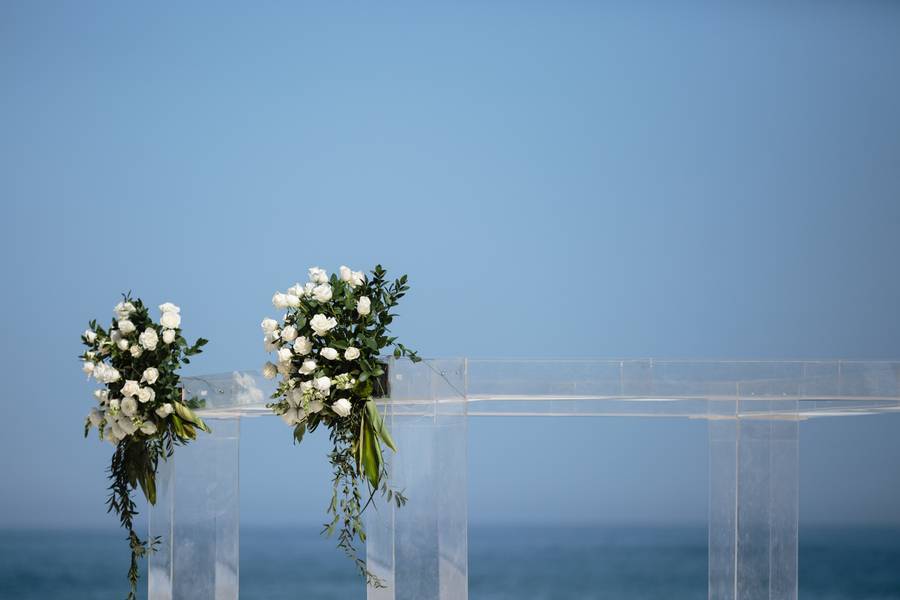 Round tables were placed with a simple white rose centerpiece, over a mirror flanked by candles. Places had golden chargers and each table had a sparkle of metallic confetti.
Guests trickled around to the welcome table to find their names of the seating chart, on traditional simple name cards while the table was decorated by white dahlias and a sign with bride and groom's names and wedding date.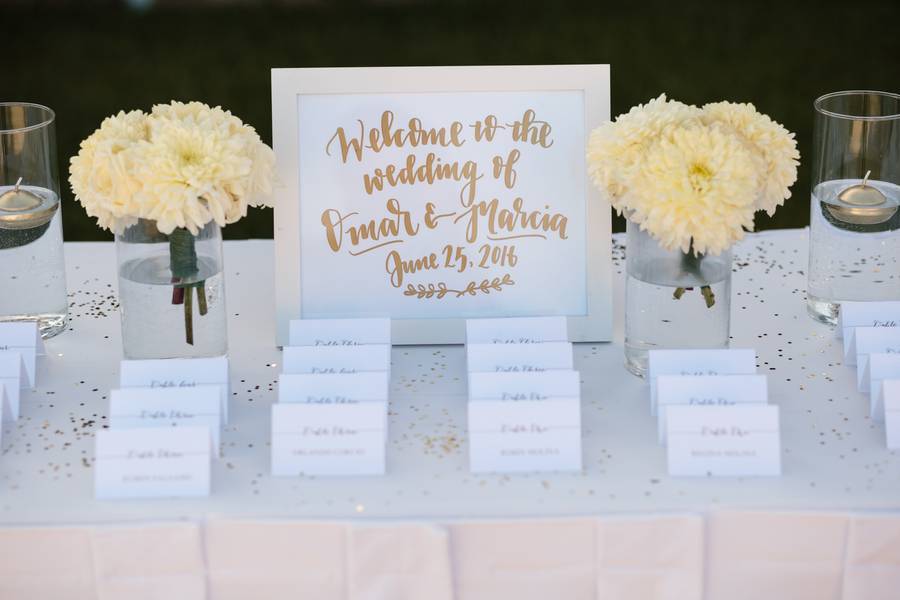 Next to the welcome table was a small station with the guest book, a polaroid camera and a scrapbook ready for guests to take selfies and write messages. This was a hit!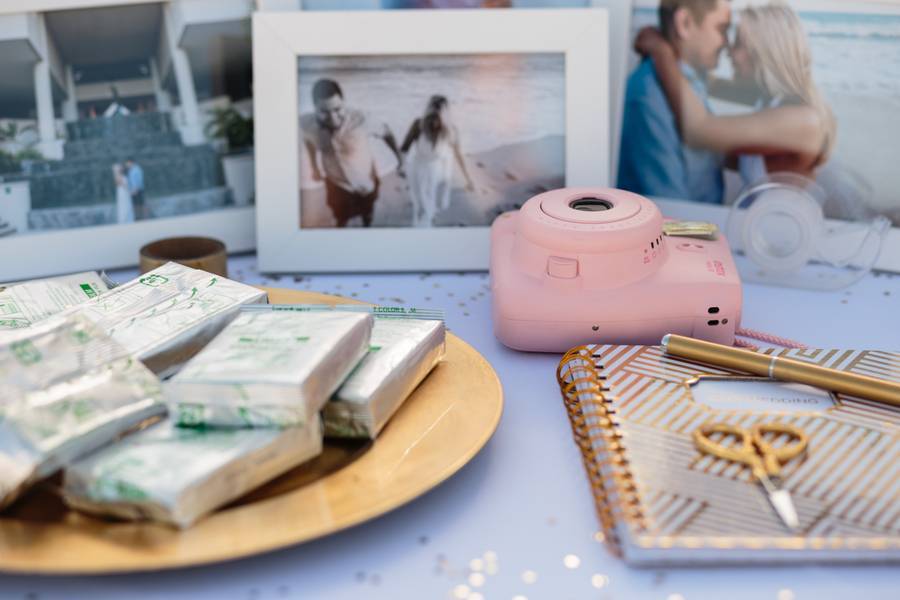 A fun and smart Latin tradition – the dollar dance. Bride and groom danced with one guest at a time, who in turn will make a cash gift to the couple. The night carried on with lots of dancing, bouquet and garter tossing and was closed by a surprise show of fireworks.
The Photographer's Advice
Make sure ceremony time is not earlier than 2 hours before sunset for cooler temperatures. Give your photographer plenty of time for photos. Trust your instincts.
Money Matters
$20,000 – $45,000
Vendors
Photographer: AnnaGomesPhoto
Event Venue: Barcelo Grand Faro Los Cabos
Floral Designer: Blossom Art
Bridesmaid Dresses: Camille La Vie | Group USA
Dress Designer: Enzoani
Jewelry: Givenchy
Jewelry: Nadri
Calligrapher: Song & Pen
Tuxedo and Mens Attire: Zara