From high school sweethearts to engaged couples, Justin and Brittany couldn't be more romantic as they posed, strolled, and danced on the beach for their engagement session. I love how they went with a casual yet adorably romantic style. Like these timeless photos, we wish you, Justin and Brittany, an everlasting love. Congratulations!
Click image to enlarge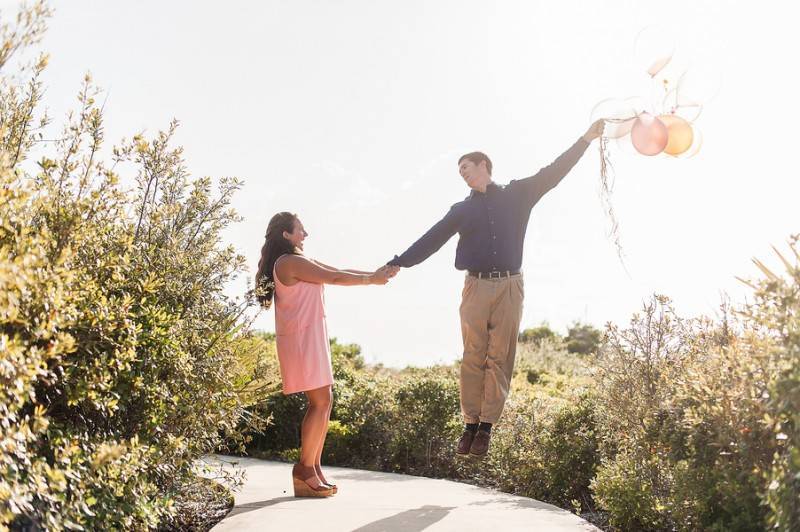 Like. Click to Vote
>
They engagement photos capture Justin and I as a couple and our overall personalities. We think that the engagement photos show a small glimpse into our wedding in our hometown near the beach and all the memories we have involving the ocean and outdoors!
The Outfit Inspiration:
We are planning for a classic, romantic wedding and wanted to incorporate some of our wedding colors into the session. Our wedding colors happen to complete the natural backgrounds of our engagement location that turned out perfect for our vision! We dressed up in our session to portray this new chapter in our life from high school sweethearts to planning a life together.
The Concept:
Justin and I wanted to capture the beauty of the Florida natural landscapes. We loved the idea of having a fun, sophisticated Florida shoot. We have a deep love for the ocean and being outdoors in the Florida sunshine smelling the ocean breeze!
The Location:
The site offered such an array of landscapes that encompassed all of the outdoor spots we envisioned! We fell in love with the sea grape pathway and the rock structures on the beach!
The Engagement Session Experience:
We loved the session! It was so much fun and filled with laughter. Our photographer, Liz Cowie, was great at teaching us about movement and the poses within those movements.
VENDORS
Photographer: Liz Cowie Photography
Other Location: Blowing Rocks Preserve