Click image to enlarge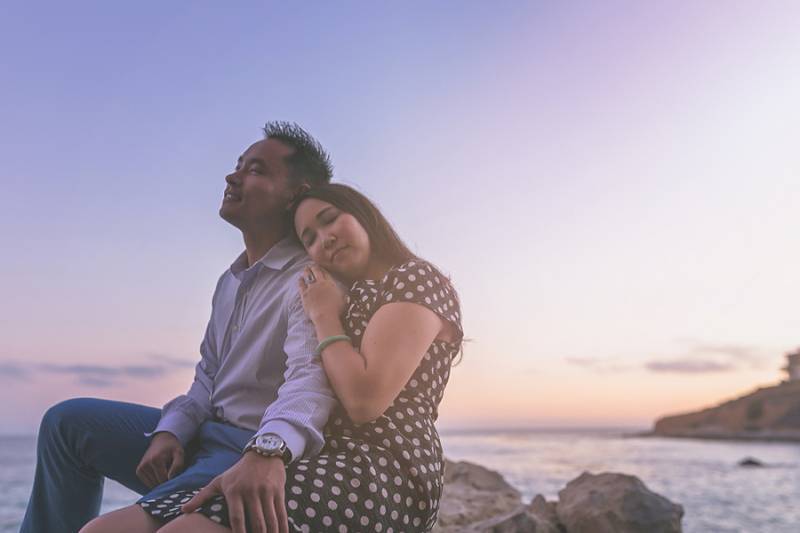 Like. Click to Vote
>
This slideshow isn't just filled with pictures from a beautiful engagement shoot but rather it tells a skillfully planned out story that I'm sure you guys will fawn over. Here's the play by play
Our favorite shot from the bunch (taken after the proposal)
Cute couple shot by their photographer who pretended was hired by the establishment so Ahn wouldn't have a hint on what will happen
Bryan taking Ahn Le over to this amazing rock formation that took quite a trek
Proposal with Bruno Mars' single Marry You playing in the background through B's phone
Engagement shots over sunset
If you want a more complete story then you'll be grateful that Ahn gave us this wonderful detailed tale of not only how this proposal went through, but how they met in the first place. It's like reading a cute romance novel guys! Anyway, congratulations Ahn & Bryan!
How we met:
In 2011, I was living and working in San Diego and my cousin, An Vi, invited me to her birthday party in Orange County. I almost missed out on meeting my better half because after a long day of work, the thought of driving 1-1.5 hours from San Diego to Lake Forest was beyond exhausting. Also, my cousin's birthday party was font-themed and I had nothing to wear! After much persuasion by all my second cousins to come, I hesitantly packed all my things and drove to An Vi's house. When I got there, my cousins quickly helped me get into character as "chalkboard". Besides my family, An Vi had many of her friends there and I paid no attention to any of them, not even the "symbol" guy dressed in a gray "&" t-shirt who I had vaguely remembered meeting in the past. Most of the night, I spent catching up with my cousins without much thought to where I had met this "symbol" guy before. During the party, the birthday girl got all her guest acquainted quickly with a friendly game of catch phrase. Soon, the competition between guys and girls begun and I remember being pretty annoyed by the competitiveness of the rowdy guys especially the mischievous "symbol" guy who kept stuffing everyone's mouth with oranges. The friendly game quickly dissipated and everyone went back to mingling amongst each other. I was engaged in a discussion with one of my cousins when the "symbol" guy came up into our conversation. Even though, he abruptly interrupted us, he did kindly offer me an orange and peeled one for me any ways before I could respond. Despite my first impressions of this "symbol" guy and his goofiness, I had to say much to my surprise, he was very friendly and we started chatting.
Mr. "symbol" guy introduced himself as Bryan and asked me the usual introduction questions. We quickly discovered that besides him knowing my cousins, I also went to school and knew his cousin, Peter. Before I knew it, I became intrigued by this Bryan and started to wonder where I had seen him before just as he wondered where he had seen me before. Come to find out, Bryan had gone to Monterey with my cousins and I had met him briefly a few years back. We hit it off, but by the end of the night, we said our goodbyes not knowing if we would see each other again. At that point, I didn't have much expectation and I thought our paths would never cross again since he didn't even ask me for my number. Later, I found out that Bryan was scared and with the encouragement of my cousins, he finally mustered the courage to call me. Never did I think that this one "symbol" could be the missing element to my life and complete the "chalkboard" starting that night, April 23, 2011, as forever "T & B."
How he proposed:
I always knew this special day would come after 3 years of dating, but I didn't know how it would come about. I couldn't envision it any better! On August 17, 2014, Bryan took me out for dinner at Mar'sel in Rancho Palos Verdes. I didn't think much about it since I thought it was our makeup anniversary dinner. Though, I should have known something was up! Bryan was very adamant that day at making sure we got there on time for dinner at 6 when he usually doesn't rush me. Originally, I was going to wear high heels with my dress, but Bryan told me I should wear flats since we were going to walk on the sand. Since I was wearing newer flats, this made me nervous. I asked him dozens of questions which probably didn't help with his nerves that day like "Will they get dirty?" "How do you know they won't get dirty?" "How much walking are we doing?" Later, I found out it was more of a blessing that I listened to him and wore the flats instead of stubbornly insisting I wore the heels.
On the way to Rancho Palos Verdes, Bryan asked me random questions like "do you like Bruno Mars?", "do you like to be sung to?," or "will you ever sing to me" since he knows I hate singing in public which I thought was so random, but again I didn't give much thought to. When we got to the Terranea Resort, this resort was absolutely amazing and we were seated at the Mar'sel restaurant with a stunning view to die for with scenery of the ocean and coastline that could capture any picture perfect moment. Bryan strangely seated me away from the lamp heater when he knows I always get cold easily. Mar'sel had just revised their menu and when I ordered the halibut I didn't like their snow pea opinion and I wanted corn as a substitution. Unfortunately, Mar'sel grows all their vegetables and serves them freshly, but corn was not in season. This request for the substitution put a damper on poor Bryan's plans I found out later since it delayed dinner and his plans. I should have really known that something was up when I spent most of the dinner by myself absorbing this breathtaking sight and dinner. Bryan had devoured his scallop dinner so quickly that when he told me he had to go to the bathroom and spent a long time there I didn't suspect anything.
During that time, I found out that Bryan was scrambling to perfect all the details he had envisioned for our special day from getting the ring hidden in the car to calling my parents for their blessing. Bryan definitely put a lot of thought into this unforgettable day by hiring a photographer, Thomas, to capture all our candid moments. When Thomas asked to take our picture at our table, I assumed he was the restaurant's hired photographer and thought it was so cool that the restaurant was going to give us pictures of us at the end of the night. Later, I caught Thomas taking random pictures of the sky and flowers and thought he was so weird! I even mentioned it to Bryan, but he played it off by trying to convince me that Thomas was the resort's photographer taking pictures for their website. Again, Bryan disappeared when his grandma called him during dinner since grandma thought Bryan had already proposed. Soon, I saw a family taking a gorgeous picture of the breathtaking scenery as the sun was beginning to set and I wanted us to have the same great photos.
As soon as Bryan came back, I mentioned to him that I wanted to take some photos and he told me to grab my purse. We started to walk to the area, but instead of stopping for the photo-op, Bryan kept walking. I was so worried that the restaurant would think we took off without paying, but Bryan assured me that they would know that we were coming back. When I questioned where we were going, Bryan responded that he knew of this great secret place he wanted to show me. I asked him how he knew of this secret place and he slipped that he had been there before. Come to find out, Bryan had gone to the resort earlier that week to scout out the perfect place to propose and informed Thomas of the location. I was so amazed to learn that Bryan had put so much consideration to planning out all the little details. As the sun was setting, Bryan rushed me this "secret" location and soon I found out why he had wanted me to wear flats…it was quite the trek! We walked thru the long stretch of sand and he wanted me to climb rocks! I wanted to take a break to absorb the spectacular view, but Bryan was on a mission to get to the rocks before it got dark.
Once we climbed the rocks, we took some selfies and then Bryan told me to sit on the edge of the rocks. I stubbornly refused! One—I was afraid of heights and two—there were ants all over the rocks he wanted me to sit on!! No way! Poor Bryan! I could sense his frustration, but I wasn't having it! He had to finally convince me to sit on another rock and before I knew it, he scrolled thru his phone on one knee as the sun was setting. I was thinking "O my goodness! It's happening, but what kind of long speech did he write?! He's doing a lot of scrolling up and down!" Bryan was actually scrolling thru his play list and a familiar song came on as he started to serenade me with the "Marry Me" song. I could tell he was so nervous and the alcohol made him even redder! It was cute and I couldn't stop smiling…even giggling at times. When Bryan finished, he gave a short speech about how great it has been being together and finally asked me the most important question I had been longing to hear, "Will you marry me?" Without hesitation, I said "YES!!" A small crowd of onlookers cheered us on and that "weird" photographer was there again capturing our precious, unforgettable proposal. The photographer joined us on the steep rocks and introduced himself to me even getting a little teary eyed for us…it was such a valued moment!
Before long, Thomas positioned and posed us for more photos so not only did Thomas record our wonderful proposal, but we went straight into an engagement photo session captivating every stage of the sunset and sun fall. I was so impressed and I didn't want the night to ever end! At last, we parted ways with our well-wisher and the festivities didn't end there! We were greeted by the waiter with yummy congratulatory desserts and before, I could finish, Bryan said he had another place we needed to be at. So we rushed eating the desserts and took off for our final destination. There we were greeted by small group of friends and family who had gotten word of our recent engagement and came to celebrate with us. I was so happy beyond words! I felt like the luckiest girl alive! I was so fortunate to have such an incredible fiancé who took such care and time to plan out every little detail to our perfect day especially enlisting Thomas' help and expertise to make August 17, 2014 even more memorable. I can't wait to start planning the next chapter of our lives together!

Vendors
Photographer:  YellowSaysHello Snaps
Restaurant:  Mar'sel