Click image to enlarge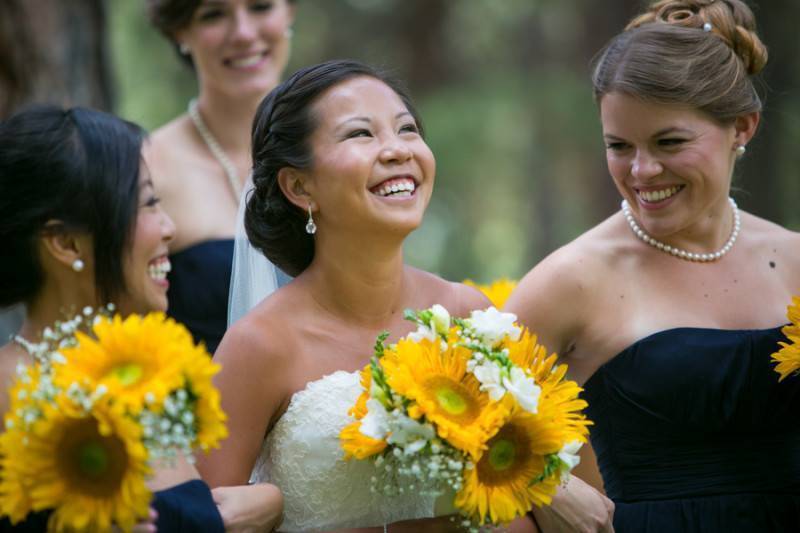 Like. Click to Vote
>
This beautiful outdoor wedding was adorned with some adorable and lovely details and accents. First of, who can ignore the presence of  big and colorful sunflowers. I've always loved this flower because it's perfect as it is – you don't need to pair it with anything else because it's standalone quality is enough. I love how our couple knew the extent of this and they just decorated the rest of the day with simple rustic pieces and dark blue accents. Congratulations on a beautiful wedding Wailan & Jeremy!
Bride
What is your story as a couple, how did you meet & fall in love?
Jeremy and I met at the age of 22. We dated for nearly 6 years before getting married. During that time, we shared many adventures while falling more in love. Some of these adventures included travelling the world, driving across the country 5 times, and moving to Tahoe.
What makes the two of you a perfect match?
We balance each other and push each other's out of our comfort zones.
How did he (or you) propose?
Jeremy collected sea glass for an entire summer. He brought me to a secluded beach in Tahoe. When we turned the corner, I saw written in the sand with sea glass: "Will you Marry Me". Jeremy then got on one knee andproposed.
How long was the planning process? Did you think it was enough time?
11 months. I felt like it was the perfect amount of time to plan and execute on the wedding without it getting too overwhelming.
What was the best advice you received when you were planning your wedding?
Don't sweat the small stuff. No matter how much planning goes into the wedding, something will go wrong. You just have to roll with it and remember to enjoy your day. Chances are, no one will even notice something went wrong.
What tips & tricks (can we use "hacks"?) can you share future brides that you yourself have learned during and after your wedding?
Your friends and family are more than happy to help you, so use them. Create a full plan of who will do what a few days before people start to arrive in town, so you don't forget anything once things get crazy. Also create a list of all the photos you want during the wedding. This will ensure you get all the shots you wanted.
What inspired your wedding décor? Why did you choose the things that you did?
We had a rustic chic wedding. Tahoe in general inspired us.
What was the wedding budget?
$25,000
Where did you save the most money?
DIY center pieces and decorations
What was the biggest expense?
Venue
How many guests were invited in your wedding and what was the final guest count?
130 invited; 100 attended
Where did you go on your honeymoon?
Europe – Barcelona, Spain; Rovinj, Croatia; Venice, Italy; Santorini, Greece; Athens, Greece
What are you most excited about for the future?
Having someone to share it with, regardless of whatever life throws at us.
Do you have advice for couples still in the planning process?
Remember that your wedding is your day and make sure you enjoy it.
What was your favorite part of the day?
Having all of our favorite people there to celebrate with.
Was there any Do it Yourself (DIY) projects? If so, can you describe them in detail?
Mason Jar center pieces – I used strips of burlap, lace ribbon, and thin ribbon to create a rustic chic look.
Burlap table runners – I bought these from Michaels
Place cards – I downloaded the same font that matched our invitations and printed placecards on thick paper stock
Place card holders – I bought 100 wine corks, sanded the bottom flat, and cut slits on the top to hold the place cards
Menus – I printed menus on thick card stock using matching fonts to our invitations
What were the highlights from the ceremony & reception?
Ceremony: We had one of our best friends officiate our wedding. We also wrote our own vows. I think both of these things helped give the wedding a more personal feeling.
Reception: Our first dance, Breakdancing battle between the groom and one of his best men, and the maid of honor/best man toats.
Was there a theme for the ceremony and reception?
Rustic Chic
What part of the ceremonies do you think was the most memorable for you? (& your guests?)
Personalized vows
Anything else you would like to add ?
We did a beach BBQ for our rehearsal dinner. Since this was a destination wedding, we invited everyone to the BBQ. This gave us a lot more time to talk spend with our family and friends and an opportunity to talk to everyone. The wedding day is unbelievably hectic and it is almost impossible to spend as much time as you'd like with everyone, so we were extremely happy that got do that the day before. This also really allowed us to fully enjoy our wedding day as our day

Vendors
Photographer:  Bogdan Condor Photography
Venue:  The Chateau at Incline Village
Catering:  Mountain Magic
Rentals:  Event Masters USA
Photobooth:  Zinser Photobooth
Day of Wedding Coordination:  Martha Janer (530-587-5930)
Makeup:  Natalie Cusson (530.318.3728)
Flowers:  Sierra Bridal and Bloom 
DJ:  All About the Music
Bar:  Incline Spirits & Cigars