You know you found the perfect venue when you know that you won't need much else because it, in itself, is the décor. And when Chris and Lauren had their first view of the Marina, they knew this was it. They even kept everything else minimal and neutral to showcase the venue. The groom and his groomsmen wore matching oxfords and the bridesmaids also wore matching shoes with the bride. Rarely do you see brides who want to match with their bridesmaids (I love that!) I am also a fan of how the bouquets, flower crowns, and boutonnieres matched that of a spring vibe — perhaps it's the lime green and white together. And how cute are Chris' nautical-themed socks! Read below to know more of their wedding from the bride herself.
Click image to enlarge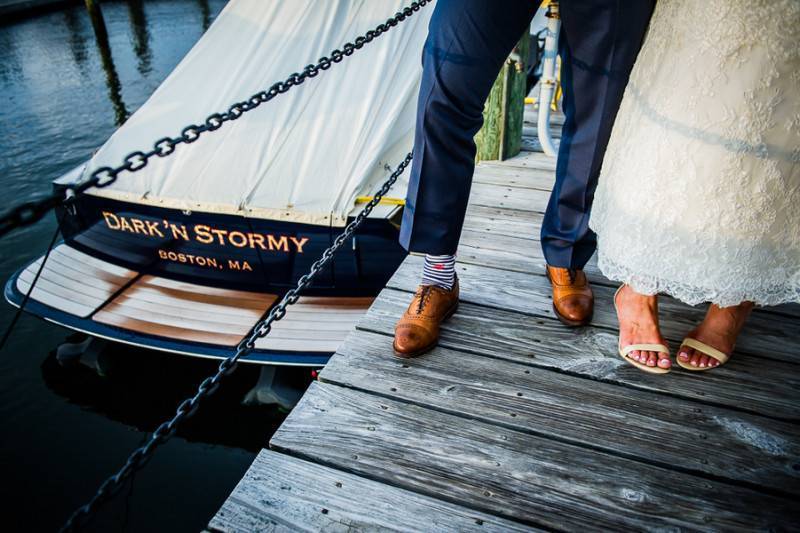 2

Like. Click to Vote
>

What is your story as a couple, how did you meet & fall in love?
The timing on when Chris and I met couldn't have been more perfect. I took a job outside NYC where my older brother Kyle was living. I, of course, moved in with Kyle. At the time, he was working for a financial company that was essentially a fraternity. For a single 20 something that would be perfect but Kyle spent about four years keeping me away from every colleague of his. The ONLY guy he spoke of repeatedly was Chris. Chris was living in the city and Kyle always spoke about getting us together. I knew if my older brother wanted to set me up with someone this guy had to be great. After five years of talking up this Chris guy, Kyle finally made things happen. Kyle strongly encouraged Chris to come out to a charity social event I was hosting in Stamford for the Multiple Myeloma Research Foundation. Multiple Myeloma is a rare blood cancer that my father currently has. The fact that I had never met Chris and he came out to support a cause significant to my life was a reflection of his compassionate, generous heart. I was able to speak with Chris briefly that day in the chaos of the event, but that one conversation led to him reaching out to set up a date that week. Shorty into our first date, I immediately knew why my brother was adamant about us meeting.
What makes the two of you a perfect match?
Chris and I have some similarities and much in common, but we also have some obvious differences that we think work well together. Chris and I are adventurous, active, easy going, and social. Also, are both BIG in the family. Those similarities work well together. However, we are also very different. Chris is very decisive and logical. He is careful in every decision he makes, and it is well researched. Chris is not afraid to be persistent, and if you want to get something done he will make it happen. Although I love that about Chris, I am quite opposite. I make decisions based on a feeling. When faced with different decisions and situations we definitely balance each other out.
How did he (or you) propose?
It was literally the hottest day in July. He was adamant about me meeting him at his boat after work. I didn't think twice because in the summer we can sometimes squeeze in a quick ride after work right before the sunset. I, of course, hit no traffic that day and beat him to the boat. That was when he started acting weird. He thought he was going to have time to hide champagne in the cooler and get ready, so I ruined his plan. Of course, once we got down to the boat it turns out the battery was dead. I just figured we would have a beer and sit at the dock. Meanwhile, he was trying to figure out plan B. With the combination of a dead boat and the sweltering heat he just decided to make it happen right there. I thought it was pretty perfect. That night was followed up with lots of bubbly and celebrating with friends. It's amazing how much champagne you consume the weeks following your engagement. The celebration never ends!
How long was the planning process? Did you think it was enough time?
We got engaged in July 2013 and got married July 2014, so our planning was exactly a year. I felt it was plenty of time. It is pretty incredible how time-consuming planning a wedding is though. As an elementary teacher with zero free time to make a phone call or send an email during the day, Chris was critical to the planning process. Especially since we got married at a Marina and had to bring in every vendor.
What was the best advice you received when you were planning your wedding?
Don't sweat the small stuff. People only remember the food, booze, and live music. That was our priority. And the killer venue.
What tips & tricks (can we use "hacks"?) can you share future brides that you yourself have learned during and after your wedding?
I'm not sure I have any special tips. I found that going prepared to every vendor with photos was a must. They want to know what you're looking for and don't want to play a guessing game to figure it out. Just be flexible and trust that what they come up with will be great.
What were some challenges you faced while planning your wedding & what did you do to address them?
I think deciding who was in the wedding party was difficult for me. I have a ridiculous amount of cousins that I couldn't decide between the friends either. I just went with family only to make it simple, and there was no drama. I love my crazy cousins. Other than that there were no real challenges. At the end of the day, I was going to marry Chris, so nothing really felt challenging about that.
What inspired your wedding décor? Why did you choose the things that you did?
There was no real theme. Chris and I were on our way out to Nantucket with my family right after we got engaged. I found a marina in the Cape on a photographer's blog, so we swung by to check it out. It was the first and last venue we looked at it. We walked up, and the sun was shining while the nautical flags were billowing in the wind. The water was lapping up against the most stunning Hinckley boats. That was our decor. We just had to show up! I knew I wanted to keep everything else neutral and simple.
What was the wedding budget?
We wanted to keep it around $50,000.
Where did you save the most money?
I guess the details. We didn't skimp on flowers because I felt that was important. Other than that I bought some of the little things from friends. I purchased the nautical knots from a friend who used them in her wedding. I did a lot of online shopping for candles, picture frames, etc. Etsy is incredible for that stuff too.
What was the biggest expense?
The food!! It was well worth it. After that the venue and the band.
How many guests were invited in your wedding and what was the final guest count?
150 were invited, and we had 136 I think?
How did you narrow down your list?
A lot of families and close friends. We just kept it at that.
What songs did you use during the ceremony?
I used Palchelbel's Canon in D for the bride's entrance. I can't find my program to find the other ceremony music! If you're getting married in a church don't stress, the music coordinator will help you with all that stuff.
Where did you go on your honeymoon?
We went to Hawaii for our honeymoon. We flew into Oahu and then flew to Maui followed by Kauai. We ended our trip in Napa Valley and drank ALL the wine there before heading back to the east coast. We also ate the most delicious food everywhere we went. I highly recommend indulging A LOT! If you go to Hawaii stay at the Andaz in Maui and do the chef's tasting at Ka'ana Kitchen there. There was a lot of eating, drinking and paddle boarding in Hawaii!
What are you most excited about for the future?
I think we are excited to just enjoy the time we have together and eventually start a family. Chris will be the best dad. It's fun to think about the big things we still have yet to experience.
Do you have advice for couples still in the planning process?
Just enjoy and seriously don't sweat it. It goes by so fast. The best part was just seeing everyone from every single part of your life in one place! It doesn't get better than that. So don't stress over the the color of the linens….nobody will ever notice.
What inspired the wedding day outfits?
The setting inspired the outfits. Cape Cod in July is pretty much classic New England. Navy and a touch of Vineyard Vines for the guys. I loved the champagne lace on the girls.
What was your favorite part of the day?
The ceremony was incredible. Fr. Dolan is hilarious and made the ceremony unforgettable. I really loved the whole day!! From getting ready to the after party it was the best day of our lives. We had an after party at a dive bar in the boatyard. That was a fun way to top off the night.
Was there any Do it Yourself (DIY) projects? If so, can you describe them in detail?
Chris made the cornhole game. We wanted to give our friends and family something to do during cocktail hour. Chris is pretty handy so they came out really well.
What were the highlights from the ceremony & reception?
The ceremony was perfect because you're filled with so much excitement and love. The priest from my parent's church at home came up to the Cape to preside at the ceremony. He has a great sense of humor and put a lot of personal touches into the ceremony. It is nearly impossible to pick a highlight from the reception. I loved every minute and it went by too fast! I do have to say that when everyone sat down to eat it started to rain a little, which was not a big deal was since we were under the tent. However, that rain was followed with the most killer sunset. The sunset, water, boats, candles, friends, family and warm summer night made for a major love. Everyone was in the best mood. Kristin Chalmers captured that sunset perfectly in so many pictures.
Was there a theme for the ceremony and reception?
There was no real theme to the ceremony or reception. Obviously we played off the nautical theme since it was on the water at a marina. We didn't want to go overkill on the nautical thing and make it cheesy. We liked the rope knots for table number holders. There were a few other nautical touches but not too many.
Links to Wedding Videos?
We didn't have a video. One of my cousins did run around with a few Go Pros to capture some of the fun. We trusted Kristin to get it all in the photos.
What part of the ceremonies do you think was the most memorable for you? (& your guests?)
All of the speeches were excellent. My dad likes to spice things up a bit and told a story instead of long speech about why I'm his little girl. My dad had our guests entertained with a story about how my older brother gave Chris his job and in return Chris was stuck with me. In reality my brother left the company, Chris got promoted and we started dating. When you look at the timing of our relationship I guess it made for a good story. My brother, the life of the party, got in on the speech and added some laughs. My cousin Lindsey (Matron of Honor) also gave a humorous and sentimental speech that went over well along with Chris's brother Stephen. We really love our family.
VENDORS
Photographer: Kristin Chalmers Photography
Dress Designer: Alyne Dresses
Equipment Rentals: American Tent
Hair Stylist: Artworx Hair Design
Makeup Artist: Camacho Make Up
Caterer: Casual Gourmet
Floral Designer: Fancy Flowers by Meredith
Bridesmaid Dresses: JCrew
Band: Men in Black 2
Floral Designer: Merideth Fancy of Fancy Flowers
Ceremony Location: Nauticus Marina
Event Venue: Nauticus Marina
Tuxedo and Men's Attire: Tommy Hilfiger
Dress Store: Wedding Atelier