For the love of the ocean waves, tranquility, and the setting sun. In front of the most important people in their lives, Bonnie and Cory took the chance to celebrate this day of love and life in a simple yet meaningful way. Justified by the sound of the splashing waves and the smell of salty air, their chosen nautical theme did a really good job! Scroll down to see more of what happened on this special day!
Click image to enlarge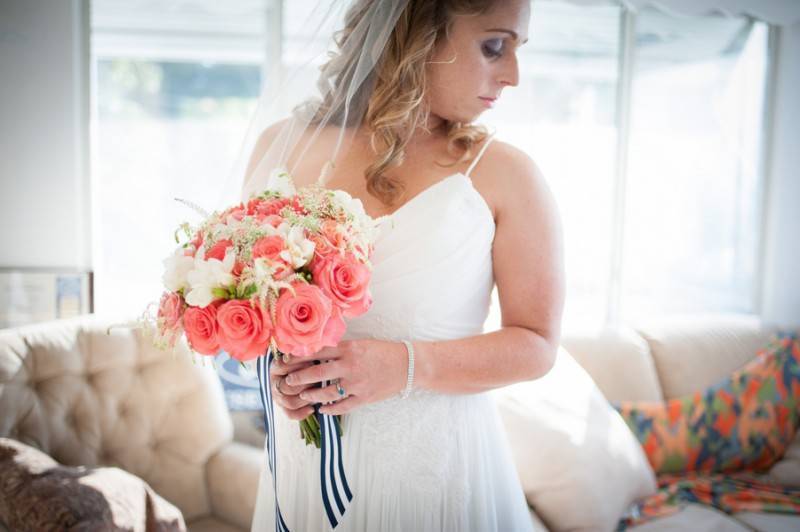 2

Like. Click to Vote
>
Extra Special Wedding Details
The photographer magic: My photographer made me feel beautiful and comfortable in front of the camera. She also was able to get my very rough and tough husband to open up during the formal photos. I dont know she did it!
The beach of course: We chose both the ceremony and the reception to occur around sunset. The views were breath taking. The light was stunning. Long Island Sound is one of our favorite places so it was only fitting that we got married on the shores.
The Jacky Durrell Pavilion: The Town of Fairfield does a wonderful job with this place. The view from the deck was stunning, and the clean up was effortless. They were out in less than an hour!
BBQ Fever: BJ Ryans BANC House provided a beach BBQ fare that everyone raved about. They also had set up an outdoor bar and raw bar for guests. No one left that area all night! The servers were friendly and fun, and the event planner made everything really effortless.
Tips from the Bride
Don't worry about what everyone else wants. This day is about you. There should be no reason to stress about the best day of your life.
If someone offers help, take it. My client helped with the flowers. Family helped set up. My friends did my hair and make up on my ceremony day. It makes it stress free and you save money in the long run.
If something seems like too much, it probably is. I was worried about people being bored since I didnt have a dj. So I bought board games, playing cards, and I had a corn hole kit outside. No one used any of it. They are there to celebrate you. Keep it simple.
Wedding Budget
$10,000 – $20,000
VENDORS
Photographer:  Keane Eye Photography
Dress Store: A Little Something White Bridal Couture
Floral Designer: Flowers By Danielle
Other Location: Sherwood Island Beach State Park
Hair and Make up: Beauty Entourage
Cake: Sweet Lisa's