Blissful colors, the gorgeous beach, dogs in the entourage, and a truly adorable couple… I think our day is set! If you're up for something refreshing, lively, and most importantly romantic to the core, Kevin and Nicole's Beachfront wedding caught through these snaps by Tracie Smith is just the ticket to your tropical paradise. And I mean quite literally, too! I swear, the water is calling out to me! So hear the breeze and get some sunshine into your most special day. Make sure you don't miss the photos below, because you may just swoon. See you in paradise!
We're All About the Details!
The Golden Sands
The beach was the perfect place for Nicole and Kevin's wedding. Ever since the couple started dating, Ocean City, Maryland was their home away from home. Every summer and every chance they had, they would pack up and head south for a few days of fun in the sun, so when Kevin popped the question to Nicole, there was no other venue for them than Ocean City, Maryland.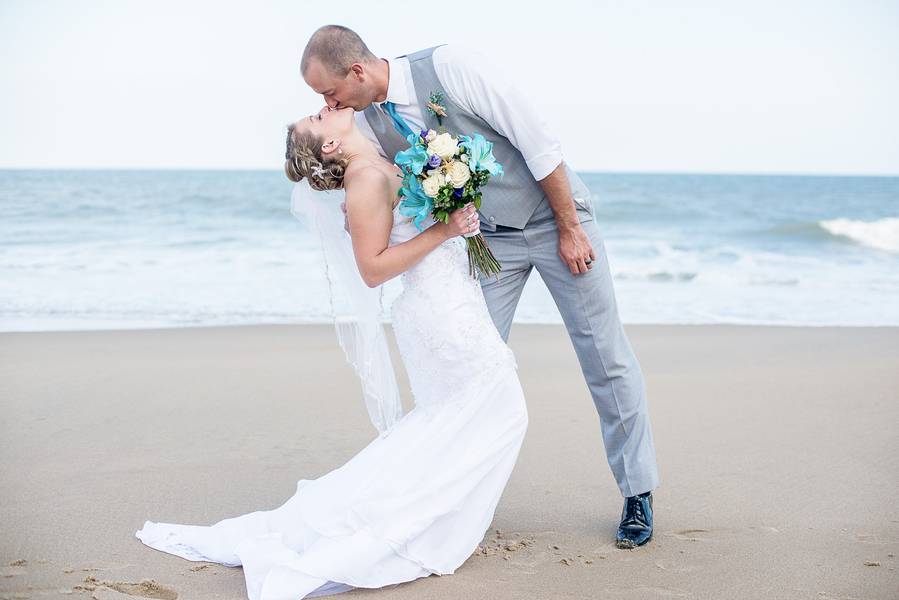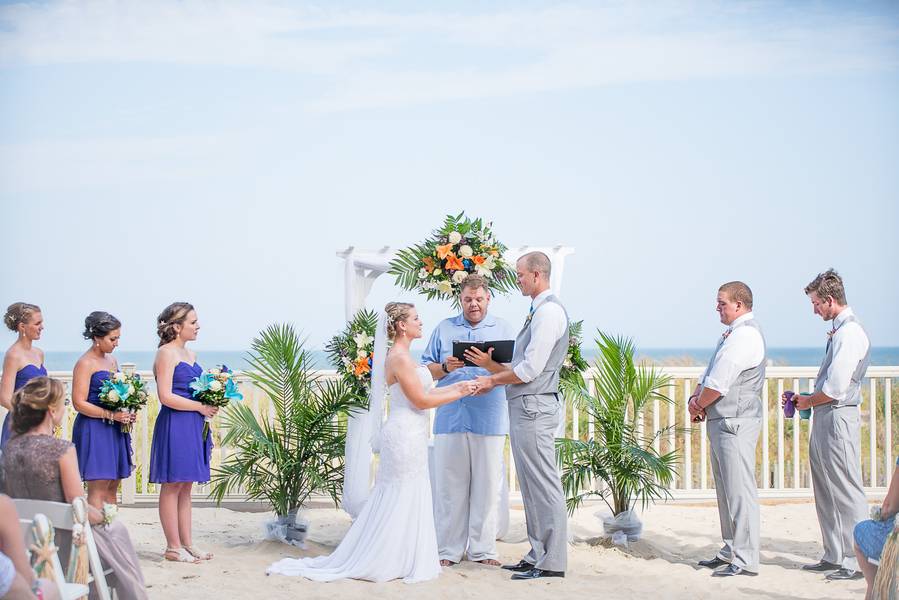 The Color Palette
The color palette for their day was purple and bright teal, a perfect complement to the couples fun, outgoing style. Instead of just table numbers, the couple decided to name the tables after their favorite Ocean City restaurants, hotels and bars.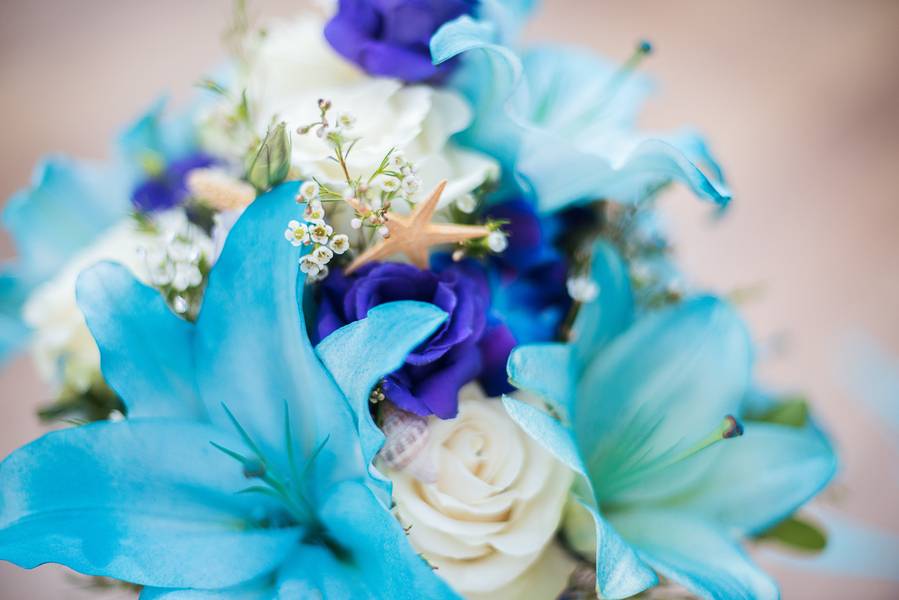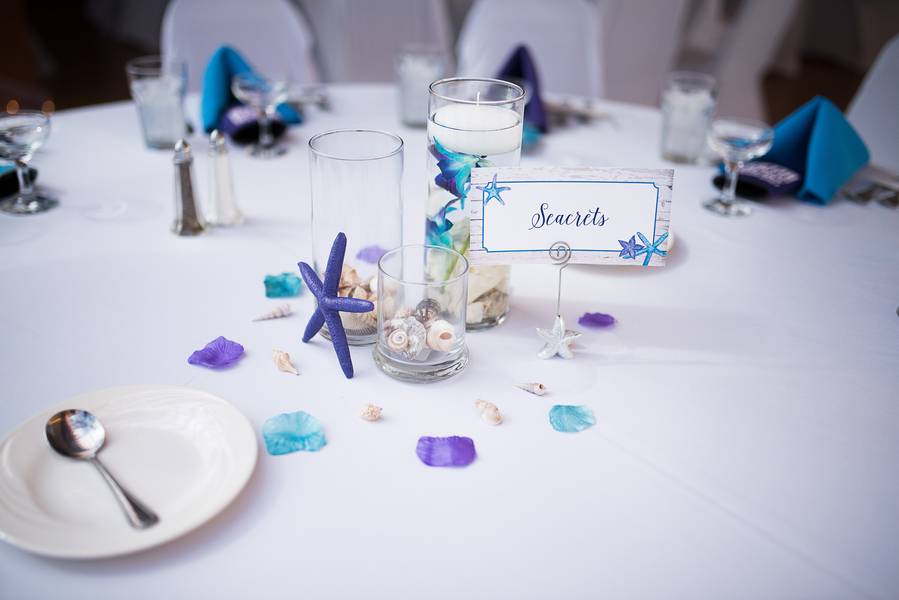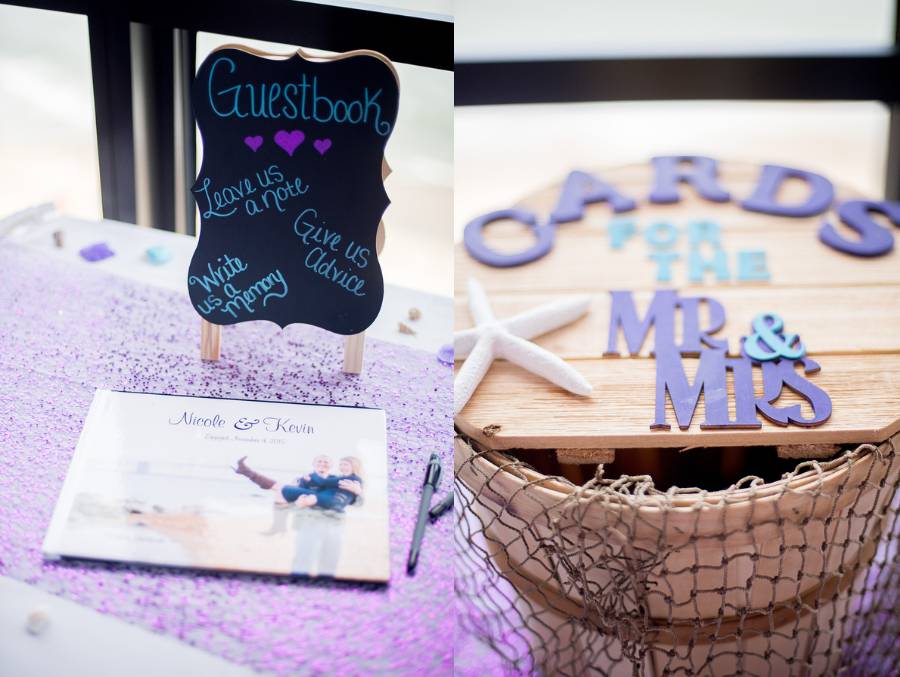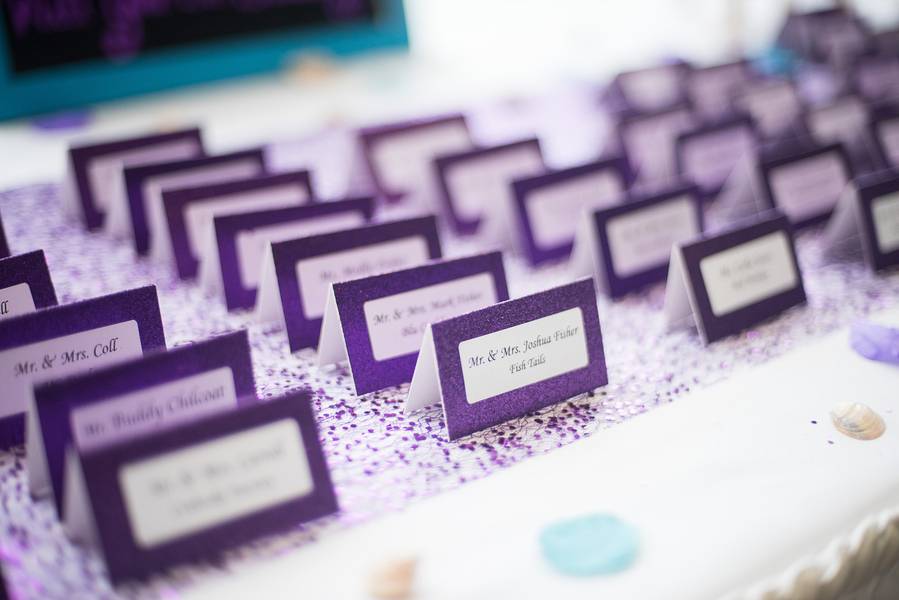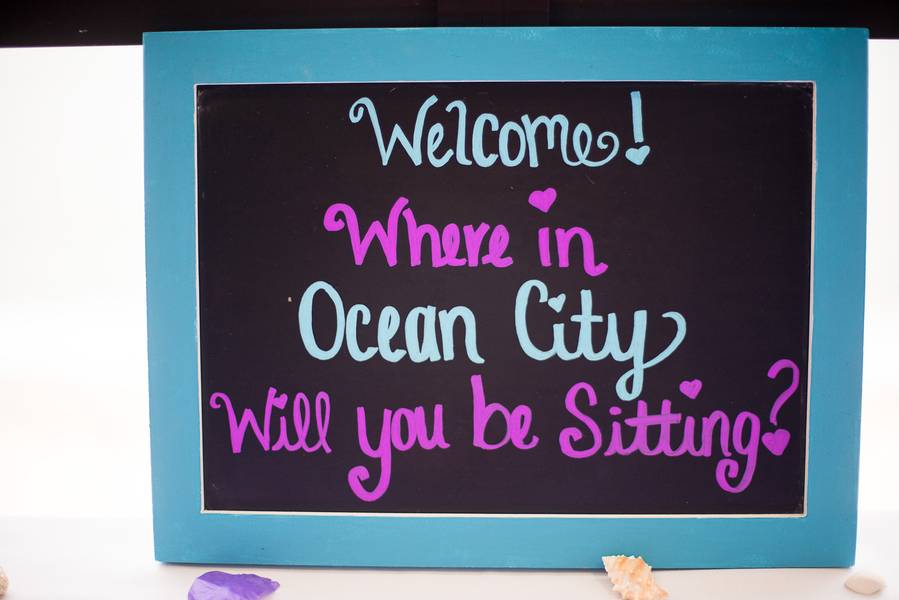 The Nautical Cake
The cake table was a sweet loving girls dream! The cake topper for a set of beach chairs and the cake was surrounded by so many cupcakes! The sugary sweet delicious scent from the cake table was sweetly intoxicating!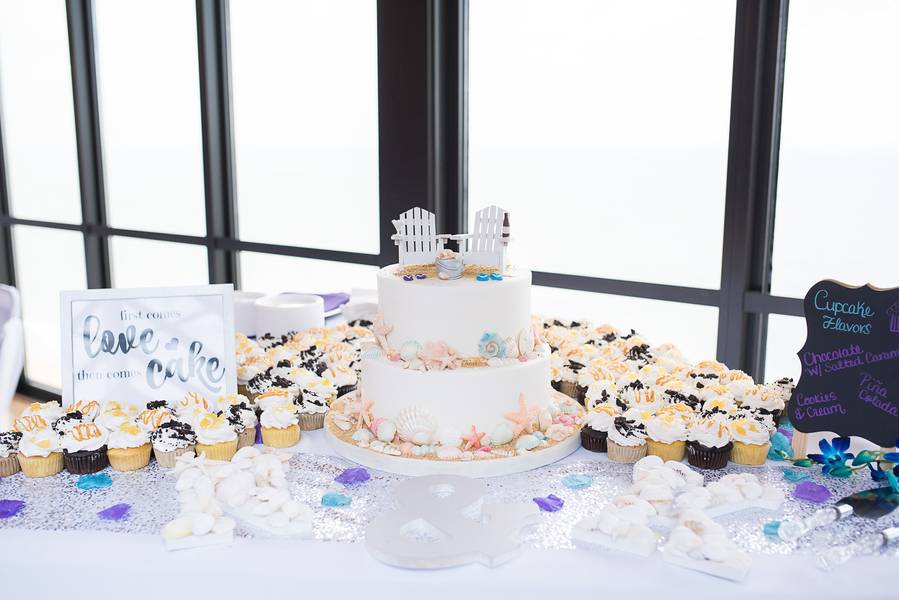 The Wardrobe
The bride and her girl squad of drop dead gorgeous bridesmaids all rocked some form of hair jewelry that came from the sea. Nicole had a dazzling starfish anchoring her perfect updo and accenting her veil.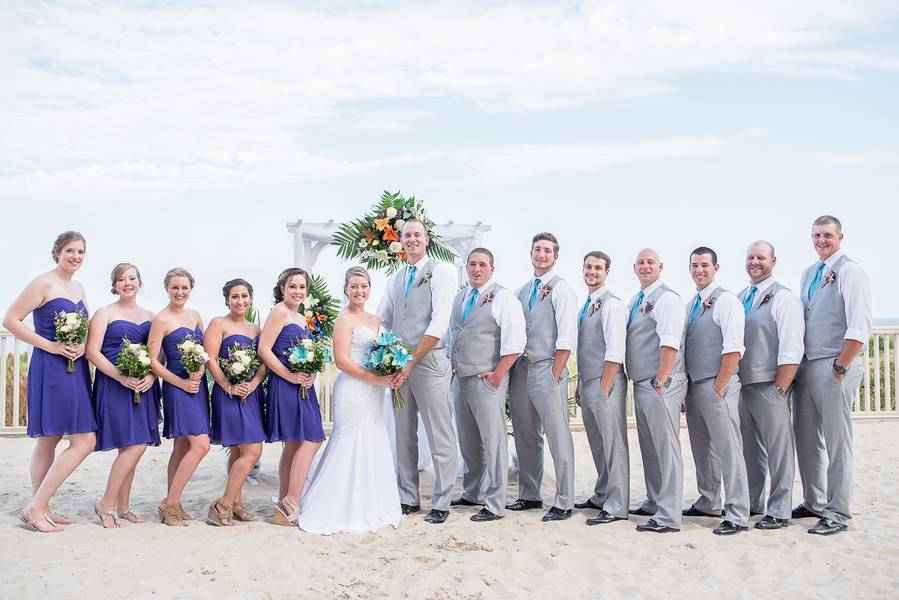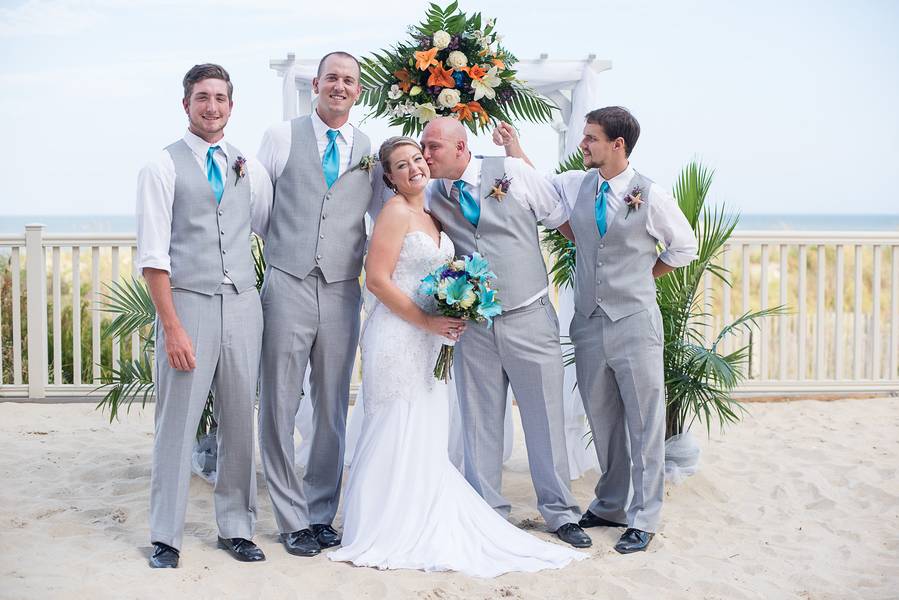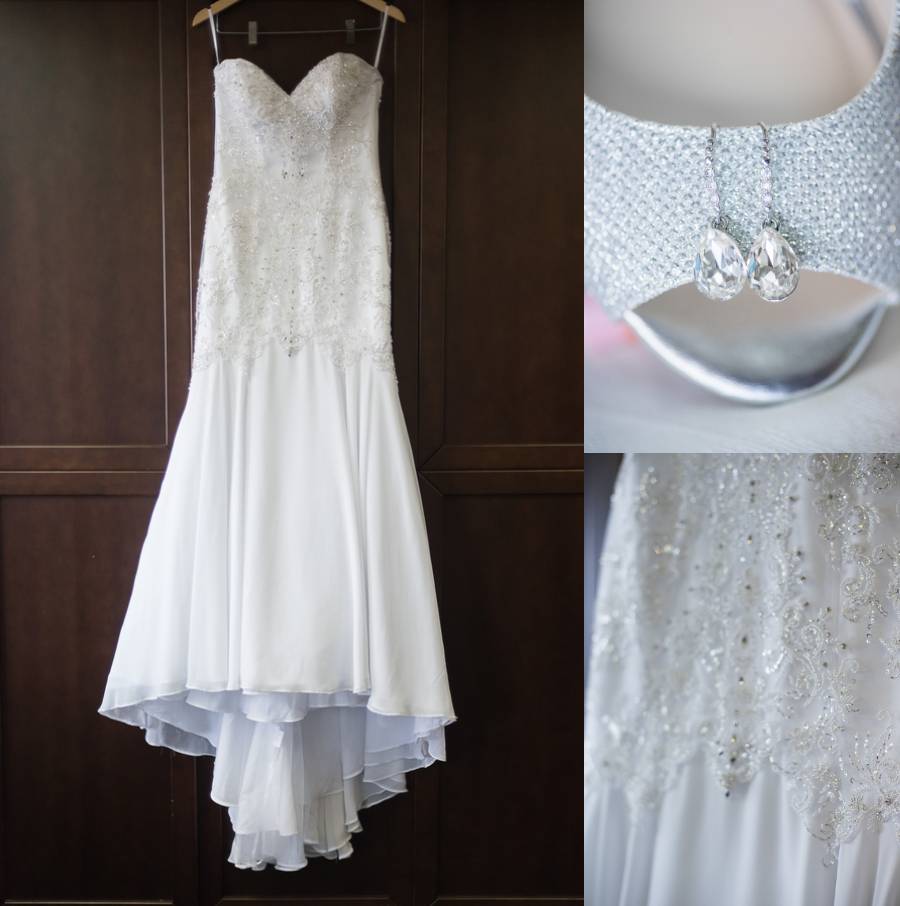 About the Photographer
Hi everyone! I'm Tracie Smith a national wedding and lifestyle portrait photographer serving the East Coast and the Gulf Coast. I'm a Maryland girl born and bred, but love took me to New Orleans. I work with couples from all over the world and help them through this wild and crazy wedding planning process. I'm right a home shooting by the water, I grew up boating, fishing and spending as much free time as possible by the water. As a wedding professional I found that beachfront weddings are my favorite to shoot and I get so excited when a couple tells me their venue is on the water. My goal is to enhance your wedding day and help give you the experience you've dreamed of. From helping devise timelines to bustling dresses or last minute driving couples from their reception so they can see their fur baby as soon as possible, I do it. I believe in serving couples and families and going over and above what is required of a wedding photographer. My wedding day collections start at $1,600.00 and all of my current pricing is found on my website. Shoot me a message through my website to book your beachfront wedding today.
Take this Advice
Be true to yourself and the relationship that you an your fiance have. Don't be afraid to incorporate aspects of yourselves into your wedding day. An event coordinator is invaluable to have. Your wedding day should be one of the most fun, amazing, whirlwind of a fantasy days. Allow a wedding professional to take the reigns and help bring your vision to life while you concentrate on being in the moment and living life loudly and proudly with your husband, family and friends. Make sure you have a professional photographer and that you and the photographer get along and that they have been a wedding professional for a while. Your photographers going to be with you at every step of your wedding day, having the right artist by your side can make or break your wedding day experience.  ~Tracie Smith/Photographer
Vendors
Photographer: Photography by Tracie
Makeup Artist: Dorsey Beauty
Bridesmaid Dresses: David's Bridal
DJ: DJ Rupe
Reception Venue: Golden Sands Club
Invitation Designer: Heather Hughes Designs
Groomsman Attire: Men's Warehouse
Cake Designer: Miss Patti Cake
Floral Designer: Ocean Greenery
Dress Store: The Bridal Boutique