Click image to enlarge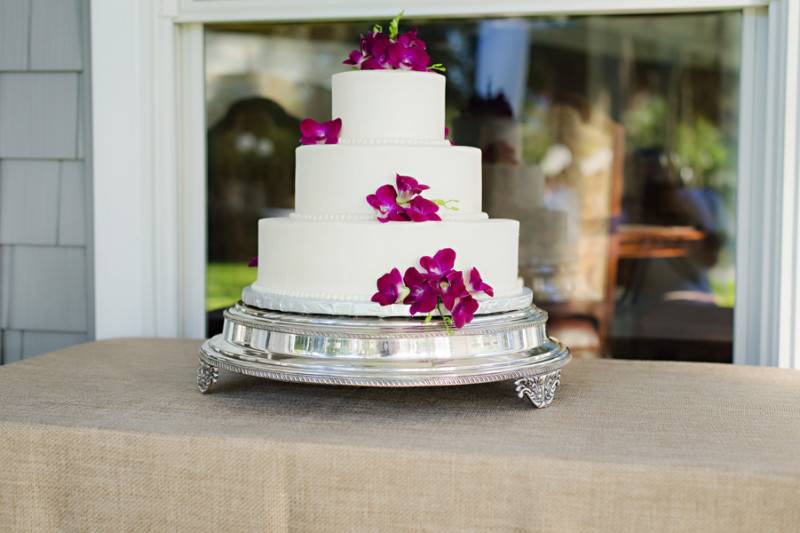 Like. Click to Vote
>
Happy New Year Beach Bride readers! Why don't we start off 2015 with a beautiful wedding feature?
This wedding sure has lovely floral details. All of which brought pops of colors to the refined simplicity the event had. The cake captured this style altogether and is pretty much the essence of the theme. It was a simple 3-tiered white cake but had few purple petals decorating it. It's simple and good enough to eat on it's own but the floral details made it more appealing – similar to the wedding. It was simple but it was lovely and refreshing to look at, then you add in the bouquet, boutonniere, etc. and you have redefined the simplicity. Congratulations Shannon & Tim!
Photographer:
What would you say, the overall story for this album?
This couple was all about having a really good time. They did not want to be hung up on all the "stuff" of theirwedding day, they wanted to have time with their friends and family, and have a good time doing it.
What inspired the wedding day outfits?
getting married on the beach, her dress was flowey but relaxed, a perfect beach dress.
What was your favorite part of the day?
I loved the taco truck, It was a perfect way for this couple to start the reception!
Vendors
Photographer:  Pure Sugar Studios
Equipment Rentals:  Beachview Tents
Musicians:  Charlie walker band
Cake Designer:  Cupcake Girls
Equipment Rentals:  Floaters
Photo Booth Equipment:  Photo Magic of Florida
Caterer:  Catering by Liz Grenamyer
Floral Designer:  Floriade
Equipment Rentals:  Luxe Party Rentals