Click image to enlarge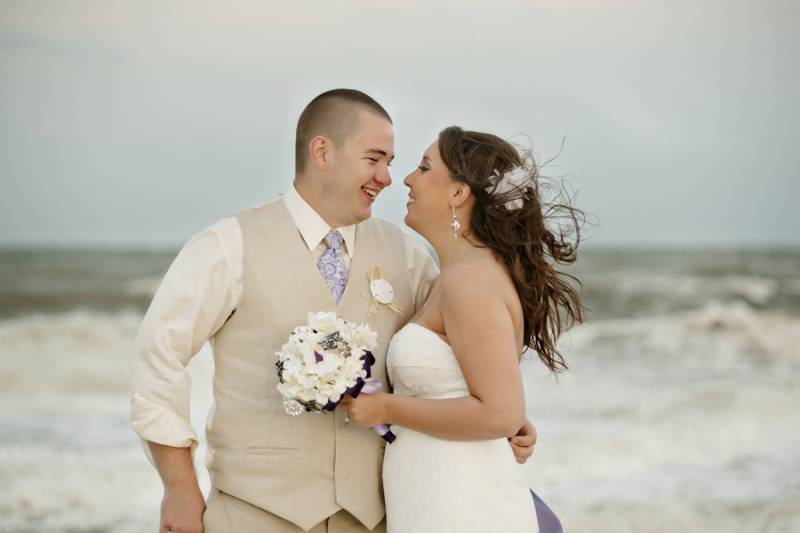 Like. Click to Vote
>
Last feature of the year, wow. Time really does fly when you're having amazing wedding, engagement, styled shoot, etc. photos day by day. We enjoyed our year with you dear readers, vendors, brides and grooms and we're looking forward to another year of awesome and romance.
A very breezy day for TJ & Kelsey's wedding. It wasn't entirely sunny but the overcast clouds gave their ceremony a dramatic feel, specially when the sun started to set on the wedding party. It went really well with the purple details they had for it made things look elegant. But despite the dramatic elegance feel of it, the wedding still looked laid-back which is what our bride envisioned – stress free and relaxing. Congratulations Tj & Kelsey! And to everyone, advanced Happy New Year.
How they met and fell in love
I could not stand my husband when we first met my senior year of high school…as cute as I thought he was, he was rowdy, wild and thought he was such a ladies man! We ran in the same circle, dated mutual friends, but I think my first words to him one night at a party were "if I had to date you, I'd kill you." One chilly April night right before my graduation, we bumped into each other at a party I wasn't supposed to be at. We were like magnets. We were just drawn to each other in a strange way we never had been before; it was like meeting for the first time but knowing each other forever. We sat by the bonfire and talked until 4 am. He picked me up for our first real date the next day and, almost 8 years later, here we are! To hear him tell the story; he'd always had a crush on me but I never knew it. I'd think he was making it up all these years later but he can still remember his favorite outfit of mine that I used to wear in high school-years before I even knew his name!
There is a kindness in Tj. A peace, a calm energy. He is relaxed in almost everything he does. That is the opposite of me. I am high strung and OCD and a control freak for lack of a better term. I would probably explode if it weren't for him. We completely balance each other out. We challenge each other but accept one another at the same time. All the qualities we lack alone we find in each other. I don't always have to be patient, he can be that for me; he doesn't always have to be level-headed, I can be that for him. (That and he's just the right height for my head to fit perfectly under his arm so I'm always so comfy laying beside him-that's gotta' be fate right?!)
Proposal Story
Tj tells this story better than me. Apparently there were two rings; one Tj special ordered, took around to my mom and step-dad, grandparents and daddy to get their blessings, planned a grand proposal for Valentine's Day-because I'd always said how cheesy that was so he knew I wouldn't expect it-but then returned because he decided the ring was not "me" (I've seen pictures-he was right). He didn't tell my family members this so for a week after Valentine's Day they were all asking weird questions and looking at my hands a lot! Then on Feb. 29th-leap year-and the day our first house went under contract, I came home at 10pm-really late from work, stressed and tired. He was in his pajama's and following me around my one bedroom duplex saying all this sweet stuff and trying to be romantic. I wanted no part of it. I'm taking off jewelry and putting on pj's and am half ass agreeing with all his sweet "don't ya' thinks." Then I heard him say "I know it's not fancy but with your Nana being so sick I don't want to keep waiting." I turned around a literally almost tripped over him. He was down on one knee-Jim Beam pajama pants and all with the most beautiful diamond ring I'd ever seen. He looked up and said "I was wondering if you might like to marry me?" I said yes of course and was able to share my engagement with my Nana. She passed away 11 days later. He knew that would mean more to me than if he's taken the time to plan another grand proposal.
Kelsey's vision for her wedding day
Picture sunset at the beach. The sky a collection of pinks and purples. Sand between your toes, the sound of the waves. You feel closer to God there-closer to loved ones who are no longer with us. Relaxed, perfect, no stress. That is exactly what we envisioned for our wedding day. Having a beach wedding wasn't an easy decision because we are 5 hours from the nearest beach but it was the only place that made sense to us. The first vacation we ever took together was to Coastal Georgia. We had the crappiest hotel-miles from the beach, it was SO hot and rained almost the whole week-not to mention the jelly fish, but we had the best time together. We didn't have a 'home church' or a special place in Athens where we lived so the beach just felt right, felt like "our place." It fit the mold for everything we wanted for our big day!

Vendors
Photographer:  Andie Freeman Photography
Cake Designer:  Cecilia Villaveces Cakes
Dress Store:  David's Bridal
Tuxedo and Mens Attire:  Island Wedding
DJ:  J&M Sound Productions
Makeup Artist:  Shannon Adams
Event Planner:  Southern Sophistication Designs
Event Venue:  Tybee Island Beach