Everything in today's feature is PERFECT! This couple was beyond thrilled and glad to have a planner like Tide the Knot Beach Weddings! The colors they picked for the wedding were a perfect match for the amazing view of this private beach in Lido Key, Sarasota .FL – one of the most beautiful spots for Mir*Salgado Photography to capture gorgeous photos even though it was cloudy. Thrilled? Sit back, relax and scroll away ladies!
Click image to enlarge
2

Like. Click to Vote
>
The Wardrobe
Anna is wearing a white off-the-shoulder empire waist ball gown wedding dress that fits perfectly with her studded hair pin and elegant necklace while Jeremy is wearing matching khaki vest and pants with white inner shirt and a white rose corsage. Both of them looks stunning in their beach wedding!
The Venue
Look at this fantastic view! This lovely couple chose Florida as their Destination wedding, a super romantic and fun occasion with closest friends and family who came to Florida to enjoy a super nice and lovely day with them. Attractive blue accents on those white beach chairs look wonderful.  The simple wedding arch made of bamboo – decorated with flowers and fabric fits perfect as the center piece of the ceremony.


The Ceremony
Here comes the feels! The ceremony was romantic! A very intimate matrimony of soulmates who finally agreed to spend forever with each other. The picture-perfect wooden placard simply implies whats happening here. No sides, just one happy family!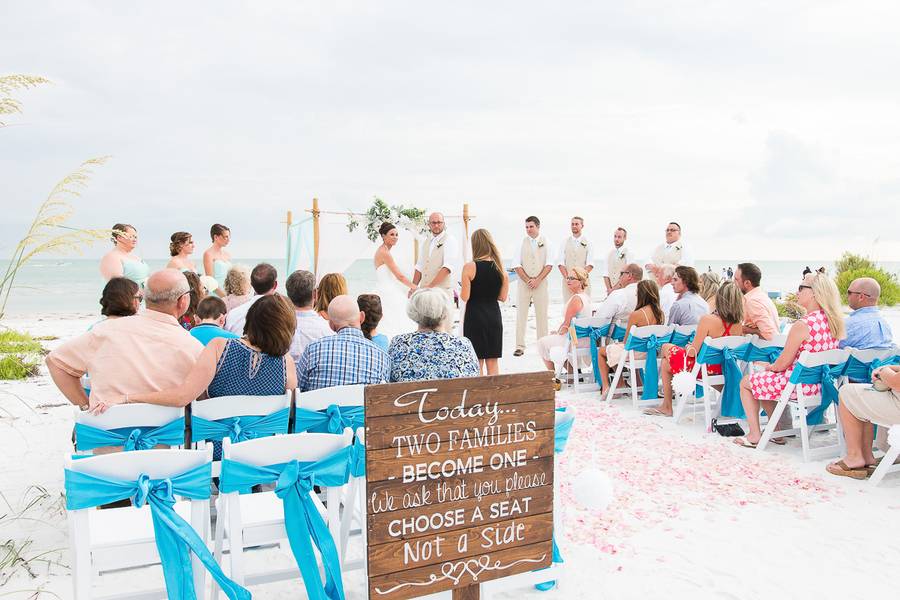 The Decors
The location was filled with nautical elements that sticks seamlessly to the overall theme. Starfish, shells and sand glasses are some of the favors that adds to the relaxing ambiance of this beach wedding.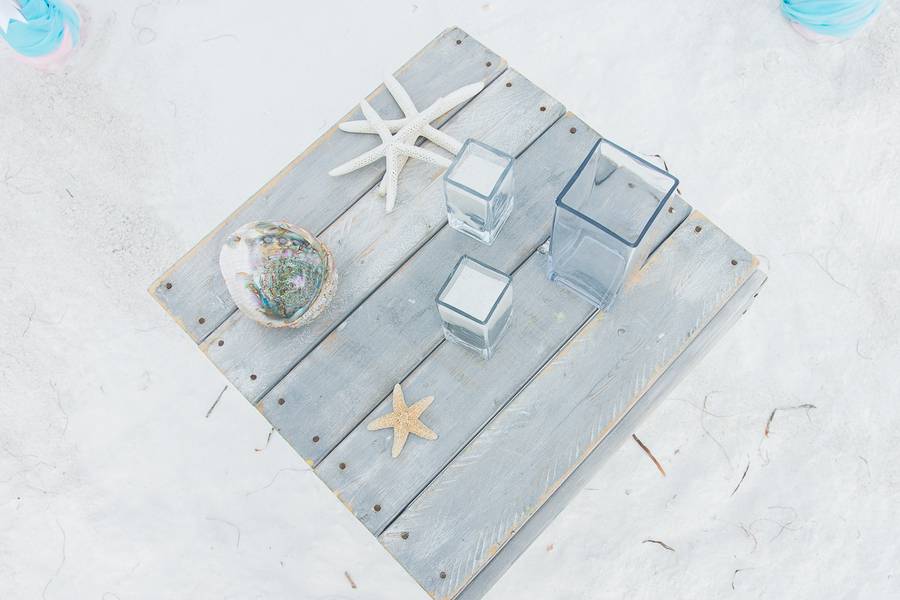 The Desserts
Let them drool no more! This cake from Cakes by Ron looks tempting. The shells and scales lines up to the beach themed wedding.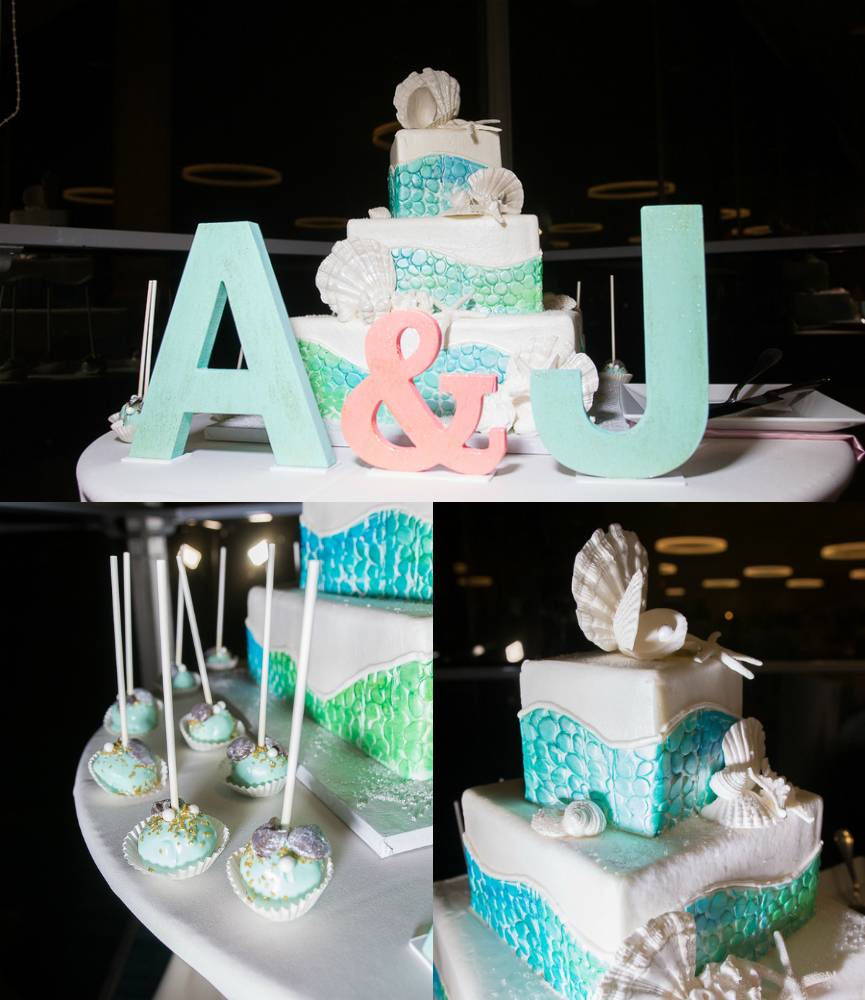 The Bouquet
Anna's bouquet is a posy of pink and red roses which totally complements her white wedding dress.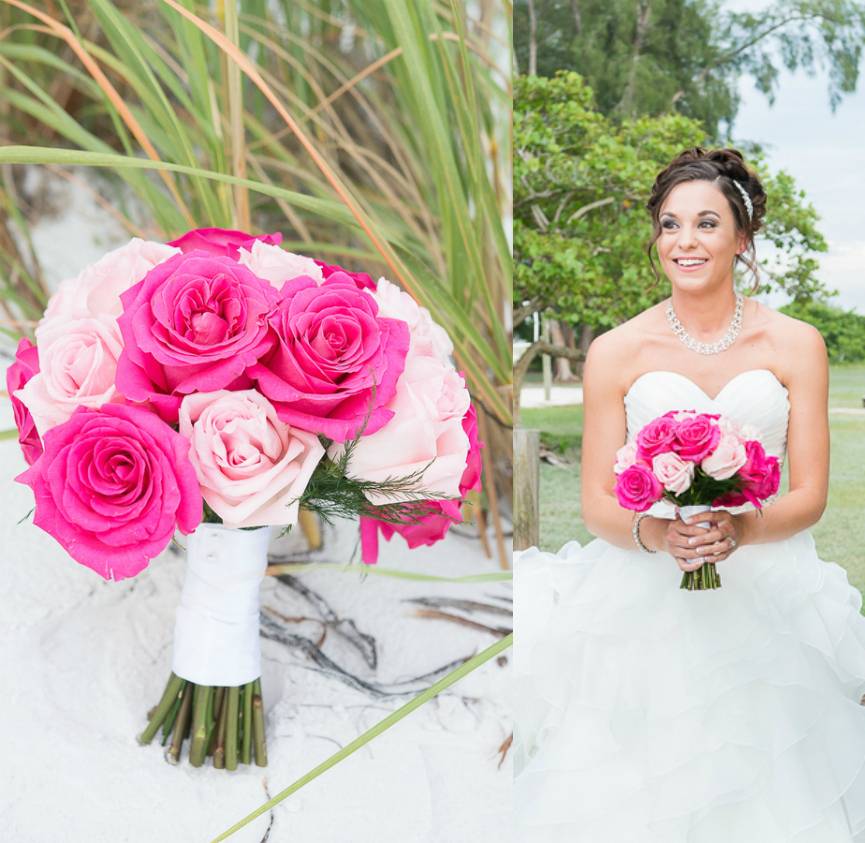 The Invites
Simple yet fits the overall theme. Their minimalist approach to their wedding invitation shows us that it doesn't take an expensive invite to be alluring.
Heed this Advice
Hire a wedding planner or coordinator if you are having a Destination wedding. Don't forget to plan ahead knowing the hurricane season for locations like the tropics. Trust your instincts! Buy a dress that fits your body, the location and the weather so you can enjoy and have fun. Always SMILE!
~Miriam Salgado/Photographer
About the Photographer
Since 2011 Mir*Salgado Photography has been creating moments as the best memories for the people to have. Life is full of moments and you don't want to miss them, your heart and memory are full of those but your eyes sometimes missed some of them, this is my job to get those memories in beautiful pictures for you and your family. Now we are part of ALLURA STUDIOS,LLC and we are offering VIDEOGRAPHY services too. I graduated in Sales and Marketing and I loved it. Actually I worked in this area for almost ten years. Once I got married and started traveling the world, I just couldn't find something to further develop my skills…so I decided (an idea by my husband) to take a complete course and certify myself in photography while we lived in London. Up until now I experienced an amazing time in shooting weddings, portraits, special events and everything that crossed my lens, so that I can share with people that SPECIAL MOMENT they wanted to freeze in time!!! I already had the chance to work with so many amazing people in countries like: SPAIN, PORTUGAL, ENGLAND, MEXICO & USA. So don't think twice and feel free to send me an email to tell me more about you, comment my work or maybe sign up to freeze some special moments of yours in front my camera… "Do you want your moments be UNIQUE Memories FOREVER?
Money Mattes
$5,000 – $10,000
Vendor
Photographer:  Mir*Salgado Photography
DJ: Grant Hemond and Associates, Inc.
Event Venue: Holiday Inn Sarasota, Lido beach
Officiant: provided by Tide the Knot Beach Weddings
Bakery: Cakes by Ron
Ceremony Location: Tide the Knot Beach Weddings
Tuxes: Men's Wearhouse