Ashley
This bridal portrait is as refreshing and pleasing as a Sangria! Ashley was lucky enough to have found the photographer that gets her style. Together they made a gorgeous and fun bridal shoot complete with pineapples, sangria, and the captivating beauty of the beach. This bridal shoot is every beach brides' dream!
Click image to enlarge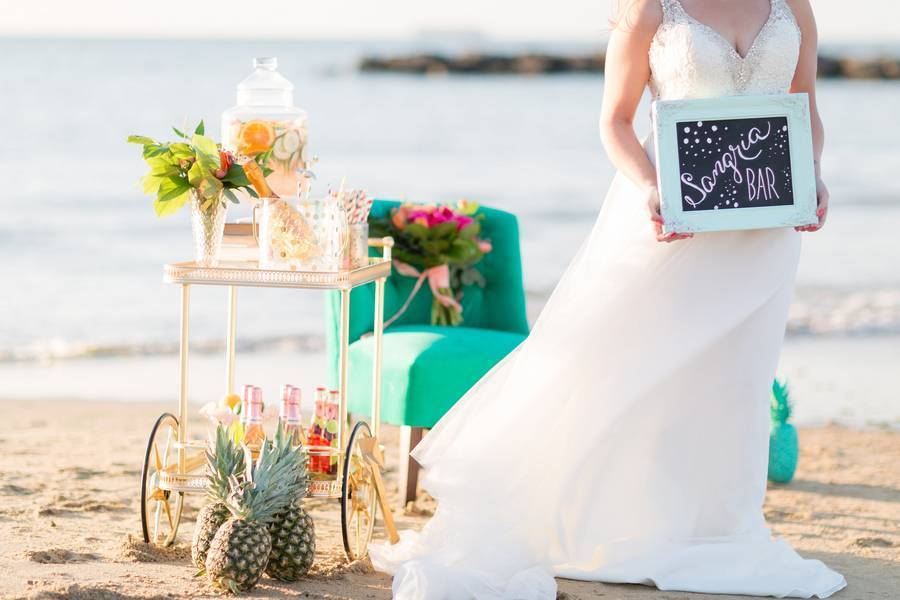 Like. Click to Vote
>
Extra Special Details
The theme. As you go through Ashley's bridal shoot gallery it is obvious that this bridal shoot is made of pineapple dreams (and, of course, real pineapples) and some serious brunch-by-the-each vibes.
The decors. PINEAPPLES! I'm pretty sure that the word count for pineapple in this post is more than one could handle! Hahaha. That is how Ashley adores anything pineapple related. Seriously, from the bottle, container, and down to the fruit! You can't miss the brightly colored couch next to the tray a.k.a. Sangria Bar. (I need me sangria some ASAP!)
The color palette. The main colors of the setup were teal, pink, and gold. It was fun, quirky, and most of all pretty!
The bridal style. Ashley stood out in this sea of vibrant setup — wearing her most exuberant smile and simple yet elegant dress. She holds a bunch of fresh and vivid flowers that gave her ensemble a pop of color.

VENDORS
 Photographer: Luke & Ashley Photography
Event Planner: Courtney Inghram Events
Design and Decor: Mad Hatter Vintage
Makeup Artist: Makeup by Kim Porter