Sea breeze and warm weather are what Marshall and Lyndsey's wedding was all about. The two went for a  tropical themed destination wedding. It was so fun to see them have fun. These two will truly remember this day not only as it made them one but the amount of fun they had. It's nice to see couples who started dating at a very young age  then end up being together. You see it's not  a matter of age, it's about how you grow together individually and as a couple. Congratulations, Marshall and Lyndsey! May you guys spend many more years together. Stay in love!
Click image to enlarge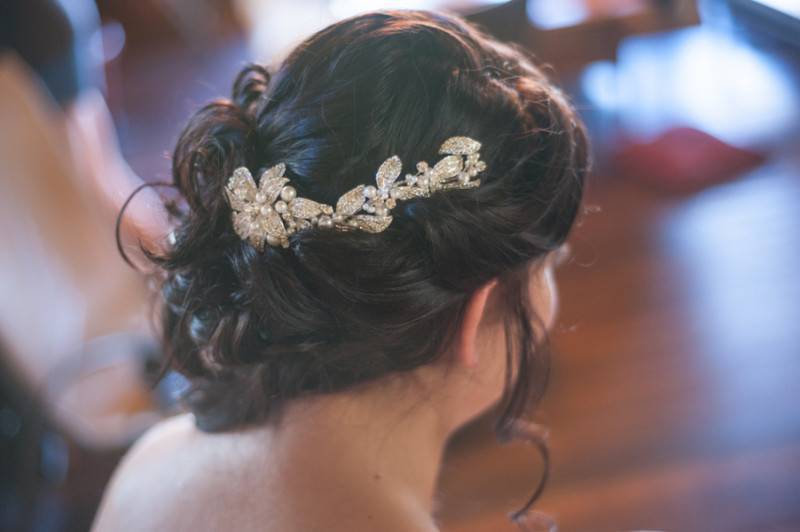 Like. Click to Vote
>
Our Story:
We went to the same middle school, Marshall was two years older than me. We became best friends when I was in 6th grade (2006) and started dating in 2007.
We Are A Perfect Match:
Marshall and I have been together for almost eight years now. We began dating at a very young age. (he was 15 and I was 13) We grew up best friends and I believe that helped us create the inseparable bond we have. It is scary how similar we truly are.
The Proposal:
December 30, 2013, we were curled up on the couch watching TV and I told him we needed to go get balloons because the 31st is my little sister's birthday.. I had to freshen up before we could go, and he went out to start the truck. When I came out to put my shoes on. BAM there he was on one knee.. I was so surprised I didn't know how to react but start crying and shake my head yes. When we first starteding talking about marriage, I said I didn't want an elaborate proposal. This couldn't have been more fitting for us. So casual and I wasn't suspicious at all!
The Planning Process:
We had almost exactly one year of planning. We got engaged December 30, 2013, and married on January 22, 2015. This was enough time for us because we did not have a lot of planning to do. Our main goal was to keep it simple and intimate.
The Best Advice I Received:
The best advice I was given was from my mom. She said to begin making lists early on of everything we wanted. It made the process so much smoother because I already had everything on paper that we wanted.
Tips & Tricks For Future Brides:
Don't stress the little things! No matter what happens on your wedding day, you will still be Mrs. ______ and that in itself should be enough to make that day perfect. All of the material things are nice and pretty, but it's the sheer excitement of from that day forward, spending the rest of your days with the love of your life.
The Challenges We Faced:
Like I said above, don't let the challenges blur the true reason for that big day. Our toughest challenge was whether or not we could get our marriage license on Culebra. There was a lot of political turmoil, and we were unsure if we would even be able to be officially married there. That would have meant just having the ceremony on Flamenco and then once we arrived back home, go to our local courthouse and sign the documents there. We wanted to be officially married in Culebra but weren't going to let that ruin everything. Luckily everything worked out, and our marriage license is 100% legal.
Wedding Décor Inspiration:
We wanted simple yet beautiful. I chose coral as the main color because it is such a fresh and tropical color. Many beach wedding that I saw were aqua blue, and I wanted to be a little different. Other than that it was a beach wedding so the beach 100% inspired our décor.
Money Matters:
The biggest expense for us was the wedding planner, but we could never have put it together without her! She helped us apply for our license, decorated the beach and the villa for dinner afterward She and her staff prepared an amazing meal and awesome dessert. Basically our decision to go with the Homeless Dog Café was like a 1 stop shop. Other than choosing a photographer, but she also helped me locate Frances! so it was well worth the money. How many guests were invited in your wedding and what was the final guest count? Our total number (including bride and groom) was 11. We kept it very small. Inviting only our parents and siblings. How did you narrow down your list? By choosing that we were only having immediate family, it was very easy to keep the list down.
The Song:
The Honeymoon:
We arrived on Culebra exactly 1 week before the wedding to get everything squared away before our family arrived Monday. So we basically did things backward and had a honeymoon before the wedding. After the wedding on Thursday, we stayed in Culebra until the following Monday with all of our family.
What Awaits Us:
It excites me to no end to think about the precious little family we will eventually make. Step by step we are slowly molding our lives around the children that we hope to have and cherish in the future.
Planning Advice For Couples:
Don't let any one other than each other sway your decisions. It is your big day, No one elses! If we would have listened to everyone we would have had a huge traditional wedding with 250+ people.. and we would have been completely miserable because that is not what WE wanted.
Wedding Day Outfit Inspiration:
Island Simplicity inspired the outfits. The guys all wore khaki shorts and white button up shirts. My dress was a short lace dress that looked great with all of the scenery. We did not wear any shoes… because who wears shoes on a beach?!
Favorite Part Of The Day:
My favorite thing about our wedding was when I first stepped foot into the sand and laid eyes on the amazing set up that Peri had created for us. Seeing Marshall standing under the coral and white pergola just gave me goose bumps.. This is really happening..
The Theme:
tropical
Most Memorable Moment:
When I was putting Marshall's ring on.. I could not get it to slip on gracefully.. so I made quite a scene pretending I had to push with everything I had to get it on. Everyone found it quite comical.
VENDOR
Photographer: Rincon Images