Blue is to the Miami mood as yellow is to the Florida sunbeams. This summer garden wedding followed radiance from all its elements — seashells, roses, candlelights, and so much more! Sarah and Chris, who met at a wedding ended up exchanging their I do's to each other in front of the important people in their lives. But this time, they took the beauty of Miami beaches along with the yellow and blue vibrance which worked together so well! The photos say that it was a fun day, indeed. Give some of your time to check out their gallery, read their wedding story, and feel the love run through your veins!
Click image to enlarge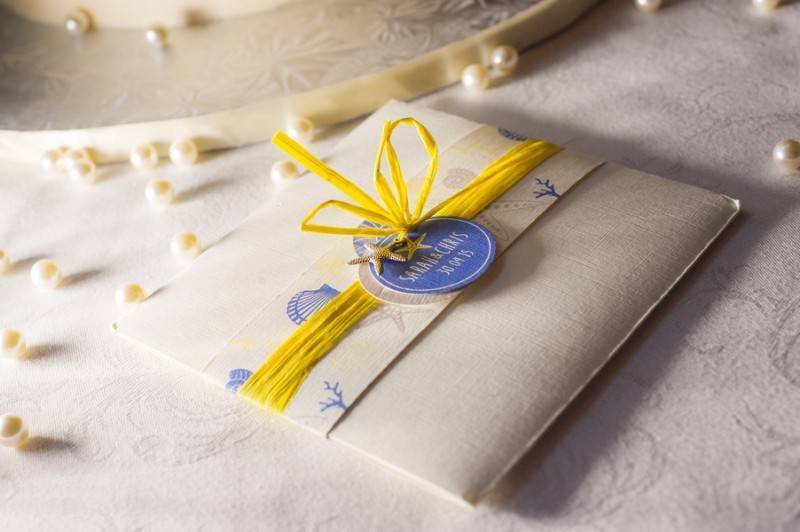 Like. Click to Vote
>
Our Story
We met at our friends weeding. Chris was close to the groom and I was close to the bride. We actually married on the 30th April 2015, 10 years to the day we met. The couple whose wedding we met at were Best Man and Maid of Honor.
We Are A Perfect Match
We are so different that it works! Chris allows me to be who I am no matter my faults and puts me first always, which I need. We are ultimately best friends and we love life together!
The Proposal
He proposed on a champagne Helicopter tour to the Grand Canyon and it was pretty great. Although to be fair, he did take 8 years to propose so had a long time to think about it! 🙂
The Planning Process
We planned everything for 22 months and it was perfect for me. I loved every minute of the process as it was so exciting! I really miss the planning period.
The Best Advice We Received
Enjoy and savor every moment! I did this and it was fantastic! Also spend as much money as you can afford on the photographer! Brilliant advice!
Tips & Tricks For Future Brides
Honestly, do everything that you want to do. Don't try and please everyone else, it's not possible. It is your day and you will remember it for the rest of your life. Try and stay true to yourself and what you want (especially if you are paying).
The Challenges We Faced
As I was getting married abroad, that was the biggest challenge. Of course not everyone could make it and there was some upset along the way, but I remembered that this was our choice to do it abroad and to try to be supportive of others. Ultimately in the end, almost all people that we wanted there made it, so we were really pleased. 35 people for a wedding in the US when you are from the UK is amazing!
The Theme
Not really just focused on love, friends, family and Florida! We wanted a British style party, so we encouraged our guests to pick the party music. This was a real success!
Wedding Decor Inspiration
I really wanted to match the Florida Summer Garden Wedding Feel. I wanted to to be relaxed yet fun, but also fairly traditional. I really liked the color scheme I ended with and the bouquet of flowers complimented it perfectly.
Wedding Outfit Inspiration
I really wanted Blue Suits as I felt they reflected the Miami mood. I loved the yellow in contrast as to me, yellow reminds me of Florida Sun and Beaches! I loved the Bridesmaid dresses — so simple but classy.
Money Matters
Wedding budget: In excess of 20,000 GBP (Includes flights, honeymoon, etc.)
We saved a lot of money on the Photographer from the initial pricing. Also the fact we got married on a Thursday helped us a lot.
Biggest expense: Photographer/ Hotel and catering.
The Guest List
We invited close friends and family. We sent out Save the Date cards and from feedback about who could make it that helped us decide who was coming. In the end, we had around 50 – 35 guests.
The Songs
Take That – Greatest Day
Stevie Wonder – Isn't she Lovely
Black Eyed Peas – I gotta a feeling
The Honeymoon
We went to Orlando! 1 week at the Hard Rock Hotel and 1 week at Disney Beach Club Hotel. Fun!
The Next Step
I'm most excited about all the places we will visit and all the things we will do together. We love to travel and we love the States so we are working hard to build a future that includes a home in the US.
Planning Advice For Couples
Enjoy every moment! It was the best time of my life however, do not try to do it on your own. Ask for help. I didn't do this and at times it was a bit of a struggle. On the day just smile, relax and enjoy! Good Luck!
The Album Story
A Fun relaxed summer wedding with all our close friends and family enjoying the day with us! Perfect Day, perfect Location!
Highlights from the Ceremony and the Reception
The Highlight was the entire service Rev. Eddie gave. It was wonderful and so personal even though he didn't really know us! I was so pleased with what he said. Also the dancing! Everybody danced and had fun all night long, it was completely brilliant, perfect day! Honestly as well, I don't remember seeing the camera man Matt or the Photographer Jeff, but they captured amazing photos! Perfect!
Favorite Part of the Day
Blimey, this is difficult. Probably the Cocktail Hour watching our friends sat around in the evening sun,relaxing and enjoying our wedding with fantastic music in the background! Also, watching my Nephew Joe run around in his little page boy outfit with his sign enjoying himself! I also loved the Speeches!
A Memorable Moment
I really loved coming down the aisle and seeing all my favorite people watching me, feeling extremely happy for me. I hope they felt that was the best too! Also, to come down the aisle to Isn't she lovely, the song my Granddad used to sing to me when I was a baby as it was out the year I was born was a fantastic moment for me.They will also remember that Chris and I never stopped smiling all day!
VENDORS
Photographer/ Cinema and Video:  Jeff Kolodny Photography, Inc
Cake Designer: Edda's Cake Designs
DJ: LR Entertainment
Dress Designer: Maggie Sottero
Officiant: Rev. Eddie Rodriguez
Floral Designer: Terra Flowers Miami
Event Venue: The Palms Hotel