Athena and Brandon had a fun day walking around Santa Monica, from the 3rd street promenade and ended at the beautiful pier where they captured this magical photo. The lights from the pier gave them a beautiful and magical background. They had a casual and fun day concept going on – walking and talking around the shops. Chasing each other by the beach was also adorable and fun to look at.
Click image to enlarge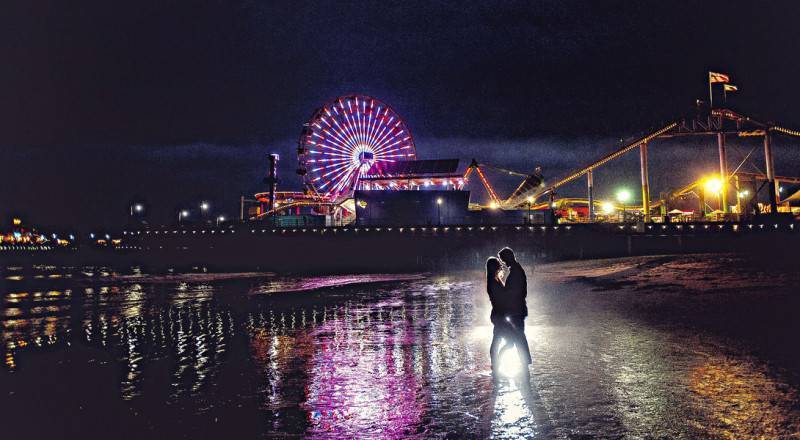 Like. Click to Vote
>
A story from the photographer – Melvin Gilbert:
I had a fun-filled day shooting an engagement session with Athena and Brandon. They had heard about my work through another client of mine named Carin (whose session can be found here). I was excited to work with them and I couldn't wait to get started! Beginning the day at Santa Monica Place and 3rd Street Promenade, we also visited the Santa Monica Pier and the LACMA. It was great seeing them in different environments and you could really tell that they had a strong connection! Athena and Brandon have been together for three years. They met in Hawaii by chance as they were both on vacation. Being a support to each other, Brandon is always sure to keep Athena on track while Athena makes sure that he gets out and lets loose once in awhile. As they walked around the shopping areas or visited the Santa Monica Pier, you could tell that they were totally absorbed in each other's world. Having fun, smiling, and joking around as they visited different places, it was beautiful chemistry right before my eyes! As they walked along the beach at the Santa Monica Pier, I was sure that they were both reminiscing about the proposal. When they had visited Puerto Rico together, where Athena's family is from, the beach was empty apart from them. It was a perfect moment and Brandon took advantage of it. Taking a knee and proposing, it was the start of something magical! Capturing some of this magic as they ran across the beach together or posed for some creative shots, it was great to see such a fun couple! Finishing our day at the LACMA, these two looked incredible as they posed near the lamp post display. Lighting up the essence of love in their hearts, the scene was exquisite. Everything about this day was great and I couldn't have been happier for these two!
And read Athena's story:
What is your story as a couple, how did you meet & fall in love?
We were both on vacation in Oahu, Hawaii and I noticed him the moment he walked into the restaurant. As fate would have it, he and a friend were seated right next to my girlfriend and I and eventually we began talking. We hung out all evening drinking Mai-Tais at the Royal Palace Hotel and met up a few days later on the North Shore where a group of us had dinner. We said our good bye's since we were leaving the next day and told each other we'd keep in touch. Little did I know that we would talk almost every day the following few weeks! I lived in LA and he was in the San Diego area and about a month after Hawaii, we finally had our first date. We've been together ever since!
What makes the two of you a perfect match?
Brandon is everything I'm not and vice versa. We balance each other and make one another want to be better all around.
How did he (or you) propose?
I took Brandon on a quick trip to Puerto Rico for his birthday because my dad's side of the family is from there and I used to go a lot as a child. After hiking the rainforest and a night of kayaking in the bioluminescent bay, we were walking on the beach and Brandon said he saw something glowing in the sand! I told him he's seeing things but he runs ahead and starts digging in the sand. By the time I got to him he was on one knee with a lit up ring box in hand and he proposed.
 VENDORS
Photographer: Melvin Gilbert Photography
Caterer: Los Angeles County Museum of Art
Reception Venue: Santa Monica Pier