The banks of the Virgin River outside Zion National Park has wonders to amuse people with its beauty that inspired this beach bridal session styled shoot. Everything was beautiful and lovely with one hundred percent handcrafts all over. Big thanks to db Photography for taking every perfect shots! Enjoy readers!
Click image to enlarge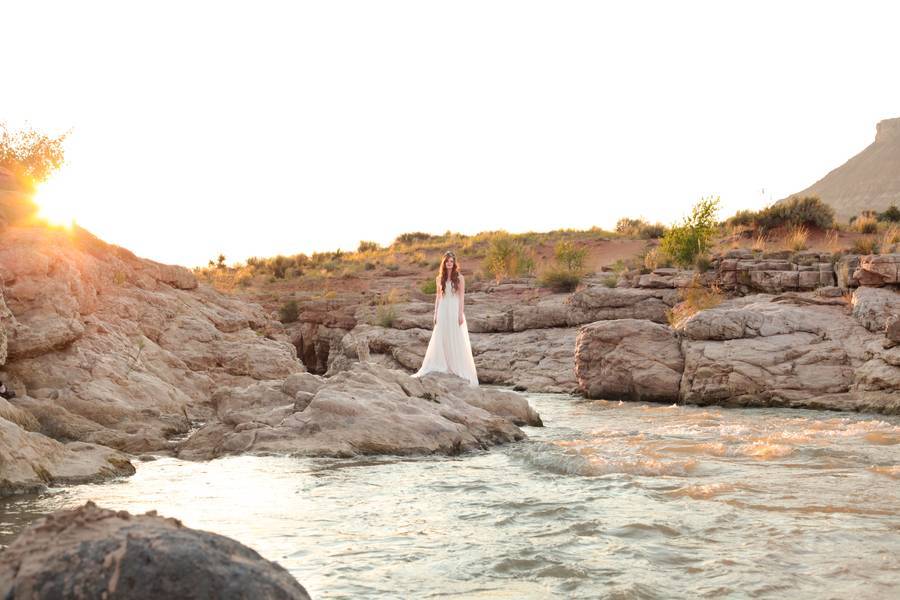 Like. Click to Vote
>
Extra Special Details
The crown was worn by Lindsey Bills and was a collection of inspiration pieces that was brought to Daysha Barlow. It was made up of various seashells, a bronze octopus brooch, fabric netting, gold flowers, and hair combs.
The ribbon crown was also handcrafted from seashells and pearls that was worn by Mayci Stephenson.
The bouquet –  thumbs up to  Amy Stufflebeam with Jocelyn's Floral, the netting holds real starfish and beautiful crimson seashells. Wow!
The cake – beautiful teal and gold base topped with coral. The coral reef was hand molded from gum paste by Mary Lou Timpson.
Tips from the Photographer
Couples, the most important part of planning a wedding, is protecting your love. There will be disagreements, even tension, because you can't please every mother, every bridesmaid, every distant relative, or college room mate. As long as the two of you agree, push for what you want, not to please everyone else. Also, maybe I'm biased, but book your photographer early! Not only can you get the date you want the earlier you book, but photographer's often have preferred vendor lists that give you a place to start on the rest of your planning! Remember when creating a budget that the dress may not fit in a few years, the cake will be eaten or growing ice crystals in the back of your freezer, the flowers will die, but you keep your spouse and your pictures forever. Budget accordingly. Last of all, enjoy the journey! Don't stress so much that you can't have fun along the way. Delegate, delegate, delegate!
VENDORS
Photographer: db Photography
Dress Designer: Sassy Chic Bridal and Formal Rentals
Hair: Emily Spencers
Make-up: Stephanie Christensen of Beauty Counter