Almost all of us aspire to travel the world with our special someone. Charlie and Miranda are true born wanderlusts and they wanted to share that experience with their guest in a clever and budget-friendly way. With touches of purple, oriental and Latin elements, they came up with the wedding of their dreams. But for Charlie and Miranda, it was simply the best week of their lives. We wish you more journey together as husband and wife. Congratulations!
Click image to enlarge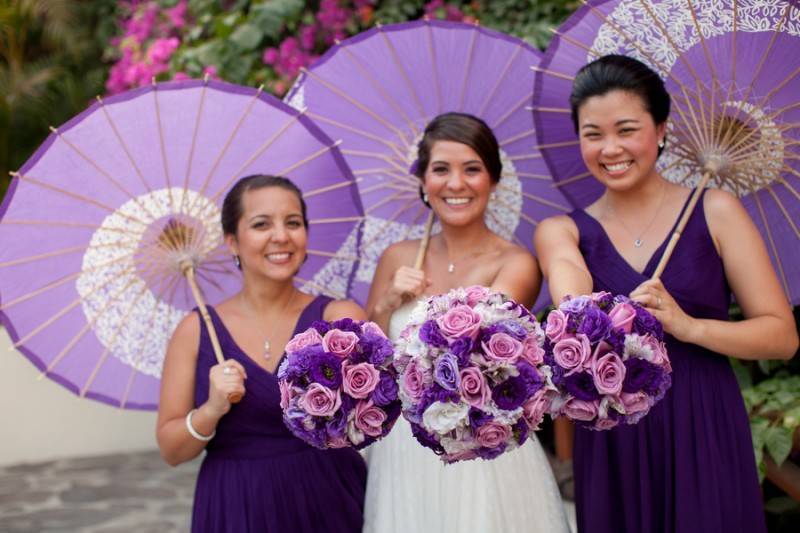 7

Like. Click to Vote
>
Our Story:
We met at Vanderbilt University in 2005. I was a freshman and Charlie was a junior. I was working as a cashier at the dining hall when Charlie decided to approach me while speaking Spanish. The rest is history!
Album Story:
"World travelers marry in Mexico" (I believe this is the overall story our photographer submitted) for us; it would be "Best week of our lives"
We Are a Perfect Match:
We both have very strong, complimentary personalities. We are both very different…
Charlie sees details, and I see a big picture.
Charlie is an engineer while Miranda is a salesperson.
Charlie's strength is math and strategy and Miranda strength is speaking/writing and executing. Throughout our relationship, we've learned how to leverage each others strengths and work as a team.
The Proposal:
Eight years after we met, Charlie proposed to me in Switzerland. I was caught by surprise because they were supposed to be meeting in Italy a few days later. Charlie had planned everything behind my back. When I entered the apartment that evening there were candles everywhere, plus candles forming a heart on the floor, and inside the heart more candles spelling out "Marry me?"
Wedding Day Outfit Inspiration:
When I tried on my wedding dress, it had a unique pattern called "Swiss Dot." I not only loved the subtle, feminine pattern but also happened to be living in Switzerland. So, this was the dress I chose! For Charlie, we decided to incorporate our Latino roots into the celebration. So, he and his groomsmen wore Cuban Guayabera shirts, which are perfect for summer weather and very elegant at the same time.
The Planning Process:
We planned the wedding for about one year. We wanted to give our guests enough notice since it was a destination wedding that would require travel, time & money. Yes, this was enough time to plan everything. What was the best advice you received when you were planning your wedding? Enjoy the process and make sure you do what you want.
Tips & Tricks For Future Brides:
With or without a wedding planner, the great thing is that friends & family want to help you out. So, feel free to delegate small tasks or involve others so that you aren't doing it all. – Know what you want and what your priorities are. For example, there will be endless options and 'add-ons' and decisions to make during the process. Know ahead of time that elements are the most important to you (e.g. photographer, flowers & music).
The Challenges We Faced:
We had never visited the resort or the city where we chose to have our wedding. We also lived abroad. So, we had to deal with about 6 to 7 hours time zone difference and do all of the wedding planning remotely (e.g. via email).
How we managed:
 The resort wedding planner was amazing! She was so easy to work with and on top of everything.
Thank goodness for my sister, my mom and my best friend. They helped with several things like buying wedding favors, DIY projects, etc.
Wedding Décor Inspiration:
Our theme was "world travel" — we lived abroad and were fortunate to have been to many, many places. For example, each table card was a different city from around the world that we've visited, and our guestbook was a map of Mexico. Our cake topper and décor also echoed this theme with a map and suitcase. For the color scheme, we chose shades or purple and light gray. In our opinion, this worked well for a beach wedding. Plus, lavender is Charlie's favorite color, and mine was purple growing up.
Money Matters:
Roughly $30,000 was the budget
We DIY'ed when it came to wedding favors, dinner menus, table cards, and more. Second savings was probably on the flowers. We just went with what was necessary and used local flowers. Then, for example, we didn't include flowers as table centerpieces.
The reception meal, open bar & photographer were the biggest expense
The Guest List:
We invited around 100 friends & family, but our final guest count was approximately 60 people.
The purpose of a destination wedding is to have some special days with the people we are closest to. So, we invited friends and family who have AND will always be part of our lives. We didn't invite a long list of distant relatives or friends we barely speak to.
The Songs:
Here are the songs we chose for our wedding
Our Honeymoon:
No specific honeymoon, since we travel a lot and every trip feels like a honeymoon!
What Awaits Us:
With all of the change and adventure we've experienced over the past ten years together, it's nearly impossible to predict what the future holds…so, we won't even try. But we'll be sure to enjoy the journey and every minute along the way.
Favorite Part of the Day:
After the ceremony had ended, we had about 10 minutes to ourselves. We were full of emotion but got to sit down, look at one another and be present in the moment. It was very special to get to share this time alone before the rest of the festivities continued.
The Do-It-Yourself (DIY) Projects:
Many of the decor/theme elements we created ourselves. My bridesmaid helped create the table/seating card design and had them printed. My mom found and customized the cake topper and decor to fit our theme. My sister creates and printed the dinner menus. We also created DIY 'guest favors' for each guest to find in their hotel room upon arrival.
The Highlights From the Ceremony & Reception:
We chose to write our vows. We did not share them with each other ahead of time. Somehow, one unique line from our vows ended up being almost 100% identical to the very similar wording — it made us both laugh, and our guests thought it was incredible.
The Theme:
Yes, as mentioned previously, "World Travel"… Our theme was "world travel" – we live abroad and are fortunate to have been to many, many places. For example, each table card was a different city from around the world that we've visited, and our guestbook was a map of Mexico. Our cake topper and decor also echoed this theme with a map and suitcase.
Most Memorable Moment:
The night before the wedding, we had an "open mic" for all of the guests to share stories or raise a toast to us. None of the guests knew this would be offered, still one-by-one many of them got up and shared such kind words. We laughed a lot and were also very touched. This was a major highlight of our wedding week!
VENDORS
Photographer: NeriPhoto
Groomsman Attire: Banana Republic
Ring Designer: Bella Cosa Jewelers
Jewelry: Blue Nile
Tuxedo and Mens Attire: Debra Torres Guayaberas
Floral Designer: FlorArt
Shoes: Franco Sarto
Location: Hotel Playa Fiesta
Bridesmaid Dresses: J.Crew
Dress Designer: Lis Simon
Professional: NeriPhoto
Ceremony Location: Playa Fiesta Hotel
Event Venue: Puerto Vallarta