The Indian Culture is kind of bizarre to those who are not much exposed to their way of life. But to cut everything short, the Indians have a labyrinthine culture filled with beautiful arts and awe. Just as full as Nirali and Nimeet's love story. Traditionally, Indian weddings last for a week but in their case, they fitted all the ceremonies in just three days but it was all worth it. Nirali was a princess in her red Maharanis inspired wedding dress, accented with cream colored draping and old string of pearls.. But wait, there's more! They had their guests treated with creative henna tatts and the whole enchilada to give that real traditional Indian vibe. What a blast! Badhā'ī hō, Nirali and Nimeet!
Click image to enlarge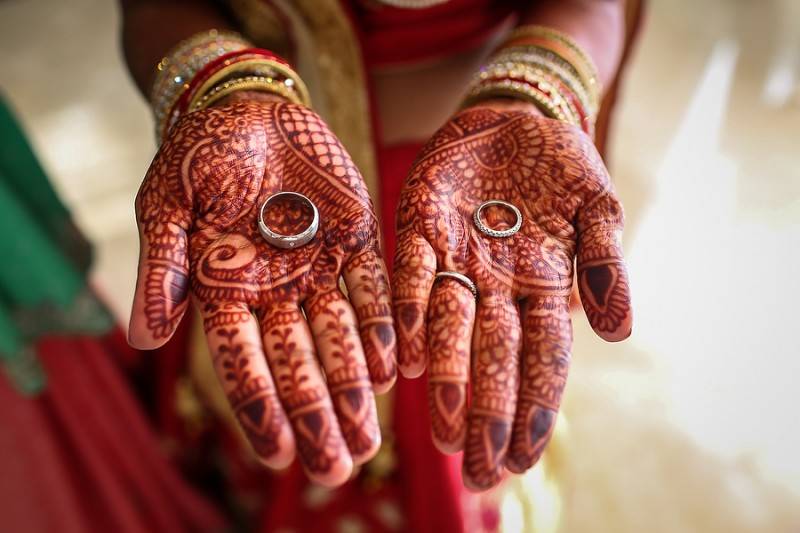 1

Like. Click to Vote
>
Our Story
My husband and I really just wanted to have a casual, relaxing wedding. Indian weddings can be very tiring, involved week-long affairs, and we wanted our guests to treat their time in Mexico like a vacation, first and foremost. We spread our events out over three days and each event was roughly three hours, which allowed our guests to enjoy the downtime.
The Theme
Our welcome/mehndi party had a Mexican theme. In addition to the Marachi band, we strung papel picado and globe lights across the terrace. The tables were decorated with maracas that doubled as party favors for the guests to take home with them. The ceremony was meant to be simple elegance. I had white fabric draped over the guests seating area and our ceremony stage. The stage also had a long floral piece hung across the top with large red rose arrangements pinned to the four pillars.
Wedding Outfit Inspiration
My wedding dress was inspired by Indian maharanis (princesses) of the past. It was deep red raw silk traditional outfit accentuated with antique gold beading and pearls, complemented with cream colored draping. I wore custom designed jewelry what was made with my mom's old strings of pearls, giving the look a vintage appearance. I wanted a more understand elegance to match the beach side wedding venue.
My reception outfit was the biggest wild card for me, requiring me to trust my family and friends' opinions. It was a cap sleeve hot pink gown with an ombre skirt blending cream and a rose pink. I normally don't wear such bright colors and wanted a more timeless look, but was convinced that I should take a chance on a more of a statement dress and I'm glad I did.
Our Do-It-Yourself (DIY) Projects
I did not have very many DIY projects, except for a few items for the name card table for the reception. One of the biggest challenges with doing an overseas destination wedding is that if you do not rent from your decorator, you have to bring it all with you in your luggage, risking damage and being over the airline weight limit; thereby negating all your hard work.
Favorite Part of the Day
My favorite part of the day was sitting in our mandap (wedding structure) out on the sand and looking out at our guests. I paused for a minute while the ceremony was going on to take it all in. The sun shining and the white drapery was flapping in the wind. Everyone was smiling and my husband and I were just so thrilled to have the most important people in our lives there.
Highlights from the Ceremony and the Reception
For our welcome/mehndi party, we had a Marachi band kick off the evening. They provided the best music while our guests entered and were mingling. There was a mehndi artist doing henna on my guests as the night went on. For the reception, we had fire dancers lead us out during our introduction and perform after our cake cutting. I think they were the exclamation mark to cap off such a fun few days.
A Memorable Moment
While we included family members in the ceremony and had musical performers and dancers, the most memorable moments happened outside our formal wedding events. My husband I would talk around the resort and catch different pockets of family and friends having so much fun. Younger families were at the kiddie pools, the teenagers went on zip lining excursions, my girlfriends were at the spa, older family members would casually stroll the beach, and of course there was always someone at the swim up pool bar.
I highly recommend making sure you have this moments with your guests, especially if they traveled so far to attend your wedding. Take some time to build memories with them. We've all seen been to wedding ceremonies and while they hold a special place for rituals and vows, they all tend to blur one into another, but what does stand out are the informal interactions and conversations.
VENDORS
Photographer:  Jonathan Cossu Photographer
Event Planner: BLUE PETAL DESTINATION WEDDINGS
Floral Designer: Maya Floral
Beauty: MEHNDI by Verónica de la Paz
Other Location: moon palace golf & spa resort
Caterer: Patravali Cancun
DJ: Premier Entertainment LLC
Makeup Artist: Styling Trio
Dance Instructor: Tempo Consulting
Design and Decor: Weddings by Zuñiga Productions