Who said Disneyland is just for children? You might want to check Kimberly and Ryan's wedding which will prove to you that the magical land is for grown- ups too! All perked- up with sanguine colors of orange and purple, you would definitely feel the visual roller- coaster of fun. What I completely adored are the personalized Mickey Mouse hats that kindled the inner child in me! Besides that, each of the table in their reception was named after an adventure ride which seems legit for their Disney- themed wedding. This bride sure knows what she wants and never wasted her chance to become a Disney Princess! Just like Mickey and Minnie Mouse, Kimberly and Ryan are destined to be together for a couple hundred more years. Congratulations on finding each other, Kim and Ry! Your greatest adventure has just begun.
Click image to enlarge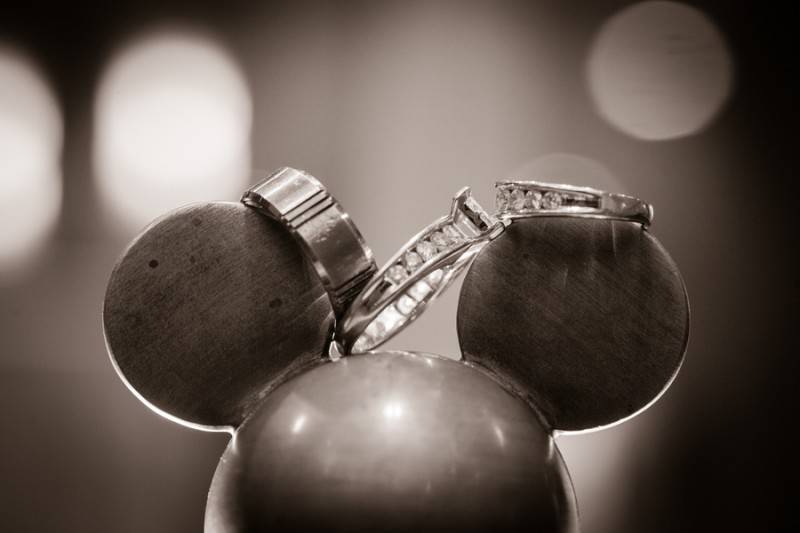 Like. Click to Vote
>
Our Story
Ryan and I met in high school during my junior year and his senior year. Ryan graduated and went off to play baseball in college, and I graduated a year later and attended our local university. After five years apart, we got back in touch with each other. We started dating again and after four years together, we got engaged.
We Are A Perfect Match
We are both teachers and share a lot of interests (we both love baseball). We work hard to understand each other's needs and we are constantly supporting each other on a daily basis.
The Proposal
In front of Sleeping Beauty's Castle before we left Disneyland for the night, he got down on one knee and asked me to finally marry him. We were lucky enough to capture it all on film.
The Planning Process
We planned our wedding for a year. We got engaged on October 17th and got married a year later on October 4th. For us, it was plenty of time!
Tips & Tricks For Future Brides
Ryan and I brainstormed together and we discussed each other's likes and dislikes. We identified the colors we wanted (orange and purple) and decided what types of decor items we wanted to include. We started with our flowers and cake, and went from there. I sent photos to our wedding planner, at the Disneyland Hotel, to show her what we were interested in.
We kept in contact with her a lot throughout the entire year we were planning. Any time I had a question, she got back to me in a timely manner. She would also send pictures if I needed further clarification on something. Lastly, we also brought handmade items with us to decorate the reception tables. This cut down some of the decor costs. We also rented tuxedos in town and brought them with us.
The Theme
Disney, of course! Each table was named after a ride and all guests had their own personalized Mickey Mouse ears.
Wedding Outfit Inspiration
The bridesmaid's were given a specific color (purple) but they were able to pick their dress and style. I wanted them to be comfortable. For the groomsmen, we thought that the grey looked really sharp and allowed the purple and orange to really stand out.
Our Do-It-Yourself (DIY) Projects
We made the reception table names. Each table was named after a Disneyland or California Adventure ride. We printed pictures and took them to Office Depot. They added a background for us and laminated them. We also made the treats that sat at each table.
Money Matters
We tried to be as reasonable as possible. We did not want to spend a big chunk of money. Disney was very accommodating and the prices were very reasonable (close to the prices if we got married in our hometown). We spent under $30,000 on everything for the wedding, reception, dress rehearsal dinner, photographer, and makeup/hair artists.
We cut out a lot of the excess decor we had originally planned. We kept it simple. It was beautiful without all of these extras. The biggest expense was the reception. We had to pay for the venue, DJ (and setup), food (per guest), decor, etc.
The Guest List
Approximately 80 people attended our destination wedding. We invited our close family members and friends. We also held in "in town" reception when we got home and were able to invite all of our other friends and family.
The Songs
We had a variety of music that played at our reception: pop, rap, country, oldies, etc.
For our ceremony, we used music from Disney's Fairytale Weddings soundtrack. Our family walked out to "A Whole New World", Ryan and the bridal party walked out to "Can you Feel the Love Tonight", and my dad and I walked out to "Beauty and the Beast".
When the ceremony was over, we played "Marry You" by Bruno Mars.
The Next Step
Building a family and growing old together.
Planning Advice For Couples
Don't stress. It all comes together in the end!
The Album Story
We wanted our wedding to be magical, and Disney definitely made it happen.
Highlights from the Ceremony and the Reception
The father daughter dance was a remix of Celine Dion's "Because You Loved Me" and NSYNC's "Bye, Bye, Bye". Cutting the cake was fun, Ryan got it good! He was not prepared for the cake smash.
A Memorable Moment
Ryan's good friend "married us". We were already legally married in Nevada; therefore, he was able to lead the ceremony that we held at the Disneyland Hotel. He made us (and the guests) laugh throughout the entire thing and really put a fun touch to the ceremony. It was fun spending the beginning of a new chapter in our lives with all of our loved ones. We were also glad to see that so many people traveled to celebrate with us at Disneyland. Lastly, everyone loved their personalized Mickey Mouse ears!
VENDORS
Photographer:  Jeramie Lu Photography
Hair Stylist:Lindsay Lu
Reception Venue:The Disneyland Hotel