Tears of happiness were shed on Ceil and Ryan's beach wedding. Spruced up with lotsa coral, marigold, and white flowers in glasswares and baskets, every detail made the whole celebration beautiful. Even the bridesmaids' aztec maxi dresses and the groomsmen's coral tie on khaki coats were perfect for the whole setting. With the groovy dance steps, good food, and unstoppable laughter, this couple's night was a complete blast! Yahoo! #RyanandCeilforReal!
Click image to enlarge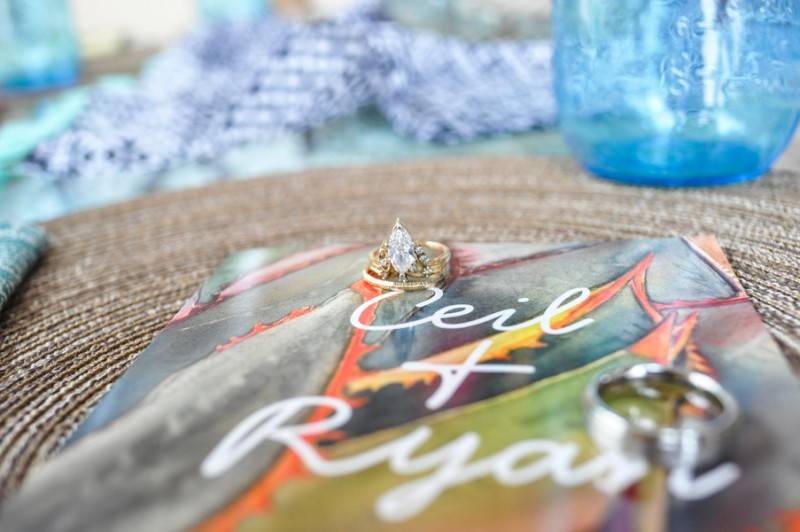 Like. Click to Vote
>
Our Story
Ryan and I met 3 1/2 years ago while I was living in Gulf Shores, AL. I had just graduated from Troy University and moved down to live at the beach while I worked offshore. I was living with a friend from Troy, Gabby Barnett, who had been friends with Ryan since childhood. Gabby told Ryan to get in touch with me, so he asked if I wanted to go on a sunset sailboat cruise with him (that's when I knew we would be friends). Little did I know he had been after me for months. He, being a local, showed me the ropes around town and we soon found out we had everything in common. We've been inseparable ever since.
The Proposal
My parents came to visit Orange Beach from Texas back in August 2014 and that was when Ryan asked them (my father and my mother, separately!) if he could have their blessing to marry me. Ryan then began planning a Texas Thanksgiving proposal, with collaboration my mother and the rest of my family.
I was out at sea for the month of November, and our arrival at port kept getting delayed further and further. I was unaware at the time that this was a big deal, but Ryan was sweating because he had big plans! We finally arrived to port and Ryan and I headed to Texas for thanksgiving and my dad's birthday.
It had been months since I had seen my family, so there was lots of excitement. Not long after we arrived, my best friend Hayden and her husband who live in North Carolina walked through the door. After freaking out, hugs, and talking about how it was the "best surprise ever," I turned around to see Ryan down on one knee and the song that we had danced our first dance to was playing on the stereo. Ryan then asked me to marry him while offering me an upside down ring box (haha).
When he turned it over and I saw the ring, I lit up because it was my perfect ring, the one I had wanted since I was a little girl! My mother had given him her engagement ring- the ring that my dad spent one month underwater as a deep-sea diver to pay for over 35 years ago, the ring that they custom designed, the ring that will always remind me of what a perfect example of love my parents are. Anyway, I said yes and then we toasted and celebrated. It was perfect! He made sure my whole family and even my best friend/matron of honor were there to celebrate our engagement.
The Challenges We Faced
My whole family was staying in the wedding house, and we all woke up and had breakfast and mimosas on the morning of the wedding. The bridesmaids arrived in time for breakfast and we began slowly getting ready for the big day. Lots of champagne and mimosas were involved in the making of this beauty. While we were getting ready, it was pouring down rain. The ceremony and reception were planned for outside, so there was a last minute change of plans and everything was moved inside the house. My whole family and some friends had worked all week on wedding setup, and were still scrambling to put the finishing touches on the day of the wedding.
Ryan and I were to take communion before we were pronounced man and wife. The table was set up with the bottle of wine, our glasses, and bread to be broken to reflect on the significance of Jesus' sacrifice for us. There was only one problem- the bottle of wine was not opened! So in the middle of the ceremony, we were calling for a corkscrew, which was pretty hilarious.
The Guest List
My mom was the planner/coordinator/boss lady, and made the decisions necessary for a day of change to an indoor event for 140 people. She is so creative and skilled, and although I know this, she still manages to absolutely amaze me every time she completes a project.
The Songs
The ceremony began at 6, and my dad and I walked down the isle arm and arm to the song "Down in the River to Pray," performed by Alison Krauss. After the ceremony, we exited to "I'll Fly Away," performed by Alison Krauss and Gillian Welch.
The Album Story
I was blown away when I finally came downstairs to walk down the isle. Everything was beautiful and so "me." Tears were shed as my dad gave me away. The ceremony was beautiful, with only one (hilarious) hiccup.  After taking the remaining photos, we joined the reception and dinner was served. Dinner was perfect. I cannot give Shipp's Harbour Grill enough credit for the job that they did. Everything was delicious.
Highlights from the Ceremony and the Reception
We had 3 hilarious and emotional toasts from my father, the best man, and my matron of honor. My dad made literally everyone there cry. During the best man's toast, we cracked open a bottle of wine given to us by Ryan's father, Kris Jones. He searched far and wide for a bottle from 1982, the year Ryan was born. Unfortunately, that was a bad year for wine- so it was hard for him to find one, but he managed it. I thought this was so sweet! After the toasts ended, it was dancing time.
We spent the remainder of the night on the dance floor having a blast with our friends and family. We were going to release Chinese lanterns for our "faux exit" onto the beach, but since it was still sprinkling and pretty windy, they weren't rising. Therefore, instead of exiting, we extended the DJ and the party for a couple more hours (the DJ was great and very understanding)! The night was absolutely perfect. We were so blessed by everyone that helped and all those who traveled near and far to celebrate our marriage. I am still all smiles when I think about it!
Favorite Part of the Day
Walking down the isle to see all of my friends and family and all the people I love, and my husband-to-be waiting on me at the altar. Such a special feeling to have all of your favorite people in the world gathered together to celebrate you. Second favorite part was breaking it down on the dance floor with my family and all my girlfriends.
VENDORS
Photographer:  Fotowerks Custom Photography