Click image to enlarge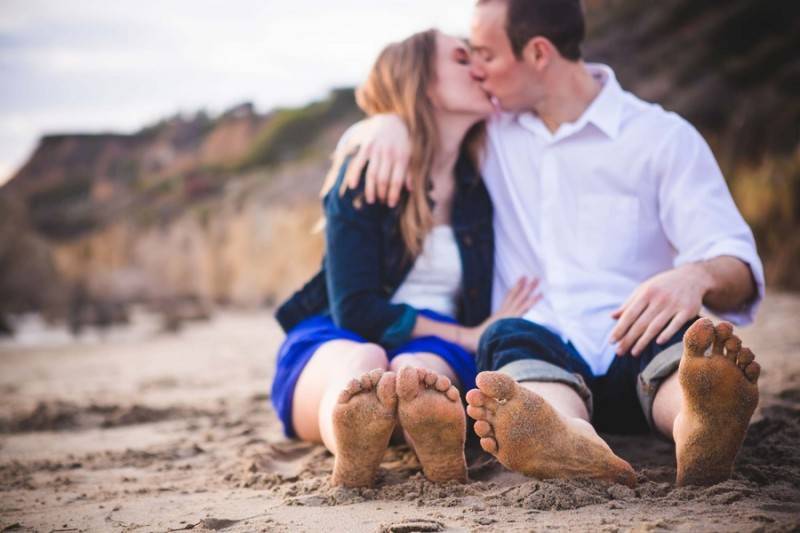 Like. Click to Vote
>
Shot in two beautiful locations, each of their own choosing, this feature portrayed radiance and love of our couple, Kaitlyn & Thomas. The places hold a sentimental value in their lives and this made the shoot more meaningful. Thomas loved the beach, specifically the El Matador, for he grew up spending his summer by it. Kaitlyn, on the other hand, is a big nature person so the Placerita Canyon was perefct plus it provided them with picturesque views which made for awesome shots. Congratulations to you both!
Photographer:
What did you want to portray in your engagement shoot?
For this shoot, I wanted to portray the fun loving personalities that both Kaitlyn and Tom have. they interact so lovingly with one another and it was important that I capture that in a fun and elegant fashion.
Why did you choose the location?
I absolutely love shooting at Matador Beach due to the large rock formations, shaded areas and shallow wake. Placerita Canyon Nature Center has stunning colors and grand trees to photograph subjects against. You really can't go wrong with that location when looking for a nature feel for your photos!
What inspired your outfits for the engagement session?
Kaitlyn was the mastermind behind the outfits. She wants bold colors along with both of their outfits matching. The both like to travel and so a casual appearance was huge for them!
Do the photos give a hint on what will happen on their wedding day? How so?
The photos give a hint of the radiant love that will take place on their wedding day.
How did you tell the couple to feel at ease with all the posed shootings?
I really focus on poses and positions that are natural for my couples to pose in. I would goof off with them and crack lame jokes that would allow them to feel comfortable in front of the camera.
If the wedding already occurred, would you mind telling us more about it?
Their wedding consisted of a lot of fun events and details. Straight out of an Etsy store, their wedding was strung with balloon lights and the ceremony took place outdoors under a large Oak tree. They are proof that you can have an amazing wedding by investing your budget in all the right places.
Anything else you would like to add ?
Thank you so much for enjoying our engagement session with Tom and Kaitlyn!
Bride:
Our engagement shoot was inspired by the rustic theme of our summer wedding. We decided that we would each choose a location for the shoot. My husband, fiancé at the time, chose El Matador beach because he absolutely loves the beach, the weather and spending summer days there. We decided to go with a button up and a flowing dress to get a nice beachy look for the location. I chose Placerita Canyon because I adore the scenic nature, being surrounded by trees and the picturesque bridge they have. The hand-made blanket, plaid/ jean clothing and boots added an additional touch to the rustic theme. Overall, I'm overjoyed with how the pictures turned out and that Shed Light was able to capture the essence of our relationship.
When shooting with Tom and Kaitlyn, I really wanted to bring out the fun and innocent love that they shared. There is a spark between these two that can't be mistaken.  The best way that I found to achieve this was through fun poses that produced the organic laughs and chemistry that you see. Sometimes, the best way to bring out your personality is to pretend that the camera is not even there! With the props that we had, we were able to add a fun additional element to their photos.
Vendors
Photographer:  Shed Light Photography
Venue:  El Matador Beach