Together with their entourage dressed in teal and khaki Christopher and Cori had a wedding deemed a cozy coastal celebration. With the rustic sea-inspired decors and tons of DIYs, the whole event exudes a homey and intimate vibes. Cori's gorgeous bridesmaids decorated the venue, and it couldn't get any more special than that. Read more to get the wind gushing details of how their outdoor wedding turned into a cozy indoor celebration.
Click image to enlarge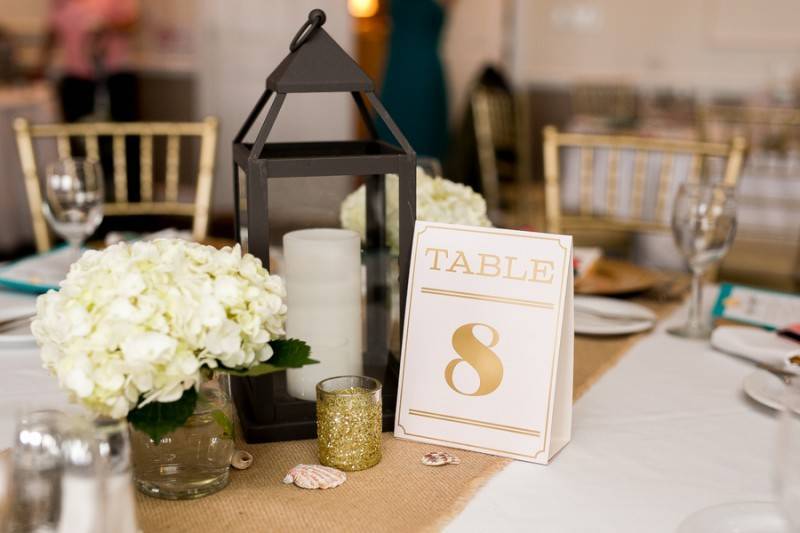 16

Like. Click to Vote
>
The Theme:
We didn't have a "set" theme, but if I had to name it, I'd say it was a Cozy Coastal Celebration or a Cozy Seaside Celebration. This makes me laugh because so many things started with the letter C, the letter of our first names, Cori and Chris. (The venue: Crystal Coast Country Club, Photography: Carly Fogleman Photography). Why not another "C?" 🙂
The Outfit Inspiration:
We wanted to keep our attire dressy casual in conjunction with our rustic, seaside theme. This area isn't a tropical area. The coastline is rustic and beautiful, and we wanted these descriptions to coincide with our decor and flowers. My dress was simple but elegant, a gently draped asymmetric organza ivory fit and flare gown with metallic embroidered waist. The motif with self-fabric rose inspired flowers on my waist was refined yet chic. The corset back and a chapel train was simple but elegant. Chris' attire was clean and somewhat nautical. Chris wore what the groomsmen wore with an addition of his navy blue sports coat. We wanted him to stand apart from his fellas. The guys wore just the khaki slacks and white button-up shirts. We think his outfit complimented my dress, and neither of us looked too fancy. The bridesmaids dresses were a dark teal, almost peacock color, which reminds me of the many shades of the ocean. The corals and peaches worn by honorary bridesmaids and included in the floral decor helped balance the seaside palette of greens and blues.
The Do-It-Yourself (DIY) Projects:
There were several. We rolled 80 clear votives in gold glitter, and these were part of the centerpieces. We tied our ribbon and jute around mason jars to hang at the ends of rows along the aisle. Then we put seashells and water in the jars, and then the florist added to baby's breath for the final touch. We printed and made our program. One of the favors was also made by our parents-a thank you to our guests-homemade white chocolate starfish and shells delightfully wrapped in plastic tied with our burlap, teal, jute, and white ribbon with a "Thank You" label. Finally, the last item and probably most time-consuming DIY item was the seating chart. I took an old pallet that we salvaged from the building of our house last year, and transformed it into a fun way to find your seat! I kept it simple, just using cardstock and scrapbook embellishments. We glued starfish int the corners, hung the seating on jute, and Voila! I am pretty proud of this! It took me a whole weekend to prepare!
The Highlights From the Ceremony & Reception:
Oh gosh, there are so many! The toasts from our parents were very special. I'll always remember my dad's advice: "Never forget the advantage of compromise." It was a sweet, emotional ceremony, but a little humor was added early on when it came time for the blessing of the rings. The Reverend requested the rings from Chris' dad, and when his father, Greg, went to hand them to Chris and me to hold, I realized the rings weren't there at all, and instead, a bunch of soda pop tops lay in his hand. I just cracked up. Greg is always joking around with us, and it was him being him. It lightened the mood and added personality to our ceremony. The most fun part was the garter replacement. Instead of the single lucky man placing the garter on the lucky single lady, the DJ made it even more interesting. She replaced the lady with another male, which happened to be Chris' dad. It was so entertaining!
Favorite Part of The Day:
My favorite part was the ENTIRE day. There are so many great moments we experienced with our family and friends from sun-up to the very end of the night. If I had to choose, it would have to be when Chris and I were introduced and danced our first dance together. Van Morrison's "Someone Like You" was our song, and there was a moment when we just looked at each other and felt a sense of relief and real peace and true love. It was a moment just for us, yet we were surrounded on the dance floor by our parents and closest friends–those we love the most and who love us so much. I was just in awe. It was such a sweet moment when I rested my head on his chest and cried tears of joy and relief. It'd had taken me 34 years, but I found my person. My mother saw this unforgettable moment, and my friend and photographer captured it too.

Most Memorable Moment:
The BEST part was everyone being there and having fun! I'll never forget how all of our families and friends came together for us. When it came to the DJ's games, everyone participated, even if it meant they had to sing to someone they didn't know or dance in front of everyone. When it came to dancing, fast or slow, almost everyone was out on that dance floor for extended periods of times. Everyone was smiling and just had the best time. That was our goal: for everyone to have a memorable, wonderful time. Most traveled from other states to celebrate with us, and I wanted it to be way worth their time. When we began planning this wedding two years ago, I will always remember my Aunt Bertie telling me, "Just remember you're planning a BIG party!" In moments of stressful wedding planning, I just tried to remember that. It helped us through some tense times. And in the end, it all worked out! It was simple but elegant, memorable and emotional, loving, intimate, beautiful, and fun!
VENDORS
Photographer: Carly Fogleman Photography
Floral Designer: Avalon Event Floral
DJ: BTA Entertainment
Dress Store: Carolina Bridal World
Makeup Artist: Janiece Sackett
Hair Stylist: Natalie Sanderson
Cake Designer: Mrs. Vingerber's Sweets
Equipment Rentals: Southern Vintage Rental and Design
Reception Venue: The Country Club of the Crystal Coast